Victory Day in Irkutsk
Holiday Celebrated every May 9th
Festivities around the city generally free
Victory Day (День победы), celebrated on May 9 across Russia, is arguably the most important Russian holiday, other than New Year's. There are massive celebrations across the country dedicated to Russia's win in World War Two, or the Great Patriotic War (Великая отечественная война), as it is known in Russia. Seeing the celebrations in person is quite an experience.
This year, we had a four-day weekend for Victory Day, since it was on a Tuesday. There were concerts, rehearsals, and preliminary events starting already on Friday, and the entire city was decked out a week in advance—with banners, flags, and proclamations of victory all over the place. (I even saw a few signs that referenced the "road to Berlin.") People in Kirov Square were handing out kolorits (колориты), orange-and-black ribbons that have come to symbolize the victory in the war. Stands in the mall were selling Soviet-Army-style hats and flags. Even the churches had Victory Day decorations.
On May 8, my group and I were lucky enough to be invited to a smaller event before the main celebrations: a memorial by the Polish community to commemorate their families' and compatriots' participation in the war. Echoing the main event that would take place the next day, we met at the Eternal Flame (Вечный огонь—a World War Two memorial present in most Russian cities) and walked through the main memorial, following people in traditional Polish dress. Standing in the memorial plaza, we listened to people tell the stories of their parents' and grandparents' experiences during the war. It was moving and solemn, not at all what I had expected of Victory Day—though a truer reminder of why the celebration actually takes place.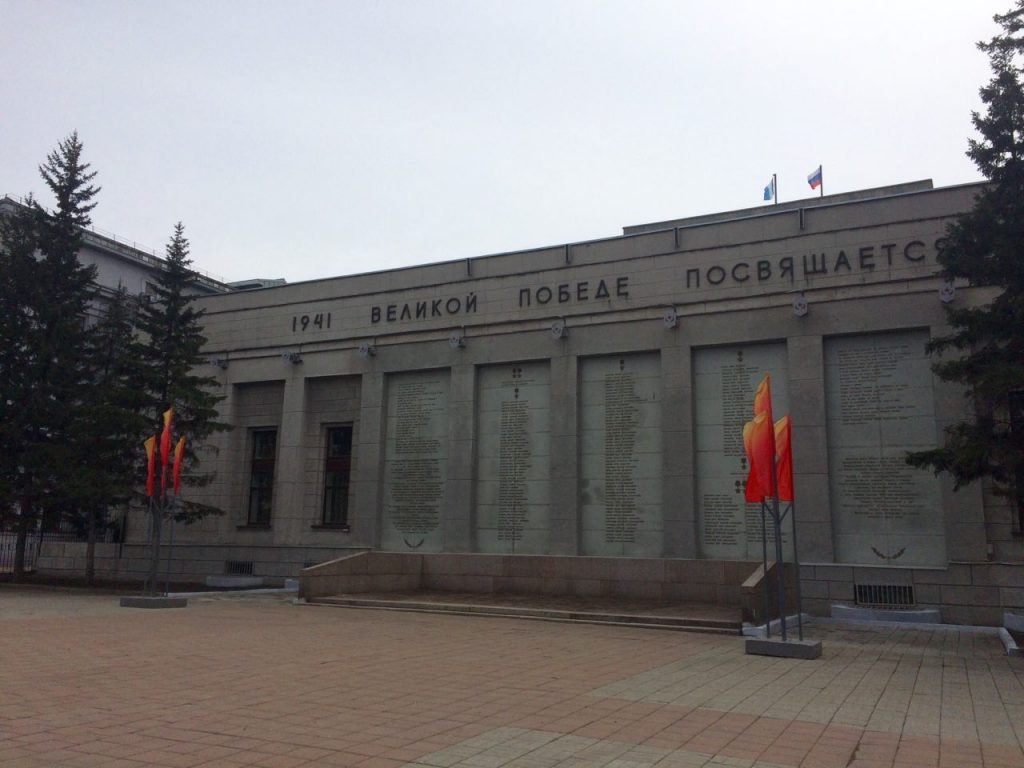 The main events all take place on 9 May itself, with a long program of parades, concerts, and fireworks starting at 9 a.m. I missed the early parade, because 9 a.m., but I joined some friends for the Immortal Regiment (Бессмертный полк), in which people march through the city carrying pictures of their relatives who fought or otherwise helped the war effort. It was a remarkable sight—thousands upon thousands of people (50,000, I heard) holding their signs bearing the photos, names, and birth and death dates of their veteran relatives.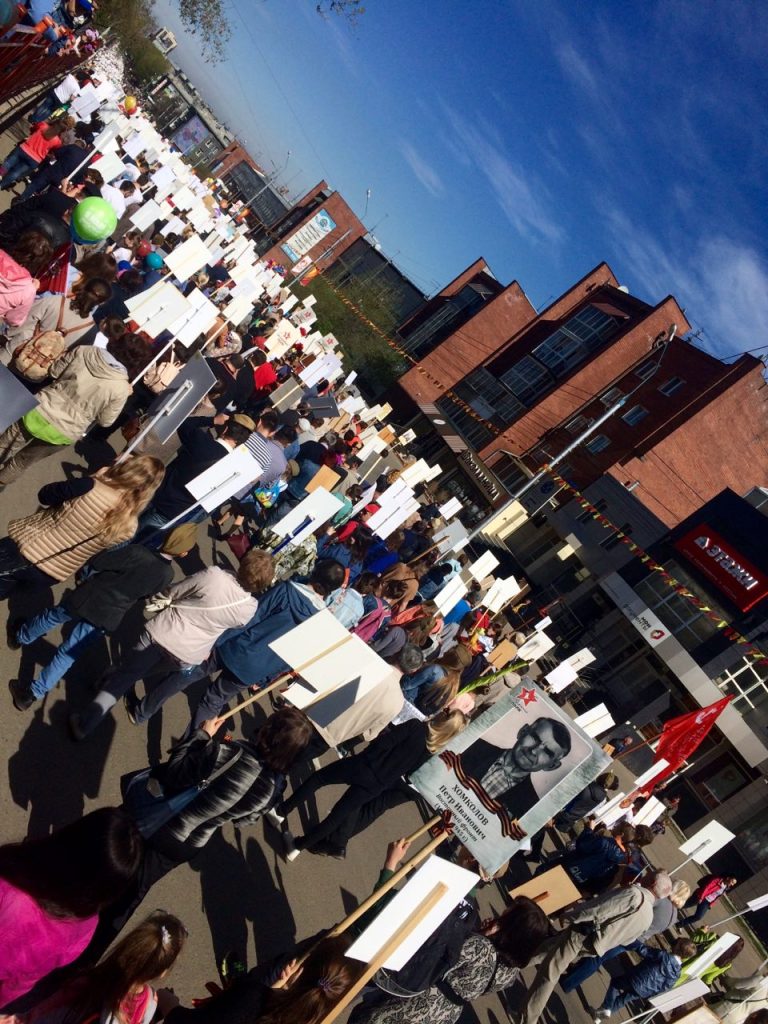 People were chanting "To victory!" and "For the motherland!" and singing Soviet and World War Two era songs. Many people, including extremely small children, were wearing Soviet Army uniforms. We walked all the way down a main Irkutsk thoroughfare to the main square, where everyone disbanded for ice cream, concerts, and other celebrations.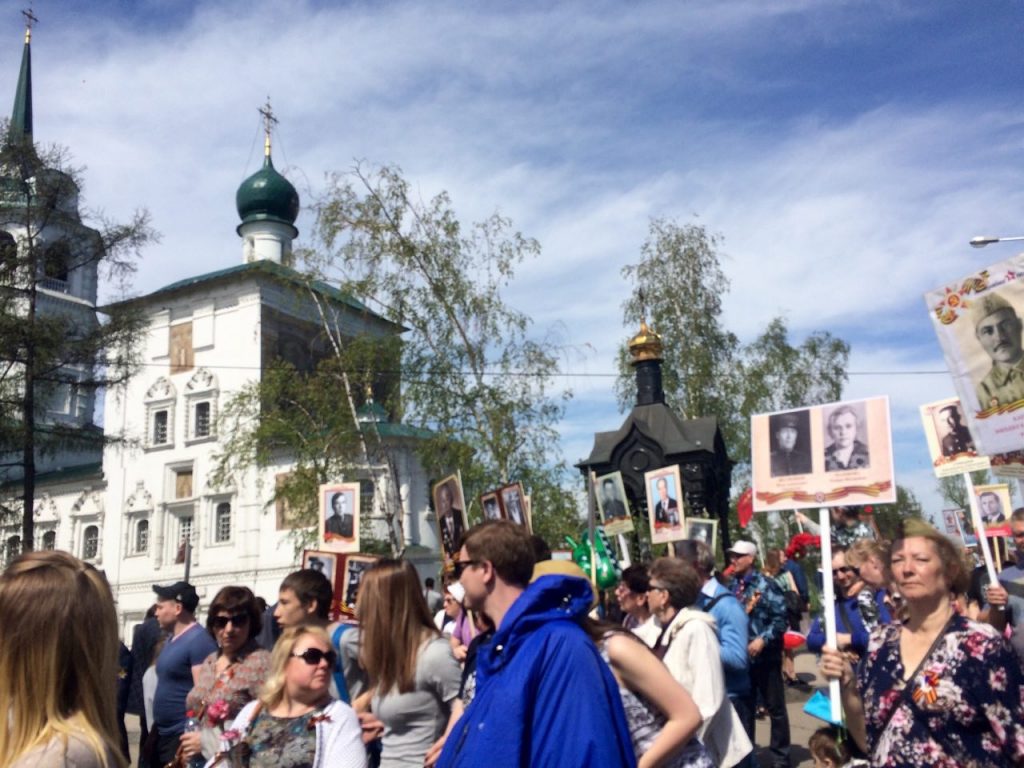 After that we avoided most of the major celebrations—we'd gotten our fill of crowds during the parade—and enjoyed the rest of our day off in the sun. But the entire city was part of the celebration; cars decorated in Russian and Soviet colors (and sometimes as tanks!) drove around honking horns; there was an air of celebration and patriotism everywhere. It was a truly Russian experience, and a great way to begin to wind down my semester here.