By Audrey Wood
Note: this focuses on Moscow, but our St. Petersburg Guide has info on vegetarian restaurants in Russia's other capital! See our Moscow Guide for still more information on living in Moscow.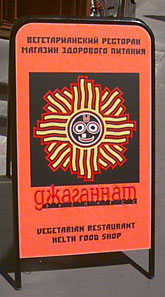 Russian cuisine is hearty and diverse, famous for its rich soups, numerous salads, buttery блины (thin crepes with various fillings), delicious пельмены (dumplings), and, of course, the шашлык (meat roasted on a skewer that looks like a sword), the latter being just one of the countless forms that meat is served in at the Russian table. However, despite the meat-heavy menus at most Russian and "европейский" restaurants ("европейский" seems to indicate generic meat and potatoes type fare), any vegetarian foreigner with a relatively good grasp of Russian and a little bit of creativity can go out to Moscow restaurants and feast on meatless fare at affordable prices. The adventuresome vegetarian, even with minimal Russian, will find that the broad selection of goods available in Moscow's outdoor markets, specialty stores, and supermarkets make it possible to keep the kitchen stocked with a myriad of options. All one needs to maintain a healthy and satisfying vegetarian diet here is a little bit of patience and a little bit of "ноу-хау" (know-how, the phrase has actually been directly assimilated into Russian).
Please note that several addresses for restaurants and shops which carry items listed in this article can be found at the bottom of this page.
Eating Out
Even the most seasoned of Moscow vegetarians knows that finding more than a handful of options on any menu is a rare treat. There are usually a few lighter items such as potato pancakes, cheese platters, pickled vegetable platters, and the ever-present Greek salad. Every Moscow restaurant has a Greek salad, no joke. What one should know about Russian cooking is that meat and meat products are sometimes included as an ingredient in dishes where one might not expect to see them. While soups such as борщ (traditional beet soup),щи (traditional cabbage soup) or mushroom soup may appear vegetarian at first glance, they are often made with beef or some other mysterious meat stock. Always ask before ordering. Asking is essential, as menus rarely give a full list of the ingredients, and it will be good practice for your Russian!
It is pertinent that the Russian word "мясо" does not really directly translate as "meat;" Russian thinks of "meat" as just red meat. In other words, if a server is asked whether a given item has мясо in it and he/she says no, it does not mean that the dish isn't made with poultry or fish. Many Russians also do include meat stock, drippings, or meat-based bouillon with the concept of "meat." The best way to avoid accidentally ordering something with ham in its sauce is to politely explain that you are a vegetarian (just say: "Я вегетарианец/вегетарианка") and ask specific questions about contents.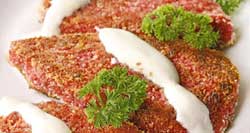 Though it is not exactly vegetarian-friendly, Russian cooking does include several traditional and delicious meatless main dishes known as постныe блюда that are served around Lent, a holiday during which the Orthodox abstain from meat. Some of these dishes can be found on menus year-round: pan-fried patties made from carrots or beets (морковные котлеты, свекольные котлеты) vegetable шашлык, mushroom пельмены, etc. However, these treats are much less common on restaurants menus than their meaty counterparts, and the постный soups and salads may have fish in them, so again, it is important to ask before you order. Happily, these vegetarian options are available in the frozen food section of almost any supermarket.
Do not be discouraged! One thing that Moscow is not short of is a selection of restaurants for every palate and budget. Asian and Middle Eastern cuisines are perennial favorites among vegetarians. The Russian capital has several Chinese, Thai, Vietnamese, Indian, and Lebanese restaurants to choose from. When sushi became the international "it" food, the craze also hit Moscow, and inexpensive, quality vegetarian sushi is an easy find in almost any section of the city (many places even deliver – though usually not to dormitories, unfortunately). There are also Mexican and Ethiopian places to chose from, as well as the occasional (read: two) vegetarian-only restaurant.
Outside of former Soviet countries, it is highly unlikely that you will come across restaurants serving Georgian food, so take the chance to try it in Moscow! Georgian legend has it that when God was distributing land among the peoples of the world, the Georgians missed out because they were so busy eating and drinking. Then, the Georgians invited God to their meal and he had such a good time that he allotted them the bountiful piece of land he had been saving for himself. Hence, Georgian cuisine is colorful, diverse, and out-of-this-world delicious. It is celebrated among vegetarians for the copious selection of savory vegetable dishes like лобию(kidney beans in a garlic and herb sauce), пхали(chopped spinach mixed with walnut paste and spices), and stuffed eggplant, as well as delicacies like хачапури (thin pita-like bread stuffed with melted cheese). Georgian cooking also utilizes a wealth of spices and distinctive sauces (try the аджика), creating flavor combinations that are unique to this small corner of the world.
Something else to keep in mind: if you ask very, very politely, the kitchen will sometimes leave meat out of noodle and vegetable-based dishes if there are few vegetarian options available. We recommend you ask – it never hurts.
Eating In
Of course, the easiest way to ensure that you get balanced, meat-free meals is to cook them yourself. This option is by far the most affordable and interesting. Not only can Moscow vegetarians find ingredients and spices for all types of culinary styles, but cooking at home is an important way to include much-needed protein in a vegetarian diet. However, to do this well, one must be willing to visit several vendors in various parts of the city as supplies can be limited and sporadic. This is especially true now as recent legislation has placed quotas on the number of non-Russians that can sell products in these markets. Non-Russians are more likely to carry more "exotic" products and more likely to work the markets (many stalls are now sitting empty).
Given the Russian penchant for all things dairy, things like yogurt, кефир (like yogurt but more sour) and творог (soft farmer's cheese) are an easy way to supplement an otherwise animal-free diet for dairy-eating vegetarians.
Finding produce is the easy part of living as a vegetarian in Moscow; markets and street vendors are abundant here, and still doing brisk trade in standard produce despite the recent quotas. Like all things in Moscow, the quality of the produce sold in these venues can range from unacceptable to exquisite, so it is well worth the time to stake out the best places and find vendors you can trust and patronize regularly. The variety of fruits and vegetables available is great, making it easy to enjoy fresh salads, stir-frys, and stews every day.
Moreover, markets have more than just produce vendors—these venues are excellent places to find reasonably priced spices, dried beans and grains, nuts, and dairy products. Of course, all these items are available in supermarkets across the city, but supermarket produce tends to be slightly more expensive and well-picked-over. Asian markets and spice stores are good resources for the hard-to-find items like chili paste and coconut milk, curry and cumin, but even those are often sold at neighborhood supermarkets. However, the supermarkets (and not the Asian stores) that have proved to be the best source of vegetable protein products.
Asian markets sell mostly imported tofu, and at imported tofu prices of $4-5 per 6oz. package. However, one need look no further than the cheese aisle (not the counter) at several supermarket stores (like Седьмой Континент and Перекресток) to find soy products made in Russia from Russian ingredients: flavored and plain tofu, soy cheese and yogurt, soymilk, and even soy condiments like sour cream and mayonnaise. Supply is sometimes sporadic, unfortunately, and a store may carry these items 60% of the time, going a month or more without restocking. In such a case, specialty and high-end stores like Елисеевский Магазин on ulitsa Tverskaya can be a reliable source for these products. Another good find is textured soy protein, also known as "fake meat," which can sometimes be found in the dietary foods section of some of these supermarkets. Any store is a good place to pick up dietary staples—rice, beans, pasta, eggs—as well as various sauces and spices.
Eating Vegan?
The stricter vegan diet is more difficult to sustain in Moscow, but not impossible. The Russian penchant for all things dairy makes cheese and yogurt and easy way to supplement an otherwise animal-free diet. While restaurant dining will be very limited, stores do carry, as described above, tofu, textured soy protein, and basic staples. It simply takes an added degree of persistence for vegans to maintain healthy eating habits here. We recommend you pack a supply of protein supplement and peanut butter (which can both be hard to find in Moscow), until you get situated and start finding places to find appropriate food.
Those vegetarians who speak Russian may also enjoy visiting Vege.ru (website of the Eurasian Vegetarian Society) and Veget.nm.ru (articles, resources, and a list of vegetarian restaurants and clubs in Moscow and St. Petersburg).
Where to go!
Asian/Vegetarian Friendly Shopping
Perekrestok: Inside Druzhba Shopping Center, Metro Novoslobodskaya, Novoslobodskay Ul., 4. – A good spot to get tofu and ingredients for Chinese food – the entire complex is Chinese-owned, as is the very good restaurant (also called Druzhba), at the far end of the complex.
Indian Spice Market: Just outside of M. Sukharevskaya, opposite the McDonald's – lots of good vegetarian options here.
Eliseevskiy Supermarket: Metro Tverskaya, Tverskaya Ul., 14. – This is one of Moscow's most prestigious shopping centers (read: expensive), but at last check, was actually the most affordable location for certain vegetarian items like tofu (about $1 for a 2-3 ounce package).
Find out more about living in Moscow with our Moscow Guide!
Vegetarian Restaurants
Jagannath: 11 Kuznetskii Most (and other locations) – All vegetarian and some vegan Indian and various Asian fare, as well as amazing desserts. Plus has a shop that sells spices, soy products, rice flour, specialty teas, etc.
Avocado: 12/2 Chistoprudny Bulvar – All vegetarian food: fresh ingredients and creative dishes.
You can find reviews for these and more restaurants at HappyCow.com.
Vegetarian-friendly Restaurants
Kalian: metro Chistye Prudi; 21 Pokrovka Ul. – Lebanese, try the maza platter (for two people).
Safron: metro Pushkinskaya, B. Kozikhinskii Per., 10. – Slightly more expensive Lebanese, but excellent atmosphere and still very affordable.
Maharajah: 2/1 ul. Pokrovka – enter on Staroposdadkii Lane, across from a green church for fantastic, authentic Indian food with superb service, but it's pricey. If you're looking for spice, say so – the chefs tone it down for Russian palates
Viet Café: 3 Gazetny Lane – Vietnamese fare. Very tasty.
Addis Ababa: 6 Zemlianoi Val – Ethiopian food, delicious and great for a small group
The Yakitoria and Kafe Azia Japanese/sushi chains are worth a shot; they're pretty generic, but are inexpensive and are quite literally everywhere.