Veganika Market
7 Moskovsky Prospekt (Metro Sennaya Ploshad)
Open daily from 12:00 p.m. to 8 p.m.
http://veganika.ru/

Russian cuisine is perhaps best known for its pierogi, pelmeni, soups – and the sour cream that tops them all.  The soups are often beef-stock based, and even veggie-stuffed pierogi are usually made with generous helpings of butter or lard. In contrast with the rising popularity of vegetarianism and veganism in the West, and the increasing abundance of vegetarian-friendly fare at Western restaurants and supermarkets, these food philosophies haven't become well established (or even well accepted) in Russia. Many Russians hold that vegetarian and vegan diets are incomplete and unhealthy, and some even think of them as motivated by mental illness (add that to the list next to smiling in the street).
Not even Lev Tolstoy's reported vegetarianism in his later years can convince many in Russia to view meatless diets with less skepticism. So can a vegan or vegetarian get by in St. Petersburg?
Enter Veganika – a specialty grocery store designed to meet the nutritional needs of vegans and vegetarians.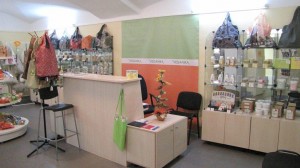 Every vegan and vegetarian knows that people love to ask, "Where do you get your protein?" You can get it here – Veganika sells a variety of nuts and seeds. You can find walnuts, peanuts, hazelnuts, cashews, Brazil nuts, pumpkin and sunflower seeds for prices in step with traditional grocers. Prices average around 45 – 65 rubles for 100 grams, depending on the variety.
Even if you're not vegan, Veganika is a great place to pick up harder-to-find items, like hummus and peanut butter. The hummus selection is extensive, with varieties ranging from roasted red pepper flavored, to flavored with thyme, basil, or garlic. It's 176 rubles for a 250 gram container. If you prefer your chickpeas in their whole form, this little market sells dry, bulk chickpeas on the cheap. You can get 500 grams for 68 rubles! They take longer to cook, of course, but it's a steal compared to the canned variety at other grocery stores.  Peanut and almond butters go for around 200 – 300 rubles. Plain ol' PB will run about 200 rubles, but you can get a 'hazelnuts coffee' flavored butter for just a little more.
Because no peanut butter sandwich is complete without milk, vegans and those with lactose intolerance will find a variety of milk alternatives. You'll find a nice selection of rice, almond, and soy milks at Veganika, averaging at about 120 rubles for a liter.
Vegans and omnivores alike can dig Veganika's selection of spices, too. You can find curry powder, ground cumin, fresh cinnamon, four kinds of ground pepper, paprika, ginger and more for as low as 27 rubles for 50 grams. Those avoiding gluten might also be interested in Veganika – the store has a variety of wheat- and gluten-free flours. Lentil flour, soy flour, and rice flour (among many more varieties) can be found, averaging about 60 rubles for 500 grams. If Russia has managed to make you fall in love with rye like it has with me, you can rejoice at finding a whole kilogram of wholegrain rye for just 45 rubles. And 35 more rubles will get you rye pastas (which are super delicious and hearty).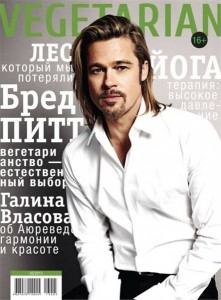 Veganika also offers personal and home care products. Face washes and moisturizing creams made from all-natural products cost an average of 120 rubles. There's even make-up remover for 160 rubles. Dishwashing soap and laundry detergent made from organic oils can be bought in bulk in prices ranging from 200 rubles to 700, depending on how much you're purchasing (you might not need an entire liter of dishwashing soap!).
One of the coolest items available at Veganika, though, is the Russian language "Vegetarian" magazine. Always wanted to read interviews with famous vegetarians like Brad Pitt and Thom Yorke… in Russian? Now you can! Learning a language comes easier when you're interested in the subject material, so this is a good chance to stock up.
And for the environmentally-friendly, you might pick up one of their "Envirosax" – reusable grocery bags that hold up to 20 kilograms. At 350 rubles, one will run much more than the average plastic bag at grocery stores. However, they're more durable and can also be used for traveling. Plus, they come in really eye-catching prints and colors.
You can search a complete list of Veganika products at their convenient web site at Veganika.ru.