Вареничная Катюша
ул. Червоноармійська, 60
(Chervonoarmiis'ka Street, 60), Kиев
9:00 to 23:00
Meals from $10
www.katysha.com.ua
"Вареничная Катюша" is a self-described "chain of restaurants in the Soviet style" in Kyiv, according to the official restaurant website. With an expansive network of locations throughout the Ukrainian capital, all of which feature their own unique decorations and interior style, Вареничная Катюша is a charming establishment that serves up delicious, authentic Ukrainian cuisine with a generous side of Soviet culture and atmosphere, making for a memorable dining experience.
A "вареничная" (varenichnaya), is a restaurant that specializes in vareniki – a Ukrainian dish of boiled pasta surrounding meat, potatoes, cheese, cherries, or any other number of sweet or savory fillings. They are similar to ravioli, but beloved as a national dish of Ukraine. "Катюша" (Katyusha) is a diminutive form of Katya – a common Eastern European female name.  "Катюша" really became part of the Soviet national identity, however, when, during WWII, a love song to "Катюша" was written and popularized. The song was actually about a truck-mounted rocket-launcher battery of the same name that was used against the Nazis.
My first time dining at Вареничная Катюша was also my first time on a date in Kyiv. When I told my Ukrainian date that I was writing restaurant reviews for my study abroad program and wanted to try typical Ukrainian dishes, she immediately suggested Вареничная Катюша as the natural choice. Since we were already near Olimpiiski metro station, she and I simply walked to the Вареничная Катюша location on Chervonoarmiis'ka Street—less than a 10-minute walk from the metro.
After we greeted the wait staff and chose our own booth near the back of the restaurant, it immediately became apparent to me that eating at Вареничная Катюша is not just a culinary experience, but a cultural and historical experience as well. Photographs and pictures from Ukraine's Soviet days, depicting various notable athletes and events, hung from the walls of the restaurant. Popular music from the Soviet era played from the ceiling, which was completely covered in Soviet newspapers. Old Russian books and novels stood on the shelves next to our booth, and even the dated upholstery and color scheme hearkened back to the days of the Cold War.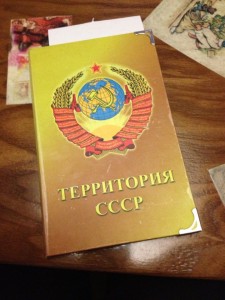 While the atmosphere satisfied my curiosity, the food more than satisfied my hunger. I ordered two dishes: деруни с беконом, or friend potato patties with bacon; and «ленивные» вареники, or "lazy" vareniki, so-called because they are easier to make than most Ukrainian vareniki or prirogi. Both dishes were delicious, with the potatoes and bacon tasting slightly better, in my opinion, than is usually the case in America (probably as a result of more butter and oil…), and the vareniki living up to all of my lofty expectations about the unique Ukrainian dish. To drink, I ordered a glass of typical компот, or juice made from stewing fruit and sugar, as well as a glass of the much less popular узвар, a stronger and more sour drink also made from Ukrainian fruits. While my date didn't think I'd find the узвар tasty—warning me, "my father really likes it"—I thought it balanced the sweeter компот and salty potatoes and bacon quite nicely.
Being a gentleman (and since it's the cultural custom in Ukraine), I paid for the entire meal, but my portion—for two good-sized main dishes and two drinks—came out to 103 UAH, or about $12.70. Though slightly more expensive than usual, I thought the price more than fair considering the traditional and delicious Ukrainian cooking, the friendly staff, and especially the unique and intriguing Soviet atmosphere of the restaurant. And with over a dozen locations throughout Kyiv to choose from, there's usually a Вареничная Катюша nearby.
For groups and faculty-led tours, Вареничная Катюша is recommended as an excellent place to try typical Ukrainian food in a unique atmosphere. However, large groups should call to make a reservation, since most of the restaurant is laid out in booths intended for only 2-4 people at a time.