At VSUES, my classes and coursework differ from my experience at my American university.
Classes
The first major difference is the length of a class sessions. Every class in Russia lasts 1:30. In the US, my classes were either 50 minutes or 1:15. It takes a little more focus to get through the longer classes, but I usually like the added depth to cover the concepts.
The number of classes per day stays fairly consistent. This semester, on Monday, Tuesday, and Thursday, I take two classes per day. On Wednesday, I only have one class. And on Friday, I have three. Last semester, I had two classes every day of the week. Now, two classes on a day isn't bad. Three hours seems to be the right amount of time before I need a break to recharge. However, spending 4:30 hours in classes on Friday can be fatiguing.
The second important difference is that all of my classes are with the same group of students. As I go throughout my day, I'm not switching between classes filled with a different mix of people. At the beginning of the year last fall, everyone was divided up into numbered groups. Once I was assigned into my group, I got to know everyone within that group really well. For me, this tends to be helpful because we all improve at roughly the same rate with our grammar and vocabulary. Our teachers also get to know us by our group, so I believe that this creates a better teacher-student relationship.
The third thing to know is that, in Vladivostok, almost all of my classmates are from Asian countries. I am the only native English speaker in my group. So for those times when I think it would be so nice if the teacher explained a concept in English, I have to stop and think that it would actually be more logical for the teacher to explain it in Korean or Vietnamese based on the group demographic. This diverse demographic also helps necessitate the use of Russian outside of class. Most international students can speak at least a little bit of English, but Russian is what we all have in common, so it makes more sense to communicate with it. Class sizes are small, giving ample time for practice, questions, and dialogue. During the fall last year, my group had 11 students. This semester it has dropped down to seven.
All of my core courses are based around different aspects of the language. This semester my class topics are grammar, writing, reading, and listening.
Our time spent in class accurately follows what the names would suggest. In the reading class, for example, we practice reading texts to the group and subsequently answer questions or write short answers. Homework is typically reading one or more texts which we will discuss in the next class.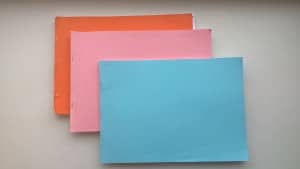 Textbooks
Our textbooks are quite basic, with sparse explanations of concepts or instructions on how to complete the exercises. The grammar textbook, for example, has minimal English explanations to introduce the grammar rules and exercises, but it is far from comprehensive. These are vastly different than many university courses that I took in the US. Textbooks, with glossy pages, pictures, and graphic design? Nope.
The upshot on this is that the textbook prices reflect their more spartan content. No one of my textbooks has run over 300 Rubles. For both semesters, I've spent less than 1,500 Rubles total for all of my books. That's just under $20 at February 2016 exchange rates. No complaints here. With that in mind, I haven't been able to rely solely on my textbooks for explanation. When I'm outside of class I regularly use other sources on the Internet to help clarify my understanding. As an example, my textbooks do not have complete case and declination charts. Rather, the explanations are spread out over the chapters. Overall, I'd say it is worth the trade-off. There is no shortage of ways I can find out an answer relating to grammar or syntax. The textbooks contain the most important thing, which is an ample number of exercises to practice the concepts.
This wraps up my first entry. Next time, I'll try to provide a bit more insight into life in the dorms at VSUES.