Unity Day (День народного единства) is held on November 4 every year across Russia. It commemorates the uprising which kicked out the Polish occupying forces from the Kremlin in November of 1612 at the end of the Polish-Muscovite War. The holiday was recognized during Imperial times, but after the 1917 Revolution, the Soviets replaced the holiday with one on on November 7 commemorating the October Revolution. You can still see groups of people celebrating November 7 with communist flags throughout Russia. In Irkutsk, they tend to congregate by the statue of Lenin. However, November 7 and the October Revolution are no longer an official holiday. It was cancelled under President Vladimir Putin and the original holiday, on November 4, marking the end of the Polish occupation, was reinstated.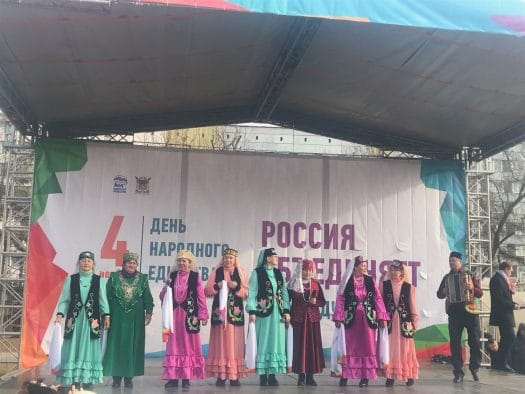 In Irkutsk, Unity Day is a big deal. Irkutsk is home to a wide range of nationalities, religions, and various indigenous groups. November 4 symbolizes a coming together of the city. There are concerts that take place every year in the 130th district as well as in Kirov Square. I watched the concert in Kirov Square and it was amazing. There were performances from all different groups ranging from a children's taekwondo demonstration to old babushkas singing traditional music. Watching the old women sing was so fun because they were honestly not very good singers but they had so much pride and were so cute that everyone loved it anyway. There were solo dances by some Northern Siberian Indigenous groups and Uzbekistan. There was also a traditional dance from Buryatia that everyone took part in and we all danced around the central fountain.
In addition to wonderful musical performances there was also a wide range of souvenirs and handmade items for sale that were conveniently laid out across the city. This is a great time to do your souvenir shopping. In addition to typical souvenirs, there were many specialty items available and they were organized by material so whether you are looking for precious stones or traditional clothes, they aren't too difficult to locate.
After the performance, there were many booths serving food and some even for free. I had the chance to eat in a yurt with some of the performers and people from the Russian-German society. There was also a booth serving free kasha with meat and it was actually very high in quality. The cute babushkas did not skimp on the portions either.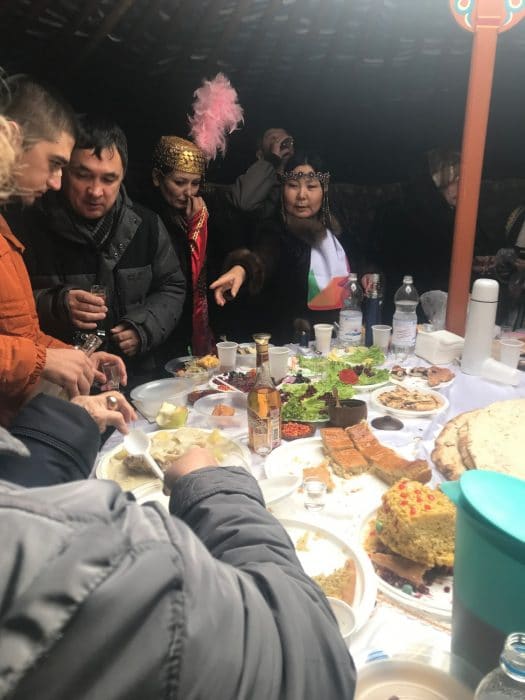 I sat and ate with all the people and could see many people marching down the streets waving Russian flags and singing Russian traditional songs. The whole experience was amazing. Many people chose to wear their traditional clothing and seeing all the different colors and styles was breathtaking. Many museums in Irkutsk are free for the holiday, so this is a great opportunity to visit museums for free. I went to the Decembrists' Museum and the Art Museum which both were very cool. Personally, I am not a museum fan, but they were set up very well. For the holiday, the art museum had free master classes in abstract art as well as a scavenger hunt that resulted in a free ticket for entry at a later date. There was also a small concert in the main hall featuring world dance and several choirs singing.
The Decembrists' Museum has an app you can download to your phone which will give you more information and fun facts about the people who lived in the house. There were also books and photo albums that you could flip through. Another thing I really liked was how the setup worked. Areas were not blocked off, so it was possible to get very close to everything and really look at all the objects. Unity Day in Irkutsk is such a wonderful holiday and an amazing way to become acquainted with more of Siberia's fascinating culture.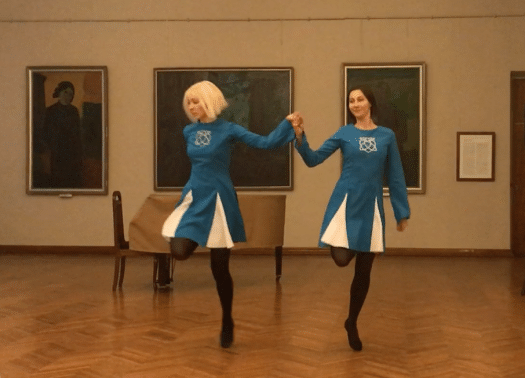 Unity Day in Irkutsk
November 4th
City excursion included in
SRAS Cultural Program for Irkutsk, Fall 2017