Ukrop/ Укроп
улица Марата, 23
11:00-23:00
Meals from 400-600 rubles 
As someone who prefers vegetarian dining options, I was thrilled to be invited to a sit-down vegetarian restaurant for a Russian-English conversation group meeting. Therefore, I'd like to share my experience at Ukrop (which means "dill" in Russian), a hip little hangout!
The atmosphere at Ukrop is spacious, with simple yet tasteful decorations. It utilizes a  strong earthy vibe, showcased by numerous plants, natural lighting from the windows, and the abundant use of wood (i.e. in the  tables, the bill cases, etc.). The various nature motifs scattered throughout the restaurant, which takes such forms as a dandelion chandelier, pinecone lanterns, star lanterns, and nutshells stored in shelves underneath the tables, whimsically reinforce this tone.
However, other details, like the brick walls, penholders filled with colored pencils, and baskets filled with works of literature, give it a touch of urban sophistication. All in all, Ukrop strikes me as an especially perfect hangout for the boho/hippie crowd, though anyone could enjoy dining there.
Ukrop offers tantalizing dishes, displayed in both English and Russian versions of the menu. Various salads, soups, and main dishes, ranging from pasta, veggie balls, and baked potatoes, would be perfect for lunch or dinner. The menus offer an extensive beverage selection that includes coffee, tea, milkshakes, and smoothies, and also has mainly fruit-based dessert options.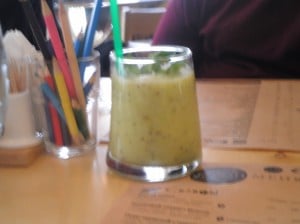 During my visit there, I consulted the menus in both English and Russian, and decided on ordering falafel with hummus, tomatoes, and cucumber (260 rubles) and a kiwi and pineapple smoothie (190 rubles) for dessert. The service was a bit slow, though friendly, and the orders were not evenly dispersed (i.e. some of our dining mates got their orders ten to fifteen minutes before we did). Once everyone in our group received their orders, we came to the general consensus that while the portions were on the smaller side (at least from an American perspective), they were tasty and filling. The kiwi-pineapple smoothie was my first real "smoothie" experience, and I will definitely repeat this sweet, refreshing, and tangy concoction the next time I visit Ukrop (or whenever I get my hands on fruit and a blender). As for my main course, the spicy, crispy falafel was complemented by the mild hummus and vegetable mix, making for a wonderful dining experience.
There were not many people hanging in Ukrop that day, so the atmosphere was quiet, making it easy to converse with the two Olgas, who came to practice their English. We discussed such topics as the Siberian landscape, our university classes, and fashion design in both English and Russian, which provided good language practice and socialization.
In conclusion, Ukrop offers an enchanting experience through its simple boho atmosphere,whimsical decorations, and imaginative cuisine. I probably would not recommend it on a regular basis, as the costs were a tad expensive, though prices were  comparable, if not less expensive, to similar-style cafes in America. Nonetheless, I advise you to visit Ukrop at least once in your St. Petersburg experience- you will definitely enjoy it!
For group and faculty-led tours, Ukrop probably would not be the best choice, as it's a bit cozy to seat a large amount of people, the service is on the slower side, and the cuisine might be too niche to appeal to variety of appetites.