Adanali Café
Address: First floor of Moto Shopping Complex. Corner of Toktogul and Sovietskaya Streets
Hours: Open Everyday, 9am-9pm
Cost of Signature Dish "Adana Kebab" = 165 Kyrgyz Som ($3.50)
You know you've found your favorite eatery when you've eaten there three times in one week — by yourself. Yep, that was me last week at Adanali Café, a Turkish joint in a shopping complex on the very busy corner of Toktogul and Sovietskaya. The dish that keeps me coming back? The Adana Kebab, a plate of beef kebab, herbed rice, pickled onions, and crispy, buttery bread. Not surprisingly, it is Adanali Cafe's signature and most popular dish.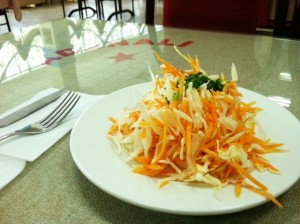 A local university student with a sixth sense for worthy cheap eats in Bishkek first introduced me to Adanali. I was immediately smitten with the delicious generous portions at affordable prices. When we each ordered the signature dish, Adana Kebab, black tea, ayran (yoghurt drink mixed with cold water and salt), and then shared a bowl of garlic sauce, the check came out to just under ten bucks! And that included the complimentary heap of carrot salad. (Tip: Add oil and apple vinegar to the salad, and it will be even better). I was full, too, and not just because I have a small stomach. I took another friend to Adanali a few weeks later — and that boy can eat — and after he consumed everything I ordered for him, he looked at his plate in astonishment and said, "I can't believe I just put all of that in my stomach." I could only nod in agreement. As the devyshka promptly delivered the check, we both silently looked down at our expanded tummies and thought, this is going to be dangerous.
What makes the Adana Kebab so good? I mean, a kebab is a kebab is a kebab, right? Like, is it hard to mess up? No. While I agree to a certain extent that it's hard to mess up a kebab, kebab can often turn out mediocre. But you will never get mediocre kebab at Adanali. The kebab there is fresh. Tender. Tasty. When you dip it in the house garlic sauce, which has the perfect yoghurt consistency — it is neither liquid nor a pasty blob — you will find yourself shaking your head in disbelief at how all the elements, all the ingredients, just come together so perfectly. The bread, too, is surprisingly good. It's flaky, crispy, buttery, and slightly burnt on the edges, giving it a bit of a smoky flavor. It will remind you why you love bread in the first place. Dip that, too, in the magic garlic sauce, and you will find yourself staring at your plate with conviction, and not wanting to talk. This probably explains why I find myself eating there by myself on a regular basis. A dining buddy is really not necessary. Sure, I went with a friend the first time, but after that, he released me into the wild to eat Adana Kebab on my own, and I prospered.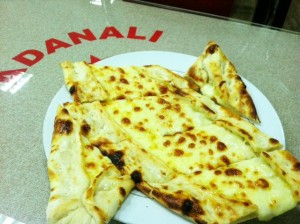 To be sure, I have forced myself to try other dishes at Adanali, for research purposes. They are also very good. The pide s sirom ($3.30), a boat-shaped bread with cheese, was hearty. If I was not thinking about what I really wanted to order, the Adana Kebab, I probably would have enjoyed it more. Most recently, I tried a laxmazhyn ($1.50), which is also a Turkish pizza with a spicy meat tomato sauce on top. It also was tasty, with crispy edges and spices that give it a pleasantly surprising kick — something I don't usually get from standard Kyrgyz cuisine. Trying these non-Adana-Kebab dishes also confirms that Adanali portions are generous all around. Both of these meals each could have fed two people.
But my advice? If you are a kebab person, and it is your first time at Adanali Cafe, get the Adana Kebab. You won't regret it. And neither will your wallet.
For groups and faculty-led tours, Adanali Café makes a quick, hearty, and cheap meal in the center of town. Ambience is not much to shout about, as it is located in a dim shopping center, but the quality food more than makes up for it. Perfect stopover while sightseeing.