Trip from Warsaw to Lviv, Ukraine
Weekend Trip
Budget: ~460 zloty / 3000 hryvnia

Exchange rates throughout Central and Eastern Europe are currently ridiculously set in favor of the dollar. For a student not to take the opportunity to travel a bit while it's so cheap to do would be something of crime.
I recently took a trip from Warsaw to Lviv. While the trip itself was something of an adventure in getting there and back, I found it highly affordable, enjoyable, and educational.
In Lviv, a 0.5L draft beer from a craft brewery can cost less than a dollar, a filling meal averaged from $2-3. I think the most I paid for a meal at all was about $4, which included an order of traditional dumplings, or vareniki, borshch soup, and an excellent local beer at one of the more tourist-y restaurants in the center. Over the four days I spent on this trip, two for travel and two in the city, as a generous estimate probably I spent about $120. This included hostel stay for three nights, travel to and from Lviv by car, eating at restaurants for every meal, plus extras like specialty coffee and beer, and souvenirs.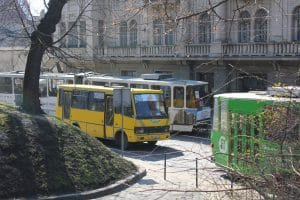 I. The Joy and Pain of the Visa Run
My trip was actually something of a surprise to me. In typical Eastern Europe fashion, your documentation is simultaneously the most important and the most complex part of your stay. Due to a variety of circumstances, my last resort for staying legal in Poland was to leave both the country and the Schengen Area and then return again with renewed status. This type of maneuver is often called a "visa run." From Warsaw, there is only one real destination for this: Ukraine.
I'm no stranger to the visa run and they are not that uncommon for people staying for fairly long stretches of time in a foreign country. As such, it's entirely likely that you might end up performing a similar situation. Here's what I learned doing my latest visa run in Poland.
I received the call confirming the possibility to return on a new tourist stamp on the Friday afternoon before Easter weekend, and quickly began to plan to head to Lviv for the full holiday weekend. While it was stressful at first to prepare for a trip to start the next day, it turned out to be surprisingly easy to arrange everything.
II. Transport to Lviv
In Europe, arranging rideshares is a popular alternative to buses and trains. A bus from Warsaw to Lviv can take up to 12 hours and cost twice the price of a rideshare. There isn't a direct train between the two cities, so a train ride can take nearly 10-12 hours as well because it includes a changeover. The website blablacar.com is widely used and trusted to arrange carpools to save users time and money.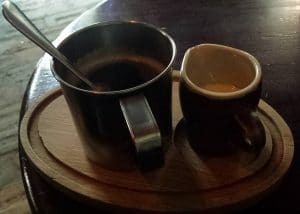 Most profiles for local blablacar users were in Ukrainian or Polish so I wrote my messages in Russian and explained that I also spoke English and some Polish. In retrospect, writing in Russian was a bit of a risk, but I figured that the chances of someone knowing Russian would be higher than English. I also don't trust my Polish skills yet. I sent messages to a few drivers, and was fortunately able to find a ride from Warsaw to Lviv on the next day for a total of 50 zloty, or about $14. A more than fair price for a 250 mile trip.
Most available ride listings are posted 1-2 days before the day of the ride. So, when I left for Lviv on Saturday, I hadn't yet secured a return ride for the following Tuesday. I simply hoped that someone would eventually post a trip, and we'd connect. Fortunately, that plan did work out. It's very common for Ukrainians to move to Warsaw for school or work, and so this particular route has a large number of rides on a daily basis.
On Saturday, I packed my backpack and headed to Warsaw's Central Railway Station, where my driver and the other passengers would meet. The driver, Misha, had good ratings and reviews on blablacar, some from women as well, so it was clear that he makes these trips regularly, and being a solo female traveler, I ought to be safe. I met with him and the five other passengers, all Ukrainians heading home, and we left Warsaw at around noon. The ride takes about six hours, including an hour to cross the border and make pit stops.
The ride through rural Poland is really quite nice, you get to see a lot of farmland and small villages. The highways are fairly new and really a comfortable drive, which is much more than I can say for the rural highways in Russia and Kyrgyzstan I've been on. Here it was actually possible to sleep for a bit, the roads are so smooth.
We made it to the border crossing in good time, and were happy to see the line to cross were minimal. A guard collected everyone's passports, briefly checked the photo for a match, then took the pile with him into the station. After about 10 minutes, he returned and handed them back, stamped for exit from Poland. We then drove to the Ukrainian checkpoint for a similar process to stamp for entry to Ukraine. In total, the process took about 30 minutes with no problems. Crossing between the countries also involves a time change forward one hour. After, we stopped at a gas station just after the border to exchange zloty for hryvnia, and we were on our way through rural Ukraine to Lviv.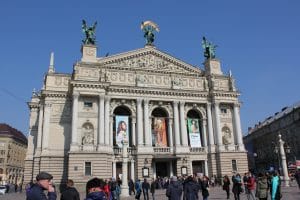 III. Accommodations in Lviv
Before I'd left Warsaw, I'd arranged my hostel in advance as well. This was simple too. I used hostelworld.com and found the Gar'is Hostel for about 24 zloty per night, around $6 to stay in a 4-person dorm room. It's located about five-minutes-walk from the historical center of town.
This was my first surprise at how incredibly inexpensive it is to visit Lviv. While the hostel was good and met my needs, if I had to choose again, I would use Air BnB instead. I'd completely forgotten about this site as an option. Looking at the site after the fact, I found that a full flat in central Lviv can be rented for $10 or $20 per night. I also checked Google maps in advance and saved screenshots to my phone to make sure I could find the hostel from anywhere in the center.
VI. What to Do in Lviv
The next day was Easter Sunday and I walked into town, which was quite active for it being a holiday. When visiting a new city, my typical method is to simply walk around at random and explore, and it's something I particularly recommend doing in Lviv. The historical center is a concentration of great restaurants, coffee shops, pubs, churches, monuments, and markets. It's quite small as well; it probably takes about 30 minutes to walk the entire perimeter of Lviv's Old Town.
One of my first impressions was that Lviv is nearly a perfect mix of Kraków and Bishkek. Much of the city's architectural styles throughout Old Town are from the renaissance period, in addition to styles from the baroque and classic periods, which gives the town a real historical "European" feel that's still so new to me as an American. This is then combined with a transit system which is clearly quite Soviet, with giant and heavily dated marshrutkis and trams, which reminded me of the older transit in Bishkek.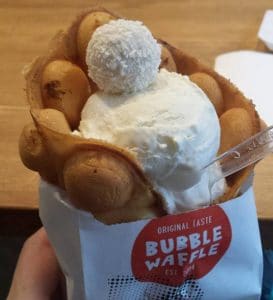 Some places in central Lviv that I would recommend include:
* The Pravda Beer Theater is a fantastic pub and restaurant with traditional food and craft beer. It's arranged across 4 separate floors in one building: two for the restaurant, one for the shop, and one basement level with the brewery that's visible through a glass wall. Rated #1 on Trip Advisor for pubs in Lviv, this place is certainly a must-see.
* The Drunken Cherry is a small café on Market Square that offers a specialty cherry-flavored liqueur, which tastes like a strong cherry wine. They don't have an English website, but their Facebook page has their address and some photos of the cafe.
* Bubble Waffle was one of my favorite places in Lviv. They make waffle cones/sandwiches custom to order; you choose the waffle flavor, a filling that's cooked into the waffle, a cone filling of fruit or ice cream and candy, and then various other toppings. I chose a vanilla waffle with apples and cinnamon baked into it, with vanilla ice cream inside, which was absolutely fantastic. The have multiple locations across Ukraine, Russia, and even Kazakhstan and New Zealand (?!), but I really wish there was one in Warsaw.
* The International Vareniki Fund People's Restaurant offers traditional food from all across Eastern Europe. Their menu is divided by country of origin, including Ukraine, Georgia, Russia, and others. If you're craving any kind of dumpling, this is the place to go.
* Lviv Croissants was another favorite. They have multiple locations across town and make enormous croissant sandwiches with a wide range of fillings. They offer many different varieties such as croissants with jams, fruits, honey, or chocolate, and also full sandwiches with meats and vegetables. The sandwiches cost a little over a dollar at the most, and they're ridiculously good and filling. If I lived in Lviv, I'd probably have one of these on a daily basis.
* Post Office on Drukarska Street competes with Pravda Beer for the best craft beer in Lviv, the Post Office mixes history with an ultramodern restaurant. They boast over a dozen types of local bottled beers, and keep 4-5 local lagers on tap.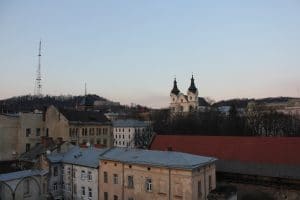 * Dim Legend. One of the more unique and entertaining locations in town, this bar and restaurant is stretched across 5 floors of a building guarded by a giant dragon statue. Each floor is distinctly decorated. On the ground floor is a souvenir shop, and at the dining areas go all the way to the roof, plus an additionally higher rooftop level with a 360 view of the city. On the roof there's an old car that sits on springs for a slightly unnerving photo op, and an old chimney with a ladder inside which you can climb up for an even higher view of the skyline. Even if you don't stop in for a beer or food, this is definitely a great place to visit just for the novelty and the view.
* Kryjivka is a traditional pub and restaurant located underground on Market Square in an old bunker ("kryjivka" in Ukrainian means "bunker"). On the street there aren't any signs that indicate its location; the entrance is located a few meters inside an unmarked alley. It would be extremely difficult to find this independently, but I luckily made a friend at the souvenir market and he offered to show me where it was. In order to enter you have to know the "password," which is "Slava Ukrayini," or "Glory to Urkaine." After this you're welcomed into a landing above a staircase and greeted with a small complimentary shot of medovukha, a traditional honey vodka. Down in the basement bunker is a tavern that spreads across multiple rooms decorated with memorabilia, posters, and photos from World War II. I didn't stop in for a meal, but I'd definitely recommend at least taking a look inside this historically immersive dining experience.
* Lviv Coffee Manufacture on Market Square is one of the highest rated cafes in the city on Trip Advisor. In addition to a café, they also have a shop for coffee beans and grounds to take home, and a souvenir shop. I stopped to try a few different coffee drinks on their menu on the day before my departure for Warsaw. I stayed for an hour or so to camp out on their WiFi and send messages out to potential drivers with blablacar.com to secure a ride home.
* The Lviv Chocolate Factory makes fantastic handmade chocolate and candies. Their location in the middle of Old Town has a small café for different specialty drinks, a full shop on their second floor, and they occasionally host tours of their factory. High quality products and offers, yet still very affordable.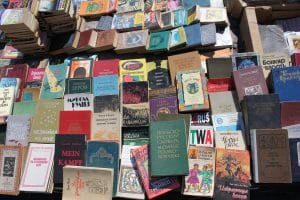 * One street away from the central Market Square is a small outdoor market called the Vernisazh, with souvenirs, antiques, and art. Many people sell local handicrafts and traditional clothing, embroidery, tapestries, and jewelry. The sellers I met there were overall quite friendly, and the prices there were great as well. I stopped there for souvenirs rather than going to the larger shops on Market Square. A t-shirt with a traditional design was $6, a fridge magnet or keychain were typically 80 cents or a dollar. It's located close to the National Theater of Opera and Ballet, next to the Transfiguration Church, so it's easy to swing by for a bit on your way around the city.
* The High Castle is actually no longer standing. There are ruins on the hill, near the city's main TV station and transmitting tower. About a 20 minute walk from the city center to the base of the hill, and another 10-15 minute hike to the very top where there is a viewing point with a full 360 view of not only Old Town, but the entire city.
V. The Return Trip to Warsaw
I secured a return trip back to Warsaw, from a woman named Maria. We met at the Lviv Railway Station. From the center where my hostel was, it took about 40 minutes to walk. Although there are trams and buses I could have taken on that particular route, I decided to go on foot in order to see as much of the city as possible during my short time there. It was a good idea too; I happened across some interesting statues and monuments, incredible gothic churches, and so many cafés and restaurants I wish I'd had time try, like the Cat Café, for example.
I met Maria right on time and joined her car-full of people, including her young daughter, a Ukrainian friend, and an Irish tourist who also found her listing on Blablacar. This car ride ended up being a fun linguistic experience for me. Maria is a Ukrainian who lives in Warsaw and speaks Polish, Ukrainian, and Russian, and has been learning English for about a year. Maria and I spoke in Russian, and our Irish passenger could only speak English, and so I made my first attempt at acting as a translator between him and Maria, helping with words and phrases here and there when I could. It's the experiences like this that make studying languages and travelling around in this region so rewarding.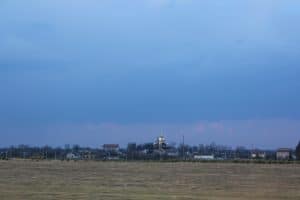 And so we headed for the border. This trip started in-mid day, and so I was able to see the villages and landscapes that I'd missed on the first trip as it had been too dark to see it once we crossed the border from Poland. This time, however, we ran into an unexpected problem at this border crossing: a queue of cars at a complete standstill that was easily a few kilometers long. If we waited, there would be no chance to make it back to Warsaw by the next day, when both Maria and I would have work, and when our Irishman would have his flight home. Maria asked a few border guards about the situation, and determined that it would be best to try again at a different crossing point, one that was larger. We suspected the large amount of traffic was due to the end of the holiday weekend, so vacationing folks were returning back to Poland.
We took a route on backroads through the countryside to another border crossing. It took over two hours to navigate what Google maps estimates as a 50-mile ride. We drove slowly and with extreme caution, to avoid putting the car into potholes the size of swimming pools. Rough roads aside, it was great to see parts of the rural countryside I wouldn't have seen otherwise. The most striking parts about these small dark villages are the huge ornate churches that stand out from all the other structures, usually covered in gold and painted with bright colors.
To our dismay, the second check point also had a ridiculously long line of cars. Maria talked for a bit to a guard and somehow managed to drive closer to the front of the line. And still, we waited. Something about this particular day made the guards at passport control work as slowly as possible; we waited for over 6 hours just to get through the Ukrainian side. We spent the time mostly chatting, even with a few linguistic barriers, over shared snacks. Although the Polish side is more strict because you're entering the European Union, it was a breeze, we simply underwent some standard checks and vehicle inspection. In total, it took over 7 hours just to cross, and we finally entered Poland at about 1 in the morning with another 3.5 hours ahead of us to Warsaw.
Powered by coffee and the 1988 album Big Fun by German pop-disco artist C.C. Catch played on repeat, Maria was able to push through the night and drive all the way with no mishaps. We made it to Warsaw at about 4 am, and got home at 4.30, giving me enough time to sleep for about an hour before needing to wake up to teach an English lesson at 8 am. Despite the huge setbacks in time at the borders, all in all, it was an amazing travel experience. Maria and I had great conversations, and we've met a few times since then for language exchanges.
Travelling through Poland and into Ukraine is wonderful experience that can absolutely be done on a student's budget. With a long weekend, Lviv makes a great destination that's accessible, easy to navigate, and a fascinating mix of unique, lengthy history and modern, innovative business.