When I told my family that I would be studying abroad in Russia, they all seemed to ask me the similar question of would I get to see the Kremlin, Red Square, or St. Basil's Cathedral. I always found these inquiries to be comical because all three of these are located in Moscow, yet I would be studying in St. Petersburg. Luckily for me, SRAS offered me the opportunity to see the grand city of Moscow over a long weekend. Needless to say, my family was very pleased with the pictures I sent them afterwards.
This excursion was included in my semester costs as part of my Society, Business, and Culture course in St. Petersburg through SRAS. So, my train tickets, hostel, and some of my meals were covered by the program and my budget of 65-80 was used for additional food, souvenirs, entertainment, etc. For most other SRAS program, the trip can be added for an additional fee.
For those who wish to travel independently to Moscow from St. Petersburg, I strongly recommend booking a fast train (roughly 4 hours) through Sapsan Train Services. Depending on how far in advance you book the tickets, it is possible to find good prices! Hostels in Moscow typically range from $7- $15, and cheap cafes/restaurants are in abundance across the city. If you're looking for a fancy evening out on the town, you can't go wrong with making a reservation at the White Rabbit. It's been featured on famous culinary shows, such as Chef's Table, and recently ranked as one of the World's 50 Best Restaurants. While the menu certainly has its expensive dishes, there are fabulous meals that won't completely break the bank!
When we first arrived in Moscow, I was surprised by the drastic difference in the pace of the city compared to St. Petersburg. While both are major cities, Moscow is certainly the larger of the two, with more than two times the population of St. Petersburg. The hustle and bustle of the city was both impressive and exhausting, but ultimately allowed us to get the proper Moscow experience.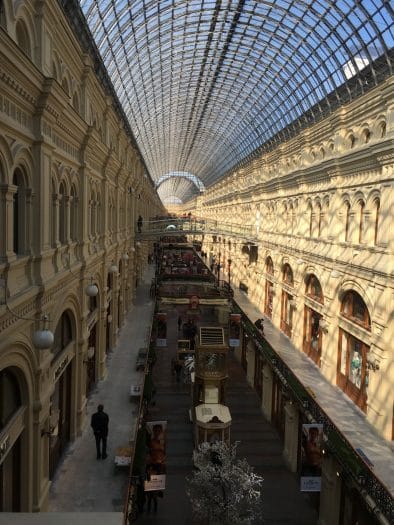 The Moscow Metro, as crowded and chaotic as it may have been, was another impressive element of the city. With fourteen lines (excluding the Monorail and the Moscow Central Circle) and seemingly countless stations, it was an adventure navigating the underground system. One thing that really stuck out to me was, unlike the St. Petersburg Metro, the Moscow system lacked English translations on many of the major signs. One of my fellow classmates came to Russia with essentially zero knowledge of the Russian language, and she commented on the difficulty that some foreign tourists may have when trying to read the directional signs. Nonetheless, if you can at least make out the Cyrillic characters, navigating the Moscow Metro is certainly manageable.
Our four days in Moscow included many memorable events, such as a full walking tour of Red Square and the city center, a visit to the Bunker 42 Museum, and a tour of the Moscow Cathedral Mosque, the second largest mosque in Russia. For me, four days in a city is typically more than enough time to see everything I wish to see; however, with the plethora of museums, exhibits, and unique restaurants in Moscow, four days was simply not enough.
It's safe to say that I greatly enjoyed my time in Moscow, and if given the opportunity, I would love to travel back. While I'm still glad I chose to study in the quieter setting of St. Petersburg, Moscow's metropolitan and never-sleeping atmosphere is undeniably charming.
Four Day Trip to Moscow from St. Petersburg
Spring 2018
Excursion included in the SRAS Society, Business, and the Arts Program
Budget for outside food and souvenirs: 4000-5000 RUB (~$65-80)