Trip to Khabarovsk from Irkutsk
~$500 for 2–3 days*

This week, I took a long trip from Irkutsk. The end point was Vladivostok, but because of how expensive all the flights from Irkutsk to Vlad are, I ended up with a twelve-hour layover in Khabarovsk. However, I figured it would be nice to explore the city and see another part of Russia, including the Amur River.
My flight from Irkutsk was a red-eye, of sorts—I arrived in the very Soviet-era Khabarovsk airport at 6 a.m., or 4 a.m. my time, so I had to take a very uncomfortable airport nap before exploring the city. Eventually, after a long bus ride, I arrived in the harbor/city center (I think) area. I was excited to begin exploring, because the view from the plane was amazing: untouched Siberian wilderness and the Amur River, and then all of a sudden a lone Orthodox church looking out into the distance.
The actual area I explored was a bit less romantic, but it was pleasant enough. After a delightful brunch at the first cafe I found, I explored the Orthodox church right across the street. It was one of the more unusual ones I've ever seen, in my various travels across Russia. The interior was no less unique, continuing the sapphire-blue theme, but taking pictures were forbidden—and there was actually a service going on. I know very little about the Orthodox religion, but the service itself was beautiful and somehow spiritual, even for this Jew. I don't want to recommend religious services as a tourist experience, but I'm really glad I ended up there.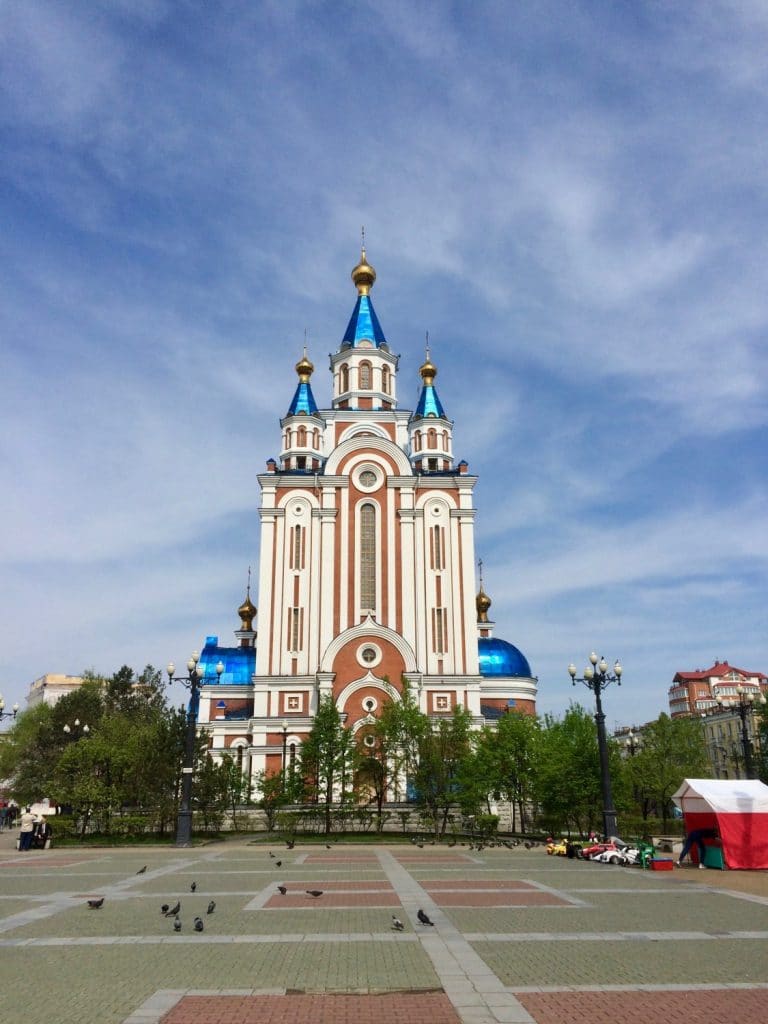 After I got uncomfortable intruding on people's religious worship, I left the church and walked around the river embankment, which is a beautiful combination park-garden-arcade, all pink and purple with spring flowers. I took a slow walk up to a second Orthodox church and Khabarovsk's huge war memorial and Eternal Flame, both staples of any Russian city, and then headed back the way I'd come.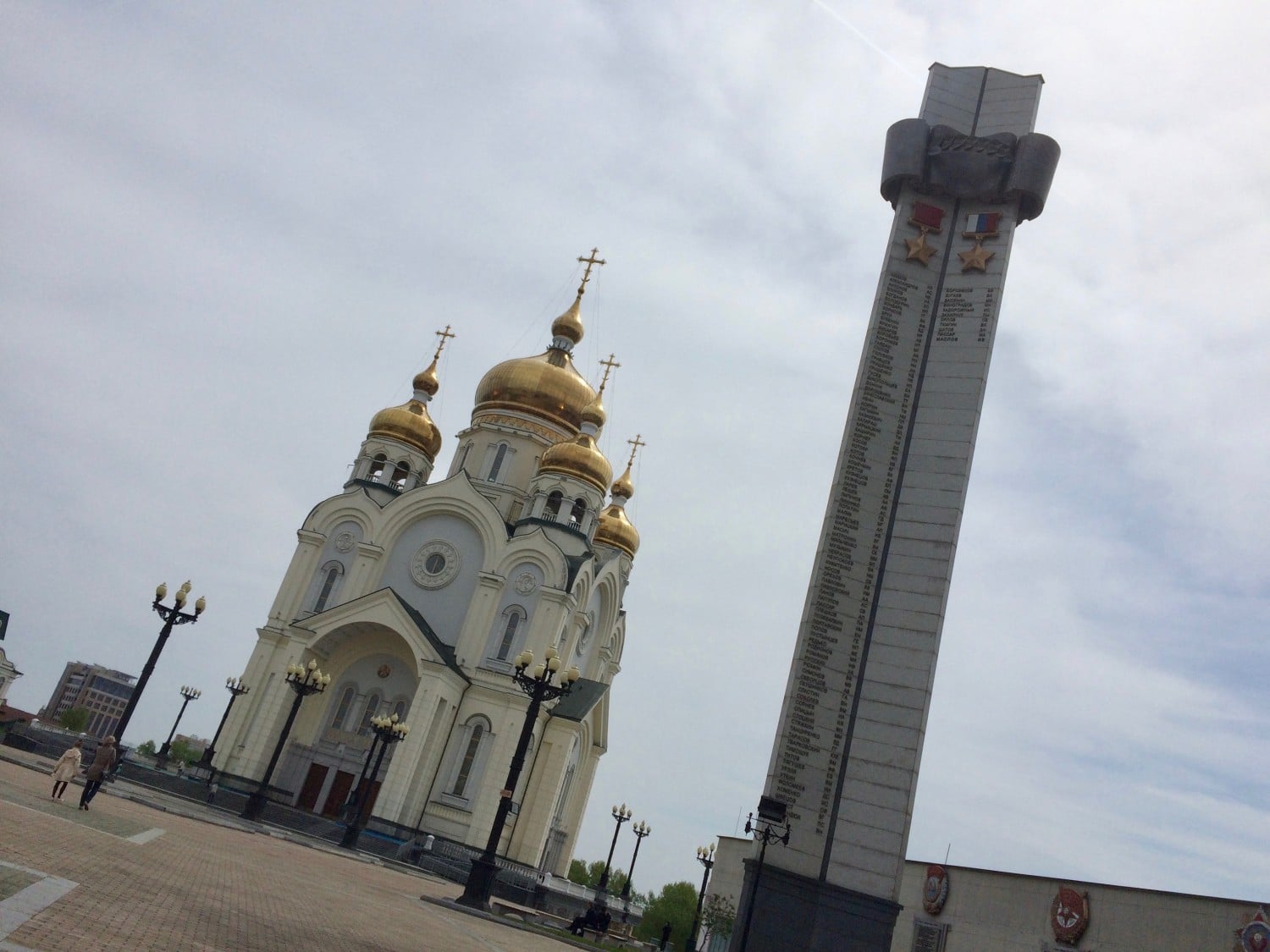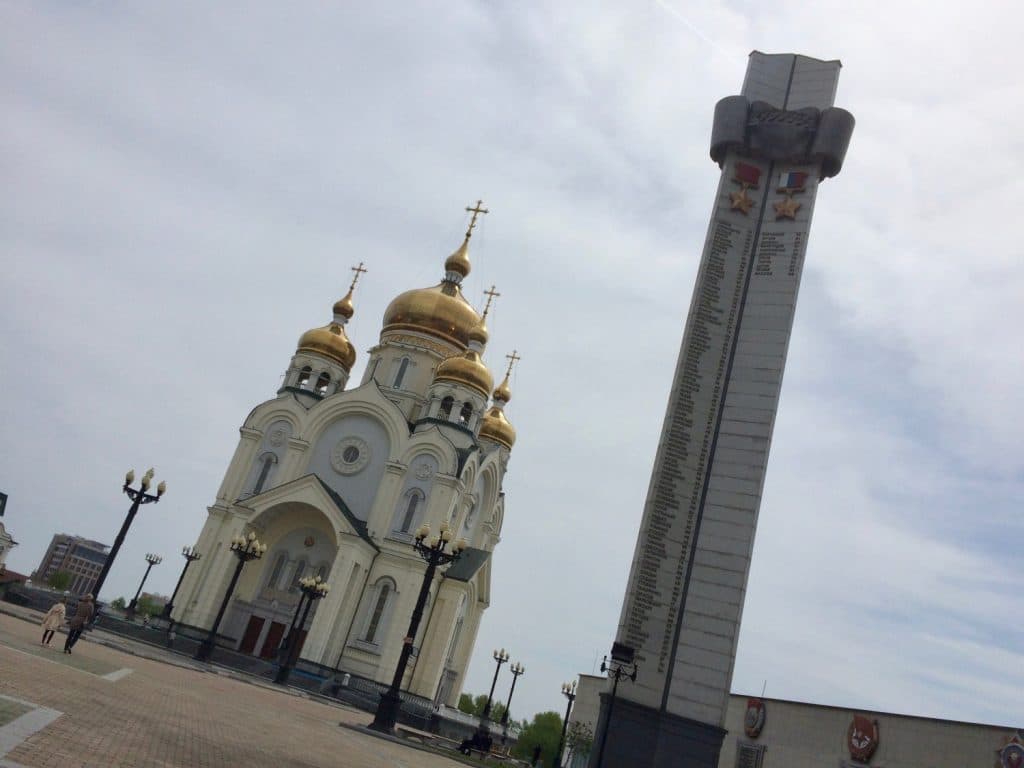 After a quick lunch and some brief exploring off the major thoroughfares (which you can skip), I went to the ethnographic museum. I'd known literally nothing about Khabarovsk, or the Amur area, before I arrived, which was a mistake; I wish I'd at least taken some time to read a little about it. The very little I found out about the history and ethnography of the area is fascinating, but the museum, like many in the former Soviet area, was packed full of artifacts with very few explanations. (Although I was honestly so exhausted by this point—having gotten no sleep the night before, on the plane—that I had basically forgotten Russian, and possibly English, so I couldn't have read anything even if I'd wanted to.) I did get to see some stuffed Amur tigers and various other beasts, and a very small exhibit on the region's gulags. There was also a really interesting exhibit on the indigenous peoples of the region, and the Russian Empire's takeover of the region. It definitely left me wanting to learn more.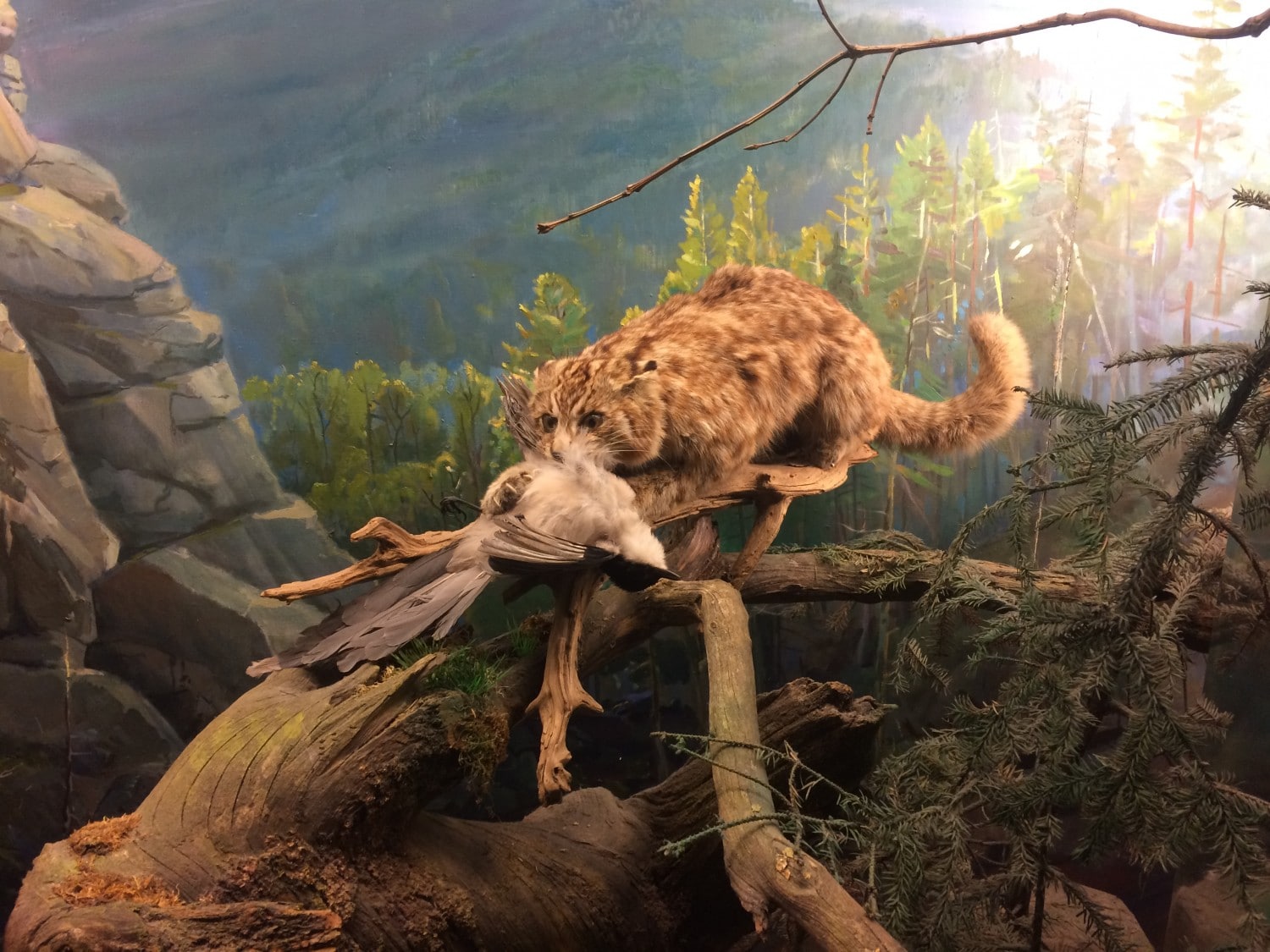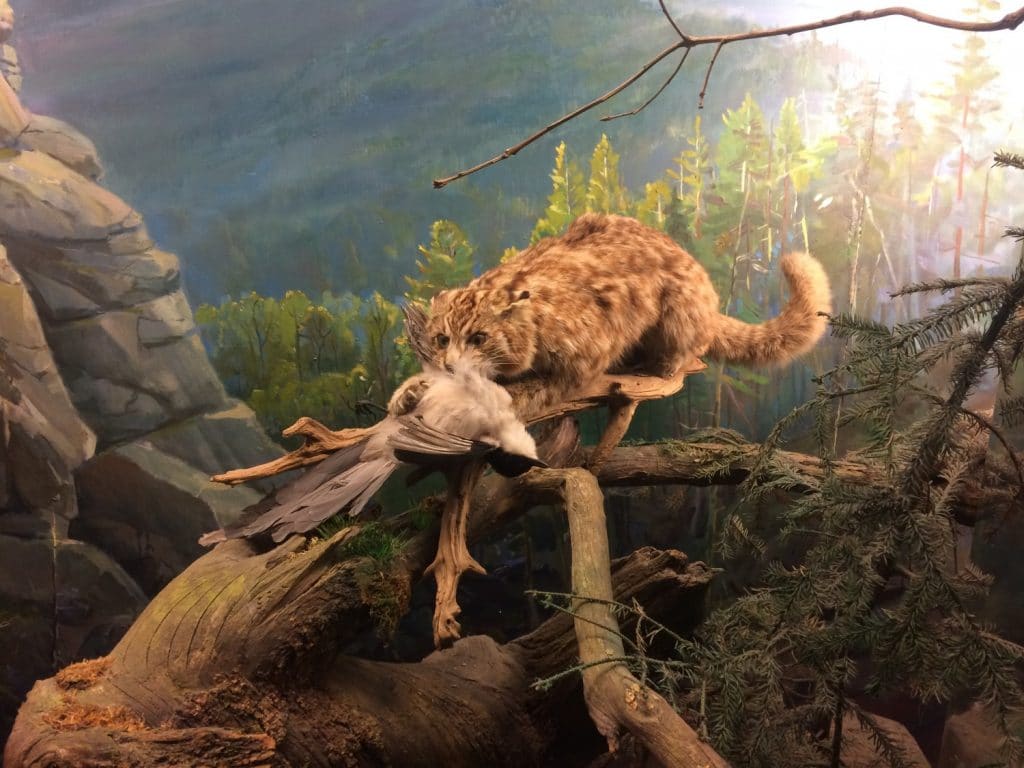 After a brief stopover at the Lenin statue, which was of course highly inspirational and revolutionary, I made my way back to the sad airport and then caught my flight to Vladivostok.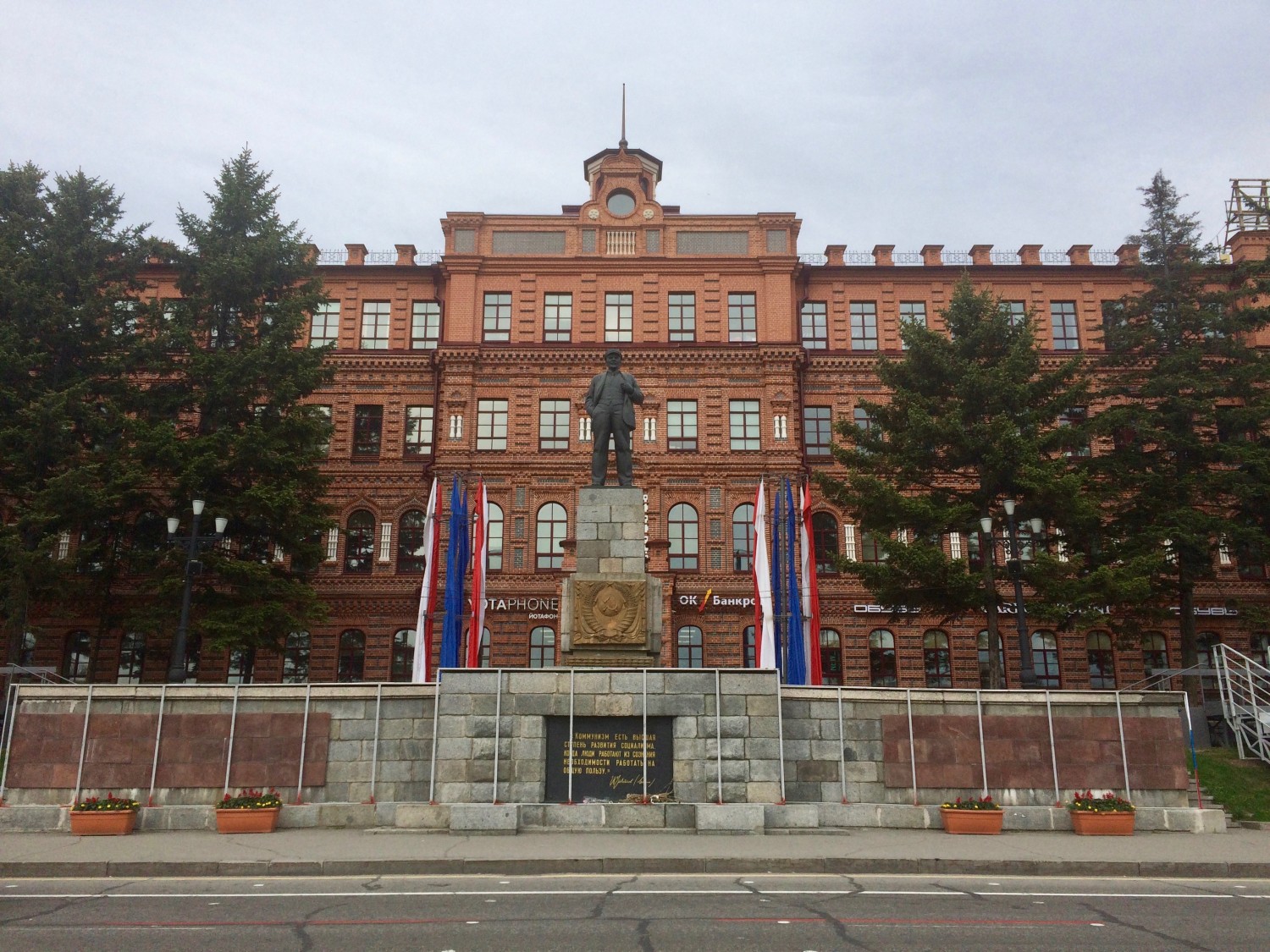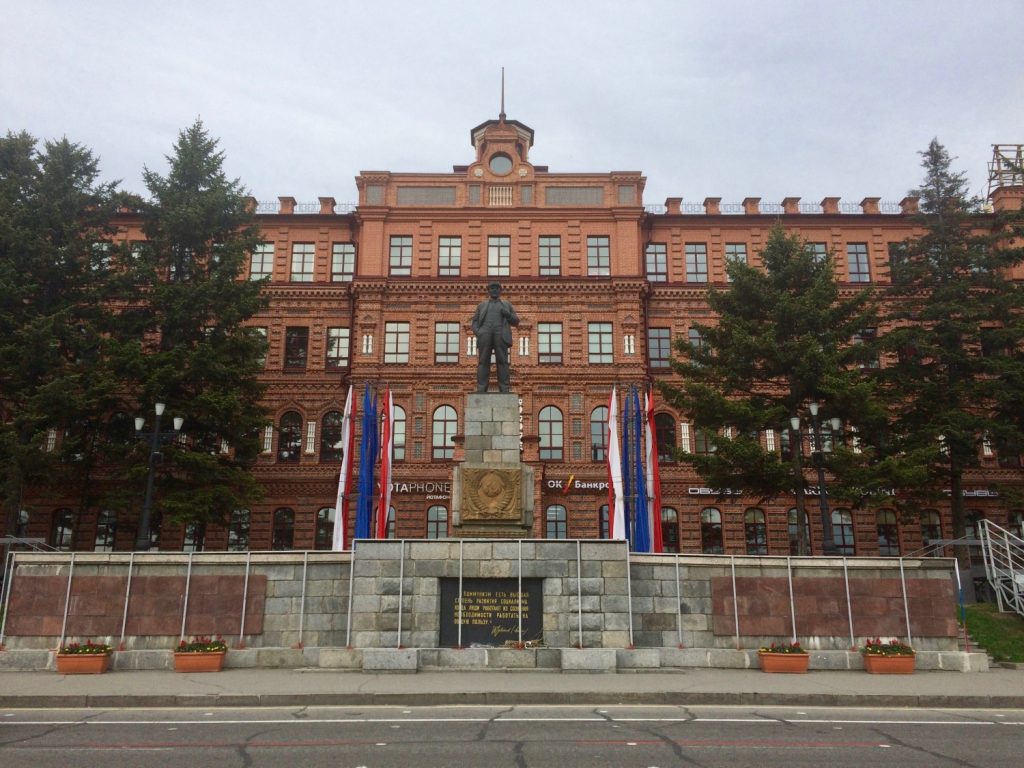 Budget: The plane tickets I bought were round-trip to Vladivostok. Those were about $400, so I'd strongly recommend planning well ahead—although I never found anything much cheaper. Tickets straight to Khabarovsk are actually only slightly cheaper. Check S7 and Avrora in addition to Aeroflot. The train can be about half the price of a flight, but it will also take you two days of travel time just to get from Irkutsk to Khabarovsk. You can get hostels for under $10 and hotels for under $30. The museum was about $5, and meals in the tourist area were tasty and about $10-12 each.