When I arrived in Russia I knew that one thing I wanted to do was see the Northern Lights. Many Russians seemed to think that this was ironic as I am Canadian and one can see the Northern Lights in Canada's Arctic regions as well. What Russians do not know, however, is that traveling in Canada and North America more generally, is extremely expensive. Where a roundtrip flight to Whitehorse, Canada from Quebec is over $1000, a roundtrip flight to Murmansk from St Petersburg is only $120. Thus, doing this while in Russia has a massive advantage.
You may be dissuaded from going to this city after talking to Russians in St. Petersburg who ask: "why would you want to go there?" or who state: "it's a tourist trap." But listen: I can assure you that seeing the Northern Lights is worth the money. The total trip cost me only about $300 and, in addition to seeing the Lights, I also got to see Murmansk, a great example of a "real Russian" city that you have been deprived of in St Petersburg and Moscow. It has many examples of Soviet architecture, beautiful monuments, and is a prime location as a port on the Arctic Ocean, which is likely to be growing in geopolitical importance in the coming years.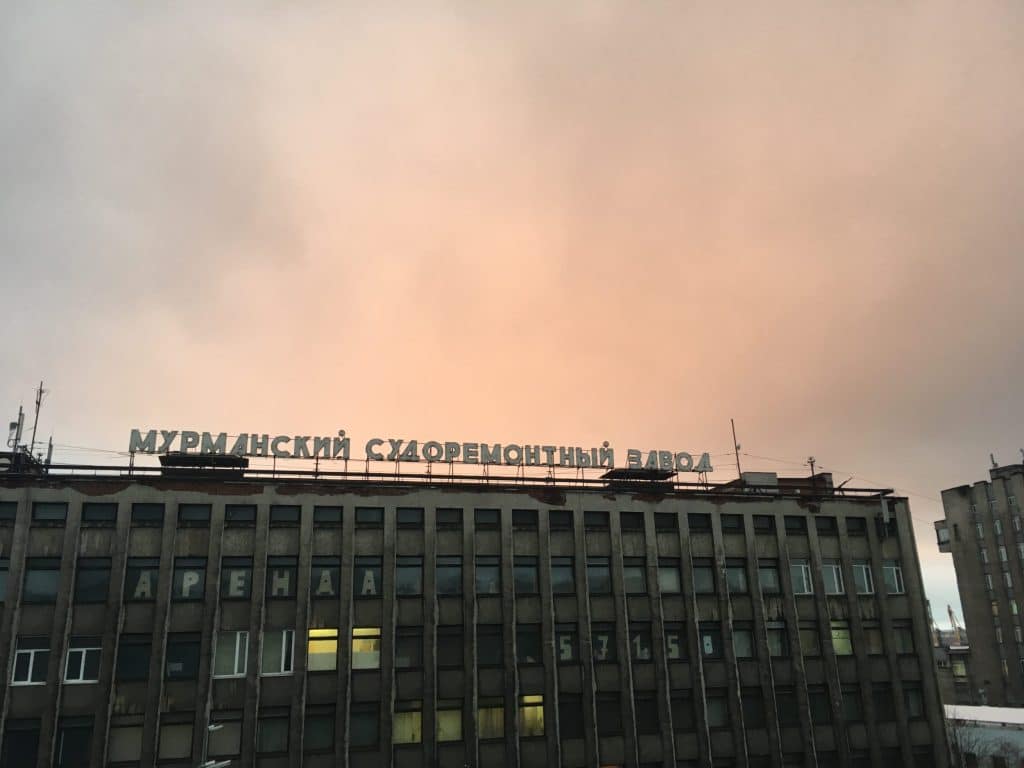 Before traveling to Murmansk, note that the days are much shorter than those in St Petersburg because the city is very far north. We traveled in late November and only had about 3 hours of sunlight a day. The temperatures this time of year are also relatively low, around -8 to -10°C (14 to 18°F)
Since the flight cost $120 and I did not want to spend any more than $300 total on the entire trip, this meant booking cheaper accommodation. This was fairly easy as we were traveling with a group of nine people. We used Bookings.com to price compare options that could accommodate our large group and we eventually found a match with two apartments in the same building. For four nights total it was 2,500 rubles each (under $40). Our air tickets were also the cheapest we could find. I recommend Skyscanner and Tutu for comparing ticket costs and getting the best deal.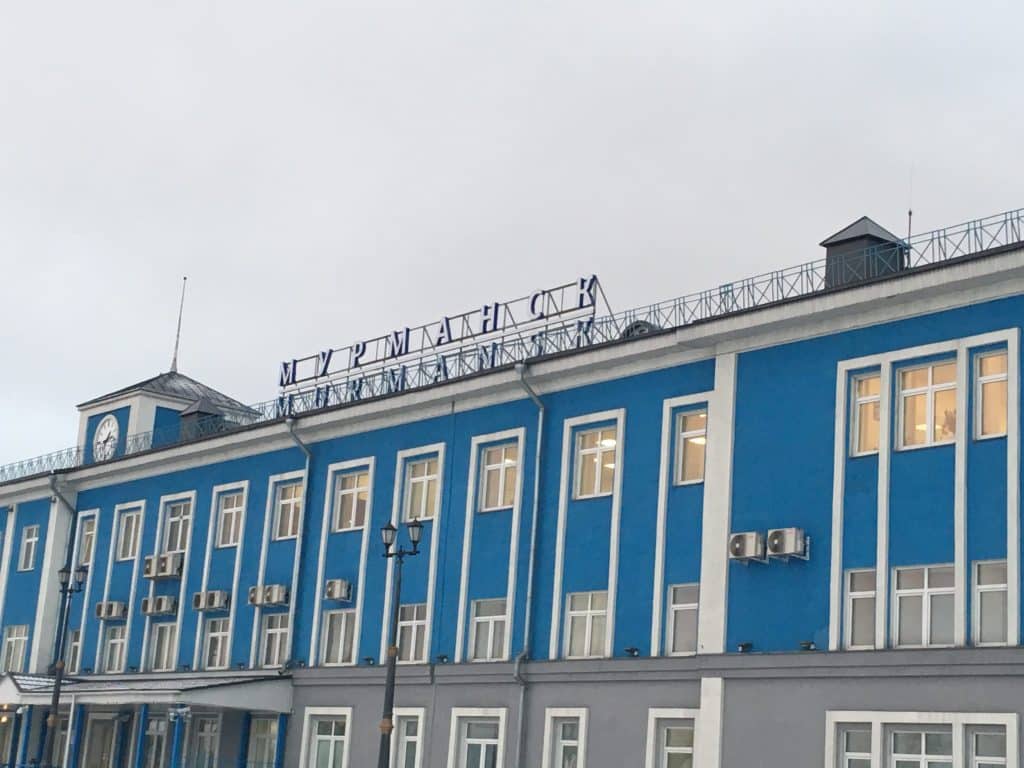 The group we traveled with was an eclectic one. In my room were four fellow SRAS students from various cities in America. My friend Emma, who speaks Russian very well, was a very helpful travel companion in Murmansk, where English is not frequently spoken. She ended up being our point person for talking to taxi drivers and other logistics people. The other apartment had five guys, all from various locations around the world: two Americans, two Spaniards, and a German whose parents were Russian.
When we arrived in Murmansk, some of us had an odd incident in the airport. While I was not among them, five SRAS students who were seated at the back of the plane were stopped by a man who claimed to be an immigration officer and who wanted to take pictures of their passports. As the situation seemed odd, they would not allow him to do so. This resulted in a bit of an argument and the students smartly decided to call our SRAS program director, April, to talk to the officer. After the conversation each student had to fill out documents with their passport information as they could not prove or disprove that the man was an immigration officer. They thought that this would cause problems on their flight home but it did not. All else went smoothly.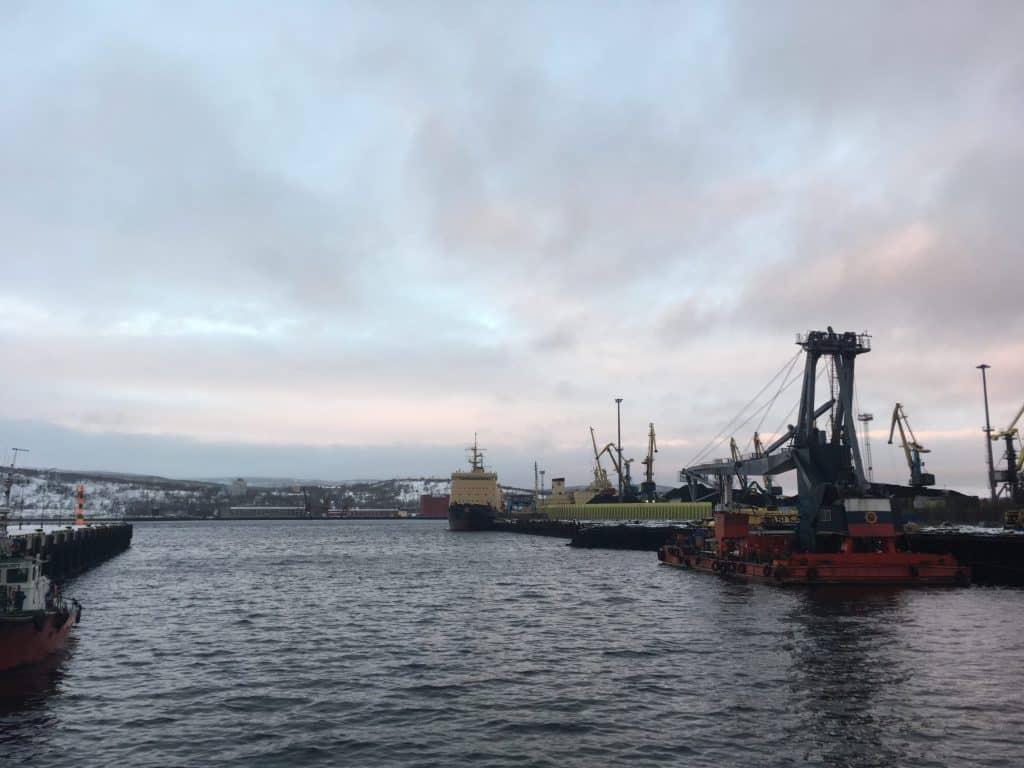 Part of this oddity may have been caused by the fact that Murmansk is a military site which means heightened suspicions towards foreigners. If to do this again, I would advise all of our group to not speak too loudly while heading through the airport (we were). Overall, the incident blew over and should not deter you from making the trip.
When we arrived to Murmansk we had no tours booked in advance. If you stay at an Airbnb or a hotel, they will often be able to set up a Northern Lights tour for you. However, keep in mind that the Northern Lights are very unpredictable in that they are not always visible. You do not want to be booked on a night that has a low chance of seeing them. We used Indy Guide which is an inexpensive tour resource. We booked the tour for the same day as our arrival after speaking with our tour guide who told us that there was a high chance we would see them on that day. As with any tour, the bigger the group, the cheaper the tour. We paid around 4,500 rubles (around $70) per person. Many tours in Murmansk also have a policy that if you do not see the Northern Lights you only pay 1,500 rubles – definitely look for these!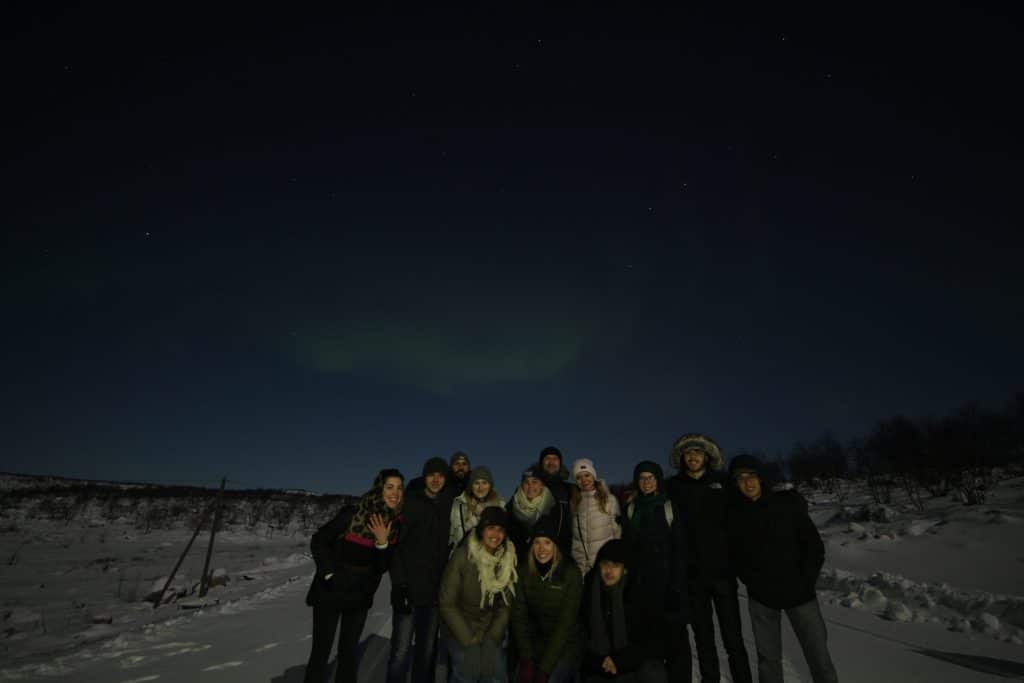 Before the tour, we communicated with our guide, Andrei, over the phone. He arranged to pick us up at our apartments. He also had to call to confirm that we all had our passports and that we did not have diplomatic passports. He explained that this was just an extra precaution because sometimes tours will take you on military-owned land where officers may need to check your documentation.
Our tour was amazing. We went to an area in Murmansk's tundra where we parked and waited. The bus was kept running so that we could warm up if we needed to. The company also supplied us with berry tea and cookies to snack on. The lights are very spontaneous and sometimes do not last long, the guide often would yell at us to look. At first they were hardly visible but after an hour the Northern Lights appeared in full force. The tour included professional pictures that were taken beneath the lights which were later sent to us via a google drive.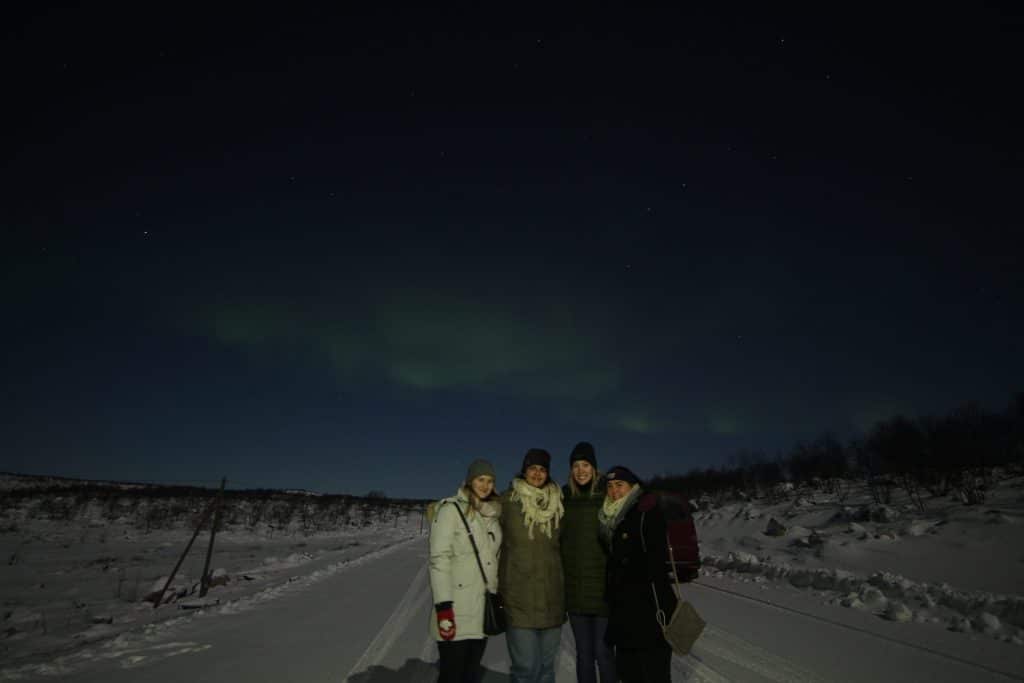 While we opted to take a tour, I know two groups of students who decided to rent a car in Murmansk. This has advantages and disadvantages as well. These groups used the same apps our tour guides used, like Aurora Alerts, to track the lights and lead them to where the lights could be seen. One of the groups had no problems at all. The other group was led to a small village with a gated entrance. Although the guards let them in, they were spotted by local authorities who informed them that this town was a restricted area for the military. They were then taken to an office where they spent three hours talking to the authorities about why they were there and where they were from. Luckily, their Russian was good and the experience ended with a good story to take home. During the duration of their visit, villagers would often peek in to see the foreigners that caused such a stir in the small town. They were released after filling out some paperwork and told that the lights were now visible. A guided tour is less likely to have this happen, though.
Murmansk also offers a variety of other tours. Many are available on Indy Guide. For example, you can visit a Saami Village to see reindeers and visit a husky farm or visit the village of Teriberka (the set of the Oscar nominated 2014 Russian movie, Leviathan). These tours tend to be a little more expensive, but are worth seeing.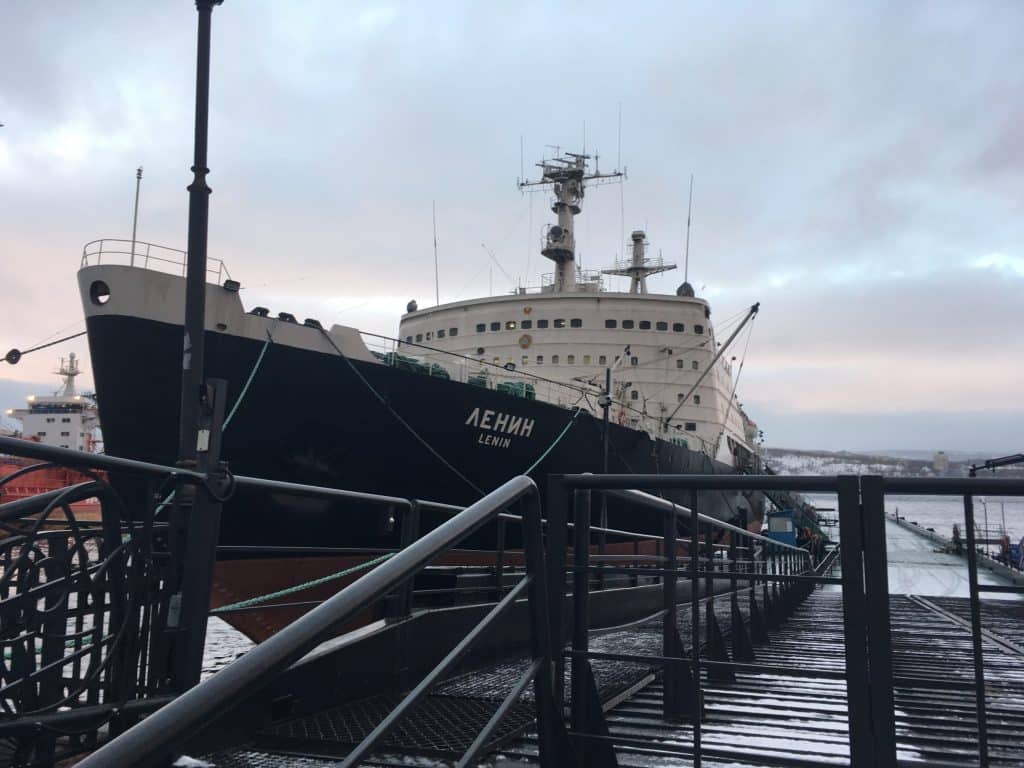 We found the city itself was very easy to walk around without even using public transportation. On our first day we walked from our apartment to see the Lenin nuclear-powered icebreaker. You can go inside the icebreaker for 30 minutes for 1000 rubles. We also saw the massive soviet-era Alyosha Monument, a gigantic soldier which stands on a hill, overlooking the entire city.
In terms of food, this Russian city has no shortage of delicious restaurants. There is a restaurant group called No. 1 Dostavka that owns most of the places to eat in Murmansk. You really cannot go wrong eating at any of them. In particular, we really enjoyed White Rabbit. We ate there both for breakfast and dinner and loved both.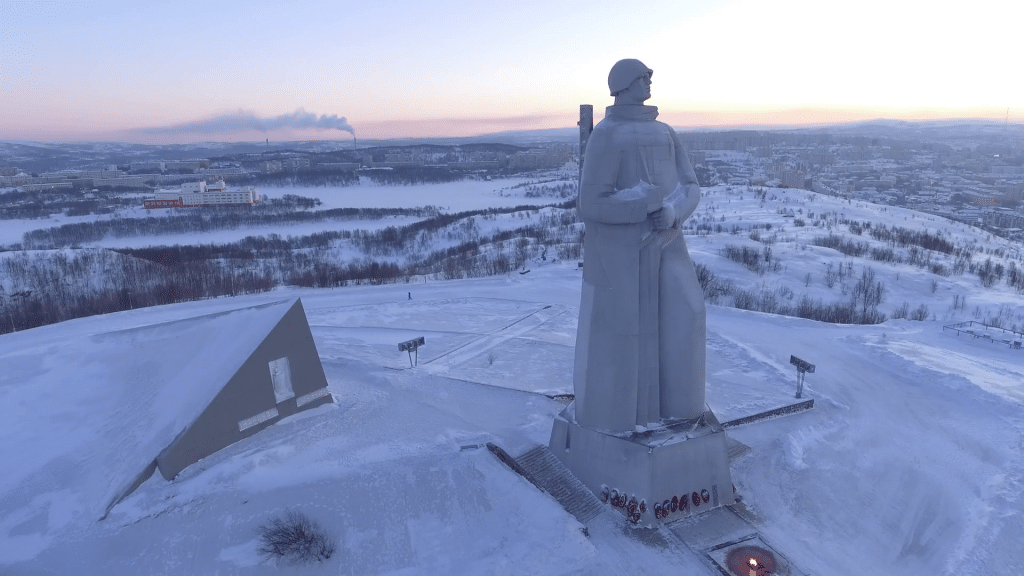 I hope you enjoy your trip to Murmansk. As with any foreign city make sure that you are hyper aware of what is going on around you especially since the shorter days means longer periods of darkness. Traveling with friends, especially ones that speak Russian better than you do can also make things easier and safer. Be safe and have fun!
Trip to Murmansk from St. Petersburg
Four Days
Total budget: $300