Kazan is the capital of Tatarstan, a semiautonomous republic within Russia. Roughly the size of West Virginia, but with nearly twice the population, Tatarstan has one of the strongest and most diverse regional economies in Russia. The Tatar people, for whom the republic is named and who still enjoy a majority in their republic, are of Turkic decent and are predominantly Muslim.
The republic is often referred to as a model of an effective multiethnic state, with Muslims and Christians living side-by-side in peace. It is also often regarded as a model for effective economic development and anticorruption measures. The republic, however, also faces several problems in managing its diverse population and balancing environmental and economic issues. Read more on GeoHistory.
Kazan is located about 500 miles east of Moscow and 900 south east from St. Petersburg and is easily accessible by air or train from either location. Booking.com is the most popular site in Russia for booking rooms. Airbnb works too.
A historic, welcoming city, Kazan provides a great introduction to the unique Tatar culture and an eye-opening glimpse at Russia's true ethnic and religious diversity.
2021 Fall Trip to Kazan from Moscow

by Courtney Blankenship
For our trip, myself and two friends opted to take a night train as the sleeper cars are typically pretty comfortable, and the train was a cheaper and more convenient option than flying.
If flying directly, flights take approximately an hour and a half, and at the time this article was written, roundtrip tickets could be bought for under $100 depending on the day of the week. Night trains will take 11 to 13 hours depending on the train and cost only a little over $60. In total, we spent 4 days in Kazan and about $200 each for the full trip.
After arriving to Kazan at about 1pm, we dropped our bags off at our centrally located AirBnb, settled in, and spent the evening exploring the downtown area where small crowds gathered around local performing musicians and where the glow of restaurants, souvenir shops, and cafes lit up the street. Later in the evening, we stopped by the Kazan Kremlin to see what it looked like at night and to plan what to see in more detail when we came back during the day. The centerpiece of the Kremlin here is the impressive blue and white Kul Sharif Mosque (Tartarstan is majority muslim).
The next day, we left to visit the Tatarstan Museum of Natural History near the Kremlin, which has a variety of awesome exhibits containing dinosaur bones, fossils, and historical artifacts. Tickets were reasonably priced, and museum employees were very helpful and friendly. The area around the museum was also pleasant as the trees still had their golden fall leaves, and it was warm enough that a heavy jacket was not needed.
As the sun began going down, we made our way to the Kremlyovskaya Embankment to stroll along the river under a walkway lit by thousands of strands of LED lights. Restaurants and cafes line the walkway, and there are several long swing sets (both for kids and adults) facing the river. We stopped for dinner at a small restaurant and then went to a store to pick up ingredients to make blini in our Airbnb for breakfast the next day.
Once we got up and moving, we took advantage of the sunny weather and opted to visit some of the wonderful parks before finally ending up at the State Museum of Fine Arts of the Republic of Tatarstan. The museum was pretty small, so it did not take long to walk through each room of paintings and artwork, but it was still worth the visit.
By the time we left the museum, it had gotten dark, so we stuck to the more well-lit main streets and stopped to listen to local musicians perform. We hadn't been walking long before we came across the small Anti-Alcohol Moonshine Museum, dedicated to showing the history and consumption of alcohol. Complete with alcohol bottles from different eras, photo zones, and even the chance to sample alcohol with the purchase of the correct adults-only ticket, the museum is very unique and has a vibe of its own. In terms of actually consuming alcohol in Kazan, however, keep in mind that it is a bit more conservative, and while alcohol is consumed here, it should be kept in moderation.
Our favorite museum, due to its large size and wide variety of exhibits spanning the entire history of Tatarstan, was the National Museum of the Republic of Tatarstan. There, many of the signs were in both Russian and Tatar and even some in English (museums in Russia often don't have English available). The National Museum took several hours to go through and once we finished, we chose to have dinner at a local restaurant serving a variety of dishes common in Tatarstan. We ordered several things from the menu– such as echpochmak "triangles" and manti– and then we finished the evening by revisiting Kul Sharif Mosque in the Kremlin to view the inside and quickly go through the small Museum of Islamic Culture.
The next day was pretty relaxed as we had already seen all the museums on our list, so we spent the afternoon walking along the river and preparing for our night train back to Moscow.
We spent five days in Kazan, and while there was quite a bit to do, we felt that it was the right amount of time to see the main sites and experience the city. Kazan felt very safe and comfortable, and it was easy to get around on foot. The people were very friendly, and things tended to be very reasonably priced. For me, half the fun was experiencing the train ride and watching out the window when it was light outside as we passed through the Russian countryside. You also have the opportunity to meet new people in the sleeper cars, and it's a good opportunity to practice your Russian language skills.
Kazan is a must-see destination if you will be in Russia for the semester!
2019 Spring Trip to Kazan from St. Petersburg

by Lucy Harnish
Travel within Russia is comparatively inexpensive and, while studying in St. Petersburg, I've been able to see many great cities will keeping to a student budget: Sochi, Murmansk, Irkutsk, and now Kazan. Kazan is unique and now one of my favorite Russian cities. This uniqueness stems largely from the Tatar and Muslim influences in architecture and culture, making this city different from all the other cities I've visited before.
To save money on travel, it is very easy to find likeminded people interested in exploring Russia (and splitting costs!) in the international student dorms. I traveled with two other girls. One was from Poland and the other was from the Netherlands but her mother was Russian. I had traveled with Nina, the student from the Netherlands before, and knew how useful it was to travel with someone who was a native Russian speaker. This is important as you travel outside of St Petersburg and Moscow, where fewer people speak English. You will certainly have more opportunities for practicing your Russian in Kazan than in large cities closer to Europe.
Before booking the trip to Kazan, my group of friends gathered in our kitchen dormitory to discuss budgets, flights, and accommodations. We wanted to keep this trip inexpensive and decided not spend over $300 each including flight, accommodation, and food. Overall, for three days, I personally spent only about $200 for the trip total. The Airbnb we chose could sleep three people and was under $20 each for two nights. It was located in the city center, with view of the Volga River and was equipped with a kitchen, so if we wanted to save our money and cook, we would be able to.
While trains in Russia are great, allowing you to see the Russian countryside, meet more Russians traveling onboard, and, if you would like, stop in other cities on the way, taking the train from St Petersburg would take at least 17 hours each way. We decided against it and began to price-compare flights. For this we used both Skyscanner and Tutu. Direct flights to Kazan are fairly cheap and we settled on a flight with Nordavia for 5650 rubles (slightly over $80) for a two-hour flight.
We knew we would have to make the most of both of the two short days we had in the city to see everything that we wanted. We ate a breakfast of kasha that we had bought the evening before at a nearby grocery store and cooked in the apartment kitchen. Then, we ordered an Uber to the Temple of All Religions, located slightly outside the city. The temple was beautiful, standing as a powerful symbol of peace and unity between religions. The temple was built by an artist named Ildar Khanov who was inspired by the multiculturalism of Kazan itself: with both Islamic Tatar and Orthodox Russian culture.
We entered the temple for 100 rubles each and we found the exterior was definitely the highlight. After touring the entire building in under 15 minutes, we ordered an Uber back into the city to get lunch. We decided to go to a blini restaurant called Café Blinnaya Maslenitsa (closed as of 2021) that was recommended to us by a friend. It is a Russian cafeteria with premade food on display, however, there is also a list of over 40 blini, sweet or savoury, that you can order. The blinis are then made right in front of you. If you have a student card they offer a 25% discount. For three large blinis we spent 285 rubles. Try the Greek blini – we all agreed it was our favorite!
After lunch we walked to the Kazan Kremlin, less than a five minutes' walk from the restaurant. Entry to the Kremlin itself is free unless you choose to take a guided tour which is approximately 1000 rubles each. We opted to go without the tour. The highlight of the Kremlin is the Kul Sharif Mosque, which is free to enter. If you choose to enter the mosque, be aware of cultural differences and respect that women must have their hair covered. If you are a woman, you will not be allowed to enter the mosque without covering your hair. You can bring your own scarf or use one that will be provided for you. The interior of the mosque is just as beautiful as the exterior and worth the visit.
After exploring the rest of the Kremlin, we walked to Kazan's Ministry of Agriculture which has a large archway built around a tree at the front of the building. We intentionally visited this spot at night because this is when a green light shines behind the tree creating a beautiful example of fused classical and eclectic architecture.
Although we mainly used Uber as our means of transportation because the rides were short and always under 100 rubles, Kazan also has a good public transit system consisting of buses, trams, and trolley-buses. The fee for these are 25 rubles a ride. This means that you can save money by guiding yourself around the city.
The next day we spent exploring Bauman Street, a pedestrian street in the center of Kazan. In the evening the street is completely lit up with intricate lights. On the street you will see the bell tower of Epiphany Church, which is a local landmark. Also on the street are various restaurants and souvenir shops.
The city also has a variety of unique tours tailored to different interests. If you look online at Viator, you can find tours that include: Taste Vegetarian Kazan, a Kazan Art Walk, a Kazan Bicycle Tour, and much more.
If we had stayed longer in Kazan, we would have liked to explore the surrounding towns and villages with important cultural history and monuments. A Russian I met who is from Kazan recommended that I take a tour to Sviyazhsk Island or Rafia Monastery, for instance. Kremlin Tours offers a day trip to both areas for 13800 rubles (for 3-5 people). This tour begins with Rafia Monastery on the Volga River, which is a UNESCO protected nature sanctuary. The second stop is Sviyazhsk Island, a small island that lies in both the Volga and Sviyage Rivers.
One word of caution: pack warm if you are going in early January. The temperature ranged from -15°C to  -8°C ( 5° to 17°F). We were comfortable exploring on foot because we all had proper clothing.
Kazan is a gorgeous example of peaceful coexistence of Islamic and Russian architecture, culture, and people. The city has a welcoming feeling which can be felt immediately upon arrival. Please enjoy all that this city has to offer and take lots of photos – I assure you that they will stand out from the photos you took thus far in Russia!
2018 Spring Trip to Kazan from Moscow

by Katheryn Weaver
After hearing my friends and professors rave about Kazan for months, a friend and I finally went from Thursday through Saturday during the last week of February. For three days there, we spent a total of about $120 each for the full trip. At a brisk -12C, it certainly could have been colder, but the wind did cause us to spend a little more time indoors. Nonetheless, Kazan lived up to all the hype: we saw colorful villages, clean, crisp skies, and UNESCO World Heritage landmarks — in addition to a couple friends along the way.
We chose to fly to get there faster. Tickets were $80, the great majority of our budget. Everything else was quite cheap. For instance, the elektrichka runs to and from the Kazan airport is only 40 rubles each way, and a hostel close to the Kremlin, which puts everything below (except the Temple of All Religions) within walking distance, ran just $20 for all three days. In case of bad weather, Kazan does have a metro, but both Uber and Yandex Taxi are available and remarkably affordable.
Here are some of the highlights!
The Kazan Kremlin, one of the most iconic sights in town was declared a World Heritage Site in 2000. On the orders of Ivan the Terrible following the successful expulsion of the Kazan Khans in 1552, all Tartar buildings, including mosques, were destroyed, and everything that stands today was gradually built up from the ruins.
The Kremlin's Kol Sharif Mosque, reputed to be one of the biggest mosques in Europe at the time of construction, was first built by the Khans but destroyed by Ivan the Terrible. Reconstruction began in 1996 and was completed nine years later, on the city's 1000-year anniversary. Entry is free (the museum in the basement costs 200 rubles), and as stunning from the inside as it is the outside.
The Agricultural Palace (Дворец земля) is just a short walk from the Kremlin. Though actually Tartarstan's Ministry of Agriculture and Food, it more closely resembles a luxury hotel or actual palace. Although entry is reserved for employees and those on official business, it's a must-see. Nearby, there's a waterfront amusement park that works during warm seasons.
Tubatay (Тюбетей in Russian, Түбәтәй in Tatar), the first Tartar restaurant chain, is just a ten-minute walk from the Agricultural Palace. Their signature dish – kistibie (кыстыбый) – are half-moons of fried, folded dough that come with various fillings: mashed potatoes, vegetables, chicken, or beef. Dumplings and pastries are also served, and everything is incredibly affordable. For three kistibie, chicken soup, an appetizer, tea and compote we spent less than $5. Another great place to try Tatar fastfood is Kystybyi (named for something that is vaugely resembles a Tatar taco).
Kazan's main pedestrian thoroughfare, ulitsa Baumana (ул. Баумана), is one of the most interesting areas to take a stroll. With everything from souvenir shops to craft beer bars, a giant statue of Optimus Prime (next to the Museum of Rebellious Machines – Музей Восстания Машин), cafes, churches and museums, you're bound to find something for everyone.
The Museum of Socialist Life (Музей Социалистического Быта) which, although interesting, is not quite what it sounds like. The two-story museum houses toys, clothing, and memorabilia from the 1980s–particularly from the Olympic Games in Moscow. Most everything is interactive­–you can even try on a pair of Soviet jeans or carry around an old suitcase. There are also candy wrappers and a Sea Battle (Морской бой) video game unit, one of the USSR's most iconic video games (which costs extra – 100 rubles for 4 rounds). Student tickets cost 150 rubles.
The Temple of All Religions (Храм всех религий) is a complex located nine kilometers northwest of the Kremlin walls. A bus can take you there in about an hour (25 rubles), but a taxi will only cost about 100 rubles and arrive in just 20 minutes. The temple contains several types of religious architecture rolled into one building. These include an Orthodox church, a mosque, and a synagogue. Started in 1992 by local artist Ildar Khanov, the complex is still under construction and many areas are inaccessible. Nonetheless, it's a unique structure that is well worth the trek. A suggested donation of 50 rubles per person contributes to construction of the temple.
AntiCafe Tsiferblot (which actually means "Clock Face" in Russian) is an excellent place to unwind after a long day, practice your Russian and enjoy a nice cup of tea. Rather than paying for the food and drink you consume, you pay for the time you spend in an anticafe. Various games are available, and while we were there one of the sitting areas was modified into a dance floor. Located in Kazan's University District, the anticafe has a variety of interesting events and people.
More Travel Ideas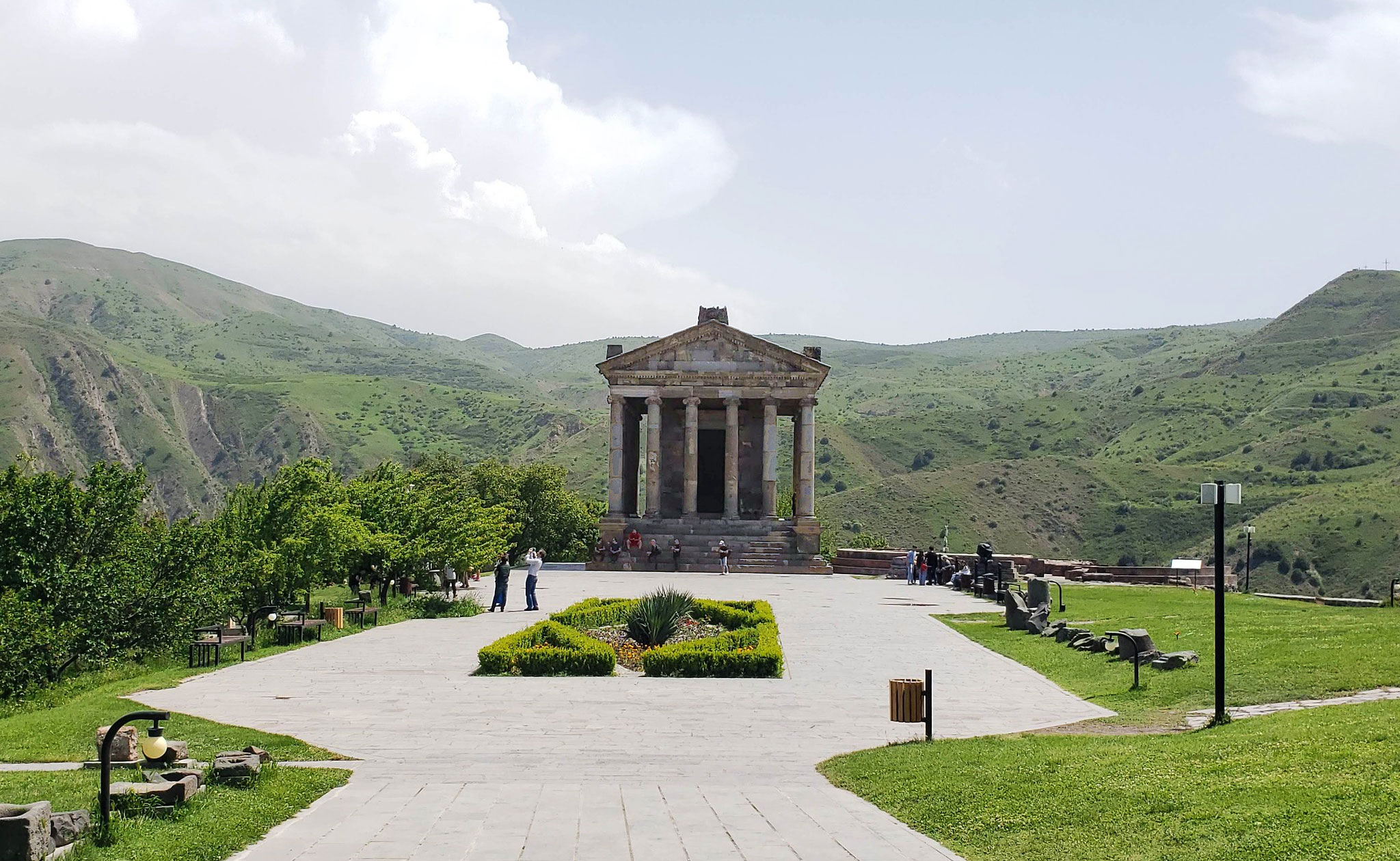 This itinerary will take you from Yerevan to Garni Temple, Geghard Monastery, and Symphony of Stones. You can take a car the full way or combine hiring a driver with a moderately challenging hike of 3-4 hours. Logistics for Garni Temple – Symphony of Stones – Geghard Monastery The furthest of these sites is only […]
0 comments