Siberia holds a particular place in the western imagination. Most envision it has a mysterious, permanently snowy land of exile and prisons. In reality, Siberia is remarkably diverse place – both ecologically and culturally. It's vast expanse covers tundra, marshes, forests and prairies. It hosts large cities, but also wide areas of undeveloped lands.  It is also home to many indigenous peoples – who still strive to maintain their unique cultures and languages.
Irkutsk is often considered Siberia's cultural capital – founded in large part by exiled Decembrists who brought a high level of western education and Russian culture to the area. It's an excellent place to learn of their history, but also to explore the native Buryat culture, and see the exotic beauty of Lake Baikal, which holds around 20% of the world's freshwater and has species that have evolved specifically for its unique environs. Those who travel to Irkutsk are often looking for natural adventure and to see, quite literally, another side of Russia that contrasts with Moscow or St. Petersburg. Read more about Irkutsk from GeoHistory.
Irkustk is approximately a six-hour plane ride away from the SRAS locations of Moscow or St. Petersburg. Those traveling from Vladivostok can make the trip in about 4.5 hours – but such direct flights are not available on all days. Most flights run through Khabarovsk, which itself is a recommended travel destination in eastern Russia. Train travel is also available from all locations, but will take a few days.
Trip to Irkutsk from Moscow – Fall, 2021
By Courtney Blankenship
While studying abroad in Moscow in fall of 2021, I and a friend decided to visit two Siberian cities, Irkutsk and Ulan-Ude. We spent a little over four days there, and about $400 each, with about half of that going to round-trip airfare.
With a Netflix library of downloaded movies for the flight and a backpack full of warm winter clothing to handle Siberia's cold weather, we took a taxi to Sheremetyevo Airport and hopped on a 7:25 AM flight from Moscow to Irkutsk. The flight is about six hours, but due to the extreme time difference, we arrived around 6:10 PM local time.
Arrival to Irkutsk
It was already dark, so we took a taxi to our Airbnb and went to grab dinner at a nearby restaurant where we met friendly people and had fun conversation. Traveling and meeting people is a great way to practice speaking Russian!
The next day, we ate breakfast at the Airbnb, researched transportation costs to Lake Baikal, and planned which places we wanted to visit. We were both still jetlagged, so we opted to save museums for a different day and just spend the afternoon walking along the Angara River and strolling through the downtown area. It was cold out – even for our double-layered outfits – and we returned to the Airbnb somewhat early in the evening so that we could be well-rested for the next day's trip to Lake Baikal and the activity-filled days to come.
We woke up early to purchase marshrutka tickets from Irkutsk to Listvyanka, a somewhat tourist-y town on Lake Baikal. While we had hoped to arrive by 8 AM at the latest, we found that our American cards did not work on the Russian ticket app and then found out that the actual ticket office would not open until 7:30 AM, so we were not able to leave until 8:30 AM. We drank coffee at a nearby cafe until we could buy our tickets (which were only a few dollars each) and then we set off for Listvyanka.
It only took about one hour, and the route was very scenic. Still cold, I stopped at a small store in Listvyanka to purchase a wool hat. Thankfully, it started to warm up that day and eventually became less "cold" and more "chilly." After walking around the small town, which is surrounded by Lake Baikal, we started hiking our way along the forest to higher elevation where you could see out across the lake and the colorful homes where people live. On the way, we could see puffs of smoke wafting through the air as people sold smoked omul fish, a local delicacy found only in Lake Baikal, in stalls around town. We did not try the smoked fish here because we had already eaten, but we did have the chance to try Baikal fish when we went to a restaurant in Ulan-Ude a few days later. It was great!
Later in the day, we went through a souvenir market where we saw carved, wooden instruments, decorations, and a variety of items made from minerals– including charoite jewelry. Charoite is a purple mineral that has reportedly only been found in part of Siberia, and it's a cool souvenir to bring home!
After lunch at a decent restaurant called Proshly Vek, we gradually made our way to the Baikal Museum which took some time to reach on foot since it is on the opposite end of the town. The walk along Lake Baikal was beautiful, and the weather had warmed up a little so it was not difficult to get to there – just a little time consuming. The museum is small and it was quick to go through, but the exhibits were interesting. There is also an aquarium area where you can see some of the animals endemic to Lake Baikal, which is so big that it has many species that have evolved specifically there like the Baikal Nerpa Seal.
After a day of nice, sunny weather, the skies turned gray, and it began to rain as we left the museum to walk back to the meeting point for the marshrutka. We stopped at a small shop on the way to grab a Baikal soda. This non-alcoholic drink has been around since Soviet times and tastes kind of like Coca-Cola with a hint of pine. It's a very unique flavor and hard to describe, but is now one of my favorite drinks!
We took the hour-long marshrutka back to Irkutsk where we dried off and returned to our Airbnb for the night. The next two days were spent visiting the outdoor central market as well as a couple small but decently interesting local museums like the Irkutsk Regional Local Studies Museum and the Irkutsk Regional Art Museum.
We also stopped by Youth Island which is a small area in the center of Irkutsk with a Ferris wheel, a few restaurants, and a park. While we were there, local musicians performed a variety of songs as the sun set behind them over the Angara River surrounding the island. While walking around the city, we occasionally noticed Halloween decorations since we had arrived during the holiday. Halloween is not super popular in Russia and is generally considered a foreign import, but it's obviously catching on to a certain extent.
On our final day in Irkutsk, just before boarding our night train Ulan-Ude, the capital of the Republic of Buryatia, it got even colder and began snowing pretty heavily. We had one final dinner in Irkutsk with a friend we made during our visit and then boarded our night train to Ulan-Ude. Although the two cities are only about 150 miles apart as the crow flies, the train takes eight-and-a-half-hours because it has to round the tip of the enormous lake through hilly terrain.
We set our alarms and woke up early so we could prepare to disembark when the train stopped at around 6:30 AM. After arriving, we took a Yandex taxi to our Airbnb and were shocked at how cheap it was. We were even more shocked when we stepped into the taxi to find that the steering wheel was on the right-hand side of the vehicle but drivers still drove on the right side of the road. In fact, many – if not most – of the vehicles we saw in Ulan-Ude were this way. Many cars in this area were imported from Japan before Russia passed a national standard that all new cars had to have left-hand steering wheels. If you are interested in reading more on this oddity, click here!
Heading to Ulan Ude
We rested for a few hours because the train sleeper car had been a bit hot and uncomfortable this time around, and when we finally got up and moving around 1:00 PM, we began exploring the city. It was snowy and freezing cold, but the city had a laid back, unique atmosphere and people were very friendly. Foreigners are generally uncommon in Siberia, and locals are often curious to talk to those that can speak Russian. We stopped by the giant Lenin Monument in the main square and then went to Tengis Restaurant, where we decided to splurge on a 14-course tasting set which included dishes like mille-feuille with Baikal fish caviar and yak tartar on rye toast with mustard sauce and a shot of tarasun as well as many other meat dishes, desserts, and types of hot tea. The meal cost around 2,500 rubles total, so between the two of us,1,250 rubles per person. It was an incredible meal which showcased different elements of Buryat national cuisine and a diverse flavor palette.
After lunch, we visited the small History Museum of Buryatia (named after Matvei Khangalov) and enjoyed learning about the history of Buddhism in the republic. Buddhism is the most followed religion in the Republic of Buryatia, and it is said to still have an influence on peoples' identity, culture, and moral conduct there. Part of the museum includes a yurt which displays traditional clothing and other items. We left the museum and continued exploring the city on foot, stopping for hot cocoa before returning to the Airbnb for the evening. With the sun setting so early each day (around 5:15 PM) we did not want to be out super late – especially as it only got colder after dark.
The next day, we set out in search of buuz, the delicious, steamed dumplings famous in Buryat and Mongolian cuisine. It didn't take long before we found them as there are many cafes and restaurants serving them in Ulan-Ude. The dumplings are filled with meat, and you have to be careful when you bite into them because they are very messy and likely to spray hot broth when you bite into them. The mess is worth it though because they are absolutely incredible!
Full of coffee and buuz dumplings, we ordered a Yandex taxi to go to Ivolginsky Datsan Monastery Complex near Ulan-Ude. The taxi ride took about 35 minutes one way and it was fairly cheap at about 1,689 rubles roundtrip. We split this cost between the two of us, so it ended up being about 845 total rubles (about $12) per person. The drive was awesome as we passed small towns and countryside framed by the mountains while herds of cows walked along the street. There were a few other tourists at Ivolginsky Datsan milling around with the people living and studying in the monastery complex. After visiting one of the small museums/shops, we were told to visit one of the other buildings to purchase tickets and a piece of cloth that we should carry with us to each temple. There were signs posted forbidding photography inside the temples, and to be respectful, it is also a good idea to read up on do's and don'ts of entering Buddhist temples. It was freezing outside (sensing a theme here?) but the monastery complex was incredible, and it was really cool seeing the inside of the temples. We took a taxi back to Ulan-Ude at the end of the day (our same taxi driver had waited for us) and ate a quick dinner before returning to our Airbnb for the night.
The next couple days primarily consisted of walking around the city (which kind of felt more like a small town) to see monuments and visit museums like the informative Museum of History of Ulan-Ude and the outdoor Ulan-Ude Ethnographic Museum. The latter museum included several yurts, one of which was a restaurant serving buuz dumplings, and another held a small zoo containing camels, tigers, yaks, a bear, and many other kinds of animals known to Siberia. We also really enjoyed the small and interactive Museum of Nature of Buryatia and the indoor Tsentralny Rynok central market, where you can purchase a variety of fresh foods, spices, and local products. On our final evening, we boarded a night train to Irkutsk and arrived early in the morning, after which, we grabbed coffee and then boarded our flight to Moscow. Siberia was an awesome experience and well-worth the trip!
Trip to Irkutsk from St. Petersburg – Spring, 2019
By Lucy Harnish
Travel in Russia is extremely cheap when compared with taking domestic flights in North America. For example, where a flight from Nova Scotia to Montreal with a duration of an hour and a half would be close to $600 round trip, I made a four day trip from St. Petersburg to Irkutsk (a 9 hour flight away), for only a little over $600 with the flights, accommodations, tours, and food all included. One could make the trip for even less, if one went on a stricter budget.
I traveled with a fellow student named Nina. This was handy in a number of ways, both in being able to split some costs and also because, although Nina is from the Netherlands, her mother is Russian and she thus she speaks Russian as a heritage speaker. When we arrived in Irkutsk we realized very quickly that English is much rarer here than we were used to in St. Petersburg – including among people in customer service.
We opted to fly. However, many students also attending UNECON decided to travel via the trans-Siberian railway after their semester. This would be a once in a lifetime experience if you are up for three days of traveling by train. I just did not have enough time for the trip, but the choice is yours! I recommend Skyscanner and Tutu for comparing ticket costs and getting the best deal.
While it is always recommended to pack lightly (to avoid checked bags and back strain), this can be challenge when heading to Irkutsk in the winter. Since we were traveling in late December and expected temperatures ranging between -30°C and -35°C, both Nina and I packed a variety of heavy clothes to survive the dry cold of Irkutsk. Make sure to take leggings for underneath your pants, extra socks, a very warm coat, winter boots, sweaters, a hat, and a scarf. It is cold – but with layers it is manageable.
We booked an Airbnb together that was conveniently located in the city center for about $60 per night. Thus, my half was about $120. If you are looking for something cheaper, there a number of hostels in Irkutsk where you can find a bed for about $10 per night. We cut costs a little further by buying snacks and breakfast ingredients at a super market that was within five-minutes walking distance from our Airbnb.
Travelling with others makes getting tours easier. In all the Russian cities I have visited, I have booked my tour or activity either the same day or the day before. The process is always easy and relatively inexpensive by North American standards. We booked a tour that included a trip to Lake Baikal through 57°17'. Another interesting company was Baikaler (which offers a 3 hour city tour for free). Another generally good resource for inexpensive tours all over Russia is Indy Guide. When booking tours, note that the price per person tends to go down the more people you sign up with and also note that Russian-speaking tours are usually considerably cheaper than the same tours offered in English.
For our Lake Baikal tour, we were unexpectedly picked up by an old 1980s Toyota Corolla, when the tour description said we would be picked up by a tour bus. The guide explained that no one else would be joining the tour because of the abnormally low temperature (it was -35°C). The first stop was the Tsaltsy Museum of Wooden Architecture, an outdoor museum that features traditional Siberian wooden architecture. The museum itself was very interesting, as each building you entered was decorated to show the lifestyle of the person who once have lived there. There is a church, peasant's homes, merchant's homes, and a school house. If you want a snack there is also a small café with Russian food like pirozhki. It was also useful to have a guide for this museum as there are no write-ups to describe the village's history and cultural significance.
When we arrived to Lake Baikal, it was extremely cold and the sky was foggy. We could not really see the mountains that surround it and make for picturesque views. This is apparently common as the water, due to its depth and density, stays considerably warmer than the air around it, creating a fog. According to our guide the water does not freeze until the end of January, when views tend to be better.
At the end of the tour, we were taken to a fish market where we were offered to buy Omul for 100 rubles. This is a type of salmon that is unique to Lake Baikal. According to our guide people from Irkutsk often come to this fish market to purchase the fish year-round. Nina purchased it and thoroughly enjoyed it. As we drove back to Irkutsk the fog cleared a bit and we were finally able to see the mountains and hills.
As we were leaving the old white Corolla, our tour guide recommended we eat at Rassolnik, a Soviet style restaurant inside the wooden house district in Irkutsk. Rassolnik itself is a traditional Russian soup made from pickled cucumbers, pearl barley, and meat. We decided we would go there the next day. Unfortunately when we arrived the restaurant was closed for a private function. However, the district where the restaurant is located, an area of restored and faux-traditional wooden architecture called 130 Kvartal is definitely worth a visit regardless, with a number of shops and restaurants around. We decided to eat at Khinkal'naya, a Georgian restaurant with a variety of dishes and drinks.
Another day, we tried to do a walking tour of the city. However, after spending twenty minutes in the low temperatures, we decided we were unable to complete the walk. Luckily for us, Irkutsk has a well-connected public transport system of buses and trolley buses and each ride only costs 15 rubles. We were able to stay under budget and still see all the sights, which include Kazan Church, Savior Church, Kirov Square, and The Museum of Decembrists by taking advantage of this.
Although the weather was bitterly cold, I wouldn't say this was a reason not to go. We can now say that we've experienced a real Siberian winter. Also, Irkutsk is beautiful in the winter with ice sculptures everywhere, in particular lining walkways to the churches. This is how cold it is – they stay frozen all winter. These sculptures are incredibly detailed and worth seeing.
You'll also probably find some well-priced valenki at this time of year as well. In Irkutsk we quickly found out that boots were the most important part of any winter accessary. The cold from the ground somehow always went through our boots and chilled us to the bone. If you are looking to buy a souvenir that you can use while you are in the city perhaps consider purchasing valenki. These are traditional Russian winter boots made from felt and fur. Everyone in Irkutsk wears them and you should too to blend with locals! If you are from somewhere in the northern part of the US, you'll definitely find them at least as useful as (and more original than) Uggs.
As with any foreign city make sure you bring a working cell phone in case of emergency and be cautious! Otherwise enjoy your trip, you will not regret it!
Other Travel Options and Information for Irkutsk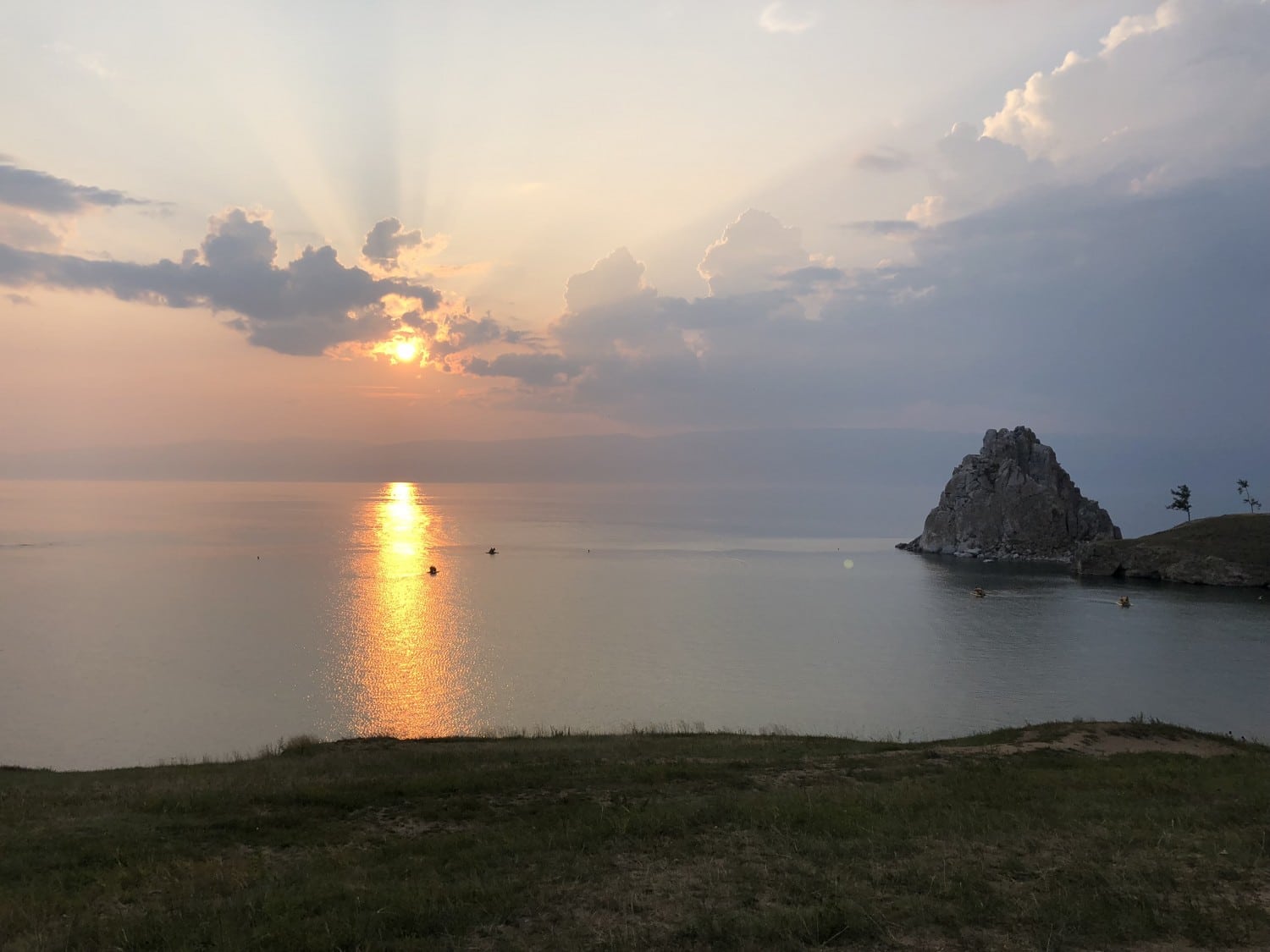 One weekend, my two friends and I decided to take a weekend trip to Olkhon. The planning for the trip was overall very simple! The best way to the island is to take a marshrutka (a small bus). The trip will take about six hours and cost 600-1000 rubles ($9-15) each way. If you have […]