Tottori Sushi
35 Gogolya St.
$9-$18
Largest portions of sushi
Close location to VSUES
I'm surprised that Tottori has not been written about before. Tottori is one of the closest "fancy" sit-down restaurants (not fast food places) to VSUES and it is great! There will be times where you will be faced with that tricky decision of whether to eat out or cook. You just had a long day, maybe your teachers just assigned a lot of homework and you just don't want to spend the hour to cook and clean. But you also won't want to take the bus to center simply to eat and then come back. When faced with this decision, Tottori is the choice.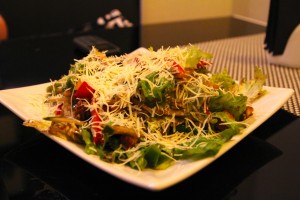 The outside is dressed up in fancy Christmas-like blue lights and gives off a modern essence, which is a striking contrast to its proximal surrounding. It stands out as a posh eatery in the decaying part of Golgoya. The inside is small, as is typical of most cafes here. The inside decor is arranged in a modern Japanese style and you can also buy fancy chopsticks there for 200 rubles, if you so desire. Most people call ahead and order their rolls and sushi, however it's typically empty so there are always places to sit. Service is decent; typically, there is only one woman working. Sometimes she will be busy reading a magazine, so it might be necessary for you to walk up and get her attention when you want to order or pay for your check.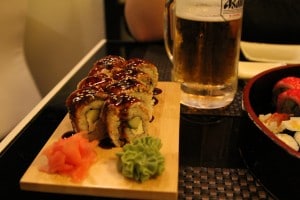 The main reason to eat at Tottori is because it is the best value in Vladivostok. There are a number of set dishes, each with various types of rolls in them. You unfortunately cannot choose individual rolls in the set, but hey… why not try something new? Typical sets come with 32 rolls and cost about 900-1100 rubles, which, when split among a group of people, is a great price. My favorite is Set #5 (Набор 5) because it has a wide variety from red california rolls to shrimp. If you want to order specific rolls (and they have one of the largest selections of rolls that I have seen so far), costs range from 150-600 rubles, depending on your choice and come with eight rolls. In the pictures attached, I went with fellow American student Kylea and we shared Set #5. I also ordered a house salad (for 120 rubles) and it was massive. Simply eating the sushi is more than enough food and I am always full when I leave.
The menu also expands to salads, soups, dessert, and European dinner choices. Like most eating places in Vladivostok, Tottori also offers "Бизнес лунч" which is when they offer a specific discount menu for the lunch crowd. If your classes are fortunate enough not to occur during the 11am-2pm period, I would recommend eating there given the prices (from 500 rubles to 1000) and tastiness of the food. It is not recommended you bring 12-20 people group there; I recommend 2-4, though 4 would be cozy.
Tottori is your best choice when you are feeling overwhelmed or lazy and want to eat out.
+ Ideal location to VSUES, tasty sushi, great ratio of food to price, free WiFi
– Small space, small staff
Final rating is 5/5 because it's a great choice when considering location to VSUES and how tasty it is.