For those that don't know, a business lunch is an inexpensive pre-set meal that restaurants offer to maximize their lunchtime traffic between about 12:00-4:00pm. This is a student's paradise!
Most business lunches offer a main dish, a side, and a drink for around 200-350 rubles ($3-6). Some places offer one or two choices for each dish, while others can offer up to 5. Since they generally pre-made, the meals are also usually very fast, which is helpful if you only have an hour between classes. There are literally dozens of these offerings around town.
With so many of these popular offerings available, I was inspired to find the top places to get a business lunch within about a seven-minute walk from UNECON, where I am studying. Here are the results!
Kanala Griboedova 18-20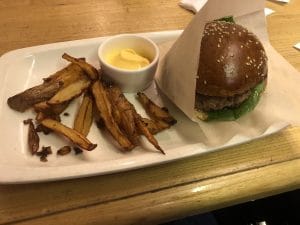 Between the university and the very busy Nevsky Prospect is City Grill, a fast and tasty burger joint offering several business lunch options ranging from 149 rubles to 379 rubles. These include a burger, fries, sauce, and drink. This is one of the latest business lunches in the city, going until 7pm (except the first option for 149 rubles which ends at 3:00). The burgers are quite good, but the fries are usually a little soggy. You get either ketchup or cheese sauce, the cheese tastes like the kind that comes out of a can, so I would stick with the ketchup. Unfortunately there are no veggie options for the lunch option (they are on the regular menu, though).
Kanala Griboedova 38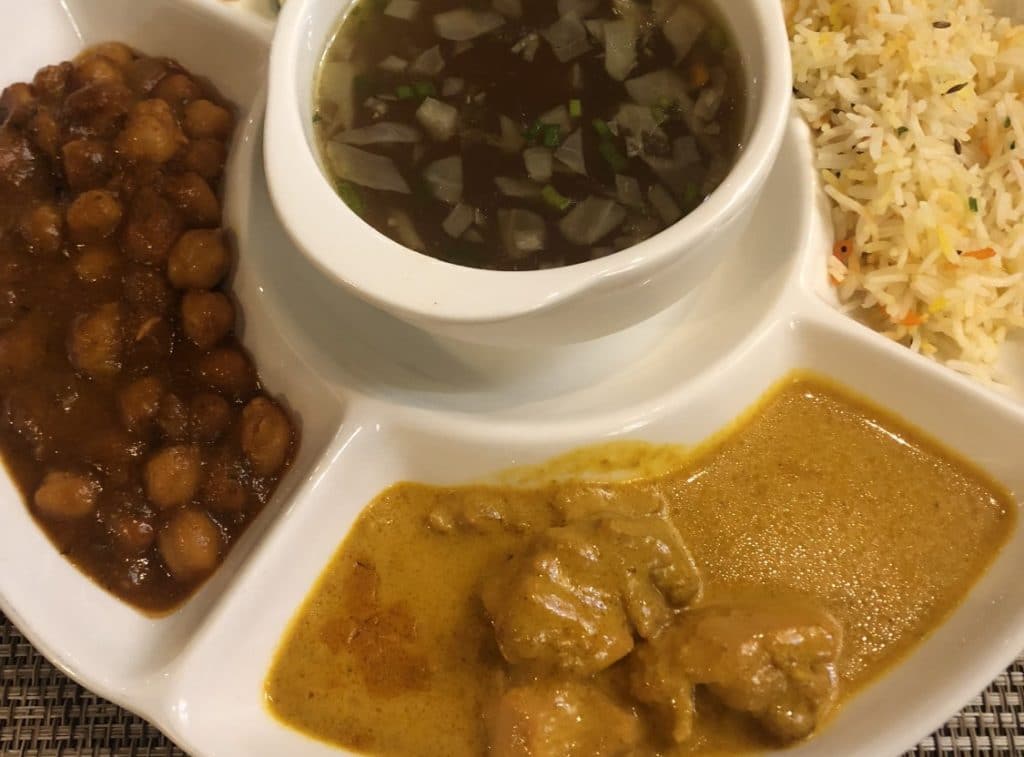 This is an amazing place for business lunch and food in general. Their lunch is 250 rubles, ends at 4pm, and includes a large plate with two curries, rice, salad, soup, roti/naan, and their homemade mors (a Russian fruit drink). Every day the curries, soup, and salad change, but they have all been delicious every time I've gone. You are able to choose a veggie, chicken, or meat option for the meal, so it's a good option for all.
(Kanala Griboedova 22)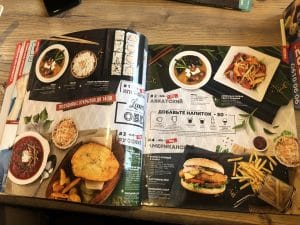 This restaurant focuses on mainly Asian cuisine, with some Russians and American options as well. Pick up their "red card," a club card that will get you discounts of up to about 50%. Since the card does not belong to one person, you can split the cost (300 rubles) with as many people as you want.
The business lunch here has 4 options (prices are with the red card): Japanese (185 rubles, miso soup, bowl of rice, and California roll); Asian (215 rubles, miso soup and Asian noodles with chicken and veggies); Russian (245 rubles, borsht, chicken schnitzel, and veggie salad); and American (195 rubles, chicken burger, fries, and salad). I got the Japanese option, and it was good, the miso soup was quite tasty, and the sushi was quite average. The soy sauce that the restaurant provides is the more Russian style of soy sauce (which is more sweet than salty), but the pickled ginger was good. I was not impressed with the service speed, however, and be warned that there are no veggie options (although you can order other veggie options from their menu).
Gorokhovaya Street 17/56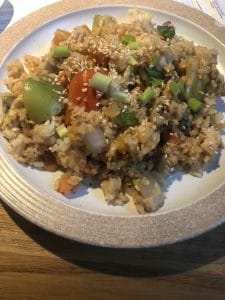 Koreana is a little further away, but a pretty good lunch stop. There are four price options and you can mix and match from the menu. The option for soup, main, and drink for, instance, is 308 rubles. I got miso soup, which came a little cold, but still good, and fried rice with veggies and meat, along with black tea. I was surprised at the comparatively large portions (except for the tea which was a very small cup). There are a few veggie options on the menu as well!
Nevsky Avenue 21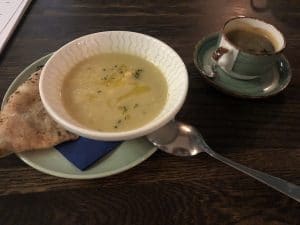 A nice Italian place on Nevsky, Marchellis offers an extensive lunch menu. For 280 rubles, you can pick one dish, for 370, two dishes, and for 450, three dishes. Several options for salads, soups, mains, pizza, pasta, and drinks are offered. A beverage, ciabatta bread, and a mini dessert is also included in the price. You can even add a glass of wine for 150 rubles.
Malaya Konnyushennaya Street 7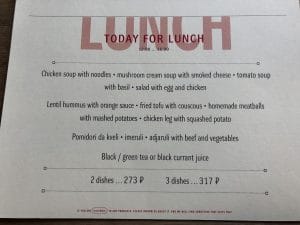 This Georgian place offers a different lunch menu each day. For 273 rubles you get two dishes, and for 317 rubles, you get three. They offer a few types of soups, salads, appetizers, and mains, and tea or juice is included as well. Not included, but really tasty, is their homemade pomegranate wine, which you can order as a single or double glass!
Kanala Griboedova 22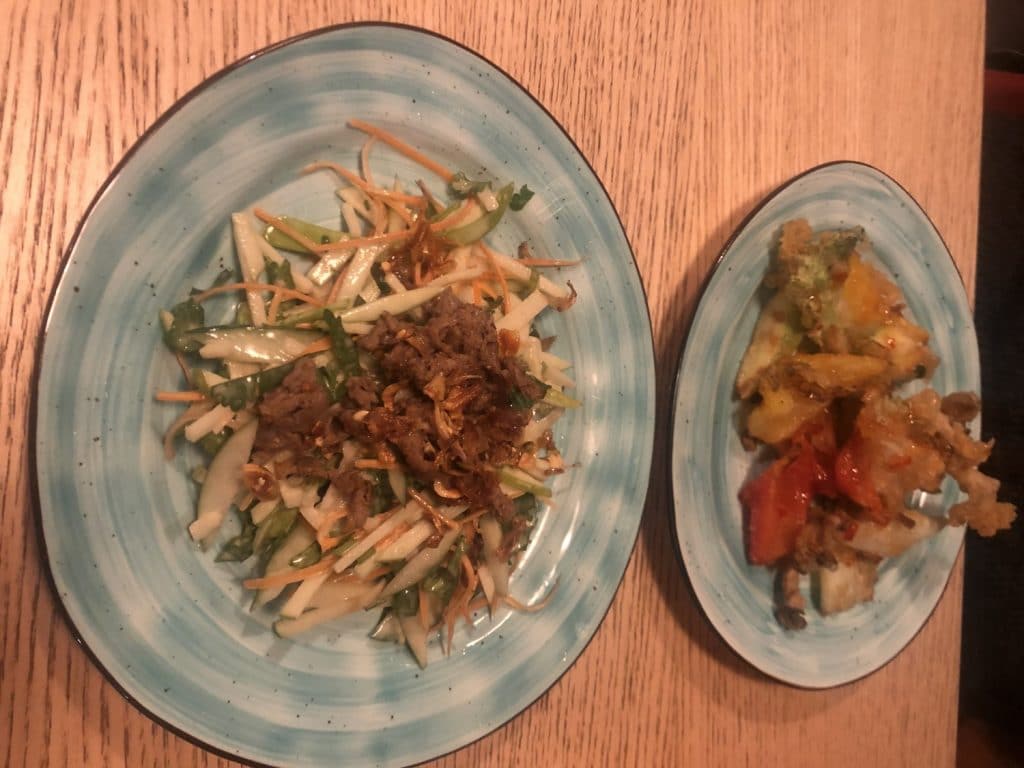 Pho has been my favorite food for years, and if I could, I would eat it every day. While this isn't as good as my dear Seattle pho places, it hits the spot. Their lunch menu offers four different combinations ranging from 240 rubles to 340 rubles, and each combination comes with three options for salad, main, soup, and/or drink. They have a few vegetarian options!
Gorokhovaya Street 27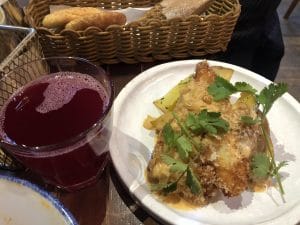 Known for its intense milkshakes and fanatic foods, this place offers a quite normal business lunch option. Options for soup, salad, and main range from 280-380 rubles. Unfortunately, only one of the salads is vegetarian, everything else is either meat or fish, but otherwise delicious. With each meal, you also get a bread roll and a cookie!
Gorokhovaya Street 57
After craving Mexican food, I finally decided to give this place a try, and I am very happy I did! Unfortunately, I ate too fast to get a photo. Bros Burrito has many types of burritos and other Mexican foods. Pick up the student discount card and either of their business lunch combos is just 250 rubles.
Sadovaya Street 28-30k27
Some of the best Chinese food in the city, this restaurant tucked away and can be hard to find. Mains are 200-300 rubles, and rice is 50 rubles. They only accept cash, though.