Толстый Фраер / Tolstiy Friar
3 Dymskaya (Metro Gostiniy Dvor)
Sunday – Thursday 10 a.m. – 1 a.m., Friday and Saturday 10 a.m. – 3 a.m.
Tolstiy-fraer.ru
Meals from 120 rubles
Tolstiy Friar (The Fat Friar) is a chain of Petersburg pubs. With seven different locations and a very extensive menu, Tolstiy Friar is a great place for a group looking for an after-school snack or even a full meal. Here, less than 500 rubles can get you a hearty dinner, two drinks, and a plate of "beer snacks" – smoked fish, fried bread, cheese, and sausage.
Walking into the restaurant is a bit like a step back in time, though to what period is not quite certain. The interior is reminiscent of an old-time pub, with dim lights, low ceilings, crude wooden tables, and benches in lieu of chairs. Beer and kvass is served in giant steins, smoked fish is on every table, and old Soviet posters hang on the walls, reminding customers to say "no" to alcohol. All of this of course is in contrast with the giant flat screen TVs hanging on the wall next to the old Soviet newspapers and the clientèle browsing the Internet with the Tolstiy Friar's free wifi.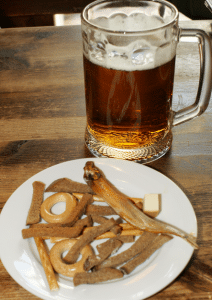 What's unique about this particular chain in comparison with other competing pubs is that the menu is light on Western food. So, you won't find mozzarella cheese sticks or loaded quesadillas here. What you will find, though, is an extensive menu of soups (cabbage, mushroom, borscht), salads (more combinations of beets, pickles, ham, peas, potatoes, mayonnaise, horseradish, and more than you could ever imagine), appetizers, and sandwiches, which is where the menu really shines. You'll forget all about the quesadillas when you try the smoked mackerel (170 rubles), pork ears (200 rubles), and assorted beer snacks as mentioned above (first round is free!). Another 70 rubles will get you an interesting assortment of boiled eggs and rye bread with butter.
And then there's the sandwiches. Selecting just one was difficult, but averaging around 50-70 rubles, sampling is definitely recommended. Ever wondered what a lard sandwich tastes like? 50 rubles will afford you the chance to try a slightly toasted rye bread with a smear of salty lard on top. It may initially sound unappetizing, but studying abroad calls for trying new things and preserved fat (salo) is traditional Russian food. Other options are the 90 ruble salmon caviar sandwich, and the 70 ruble sandwiches of smoked pork and pickled cucumbers, salted trout, and beef tongue with horseradish. All sandwiches are open faced, except for the "Soviet Hamburger" sandwich – a heartier sandwich that includes a beef cutlet, cheese, tomatoes, and mixed vegetables (120 rubles).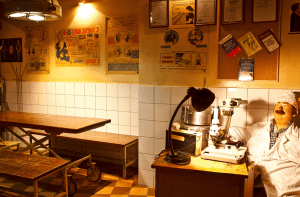 The Tolstiy Friar also has a few regular specials, including 20 percent off after 5 p.m. and a free half liter of beer with any meal totaling 500 rubles.
The atmosphere at the Tolstiy Friar is also very relaxed and informal. Don't be surprised if other patrons come up to your table and start friendly conversations, usually out of curiosity about where you're from. They might try to practice English with you (or even Italian), they might ask you about your favorite Russian authors and American pop stars, and they might even invite you to the opening night of their mom's art show in town. You never know who you'll meet at such an easy-going place.
For groups and faculty-led tours, Tolstiy Friar probably isn't your joint — too dim and the haze of smoke might irritate more sensitive eyes after a while. But for a few friends, there's no better place to plop down for a beer and a lard sandwich.