If you're a student of Art and Museums in Russia, you probably already know the incredible opportunities it offers. Unprecedented access to one of the largest and most famed museums the world over is one of them. Getting up close with some of the more than three million works within its walls, including original works by Rembrandt and Raphael, is another. The nifty nearly-all-access pass allowing you to bypass the out-the-door lines of tourists clamoring to get inside is an honorable mention. Not to be overlooked, though, is the Hermitage Museum's staff cafeteria.
It's true. There were a lot of things to look forward to as a student on Art and Museums, but lunch time, at least for me, was a cherished part of the day. And it wasn't just because hours of drawing and museum exploration will rile up an appetite – it's because at the staff cafeteria, you can get delicious home-style Russian meals for pennies on the dollar (or kopecks on the ruble).
Here's how the joint works. After flashing your pass to get in through the staff entrance, you'll walk into the first part of the cafeteria, which is effectually a cafe meant for quick bites and caffeine boosts. There's a glass case featuring desserts of the day — all kinds of cakes, muffins, and pies — as well as a selection of soda products and pre-packaged snacks.
If you're appetite is bigger, though, take a right and head into the adjoining room, which is where the cafeteria is located.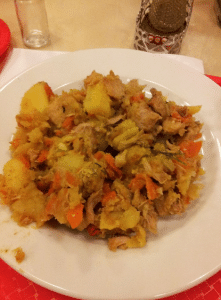 Once in line, grab a tray and some silverware and wait until the server behind the counter asks what you'll be having. You can check out the day's selection of salads in the glass case that you have to pass by while waiting to inch your way over to see what the entrées are available that day. Most salads don't have tossed greens as a foundation. Instead, you might find a small plate of chopped red onions, carrots, boiled egg slices, sunflower seeds, and a dollop of mayonnaise. (I ate this almost every lunch session!)
Once you get farther down the line and the server asks what you'll be having, you'll find you have a few options to choose from. Usually, a meat dish will be prepared in big batches and it'll be up to you how you'd like to dress the rest of your meal. For example, the meat of the day might be beef stroganoff, and you can choose to have it over rice, mashed potatoes, or macaroni. You'll also be asked if you want a half or whole portion. Know that a half portion is still very generous.
If beef stroganoff is not your thing, the cafeteria serves white fish topped with melted cheese almost every day as a trusty standby. I never had it, but it was a popular option. Check the menu and see what the soup of the day is, as this is also time to ask if you'd like a bowl or a cup of soup. Most days beet red borscht with beef is on the menu, but now and then they'll mix it up with a white bean soup in chicken broth or a general mishmash of vegetables.
Next down the line will be the desserts. The sweet treats menu would rotate, but one constant was zapekanka. I didn't know what this was when I first saw it, but the person in line in front of me told me it was like "Russian cheesecake." I asked the server to slice me a piece to try. She suggested I try it topped with sour cream or a sugar glaze (sgushenka). I opted for the sugar glaze, though I've been told the version со сметаной is good too, but I can't quite imagine the flavors mixing well. Zapekanka wasn't something I had every day, but I certainly had it once or twice a week. Made from tvorog (Russian farmer's cheese) and sometimes including fruit like golden raisins or berries, its sweet and creamy enough to be eaten alone, but is extra nice with a sugar glaze.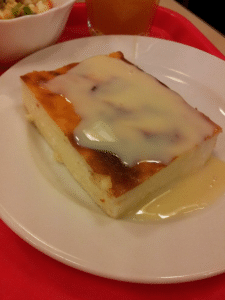 Besides zapekanka, dessert items tended to include tiramisu, slices of Napoleon cake, and chocolate chunk cakes. Simpler offerings were the always available pirozhki filled with compotes and jams of various delicious stripes.
The last offerings before getting to the register are juices. Staples like mors, apple juice, and fruit juice cocktails made from pineapple, for example, are sold for about 25 rubles.
There were days I came into the cafeteria starving, loaded my tray, and hoped for the best when it came time to pay, never having more than a few hundred rubles on hand. Even on days when I had a full course meal — a salad, a meat entree, a bowl of soup, a slice of zapekanka and a glass of juice — my total would never top more than 260 rubles. And that 260 rubles worth of food would keep me full for the whole day! Not to mention the food was always really tasty and made me feel like I had a Russian mom of my own cooking for me each day.
So while The Hermitage is famous for, well, being The Hermitage, it should also be famous for another thing — serving tasty meals to staffers and Art and Museums students that will cost so little for what you get that you might walk away feeling like you've pulled the ultimate museum heist.