By Hannah Chapman
Situated sixty-five meters (more than 200 feet) below Moscow's streets is "The Secure Command Post 'Taganskaya,'" a former secret military command center and bomb shelter. Constructed in the 1950s during the height of the Cold War, it was built to serve as an air-defense communication center in the event of a nuclear attack. Completely functional for the better part of three decades, the bunker is made up of four 150-meter tunnels. As many as 2,500 people could work there on a given day. The complex was also fitted with provisions (food, water, electricity, and air supply) to keep 3,000 people alive for ninety days.
In the 1980s, as the threat of nuclear war faded and the Soviet economy's ability to support such military endeavors crumbled, the command center fell into disuse. It was finally abandoned in the 1990s upon the demise of the Soviet Union. The facility was acquired in 2006 by a private company which has turned it into a museum center that hosts tours, presentations, and corporate events.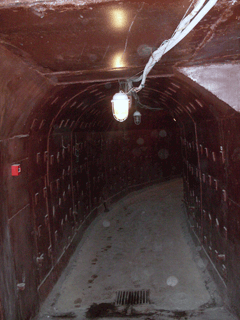 While tours are a little on the pricey side, we recommend it. Visitors are shown around the largely-restored bunker by an experienced guide, and the tour includes a film, part documentary part propaganda, about the progression and escalation of the Cold War as seen from the Soviet side. Visitors have the opportunity to use period phones, sit in command desks, and even assemble and disassemble Soviet-era weapons.
This is a must see for history buffs and anyone interested in the USSR during the Cold War.
Details: This site is not to be found in many tour books, largely because it is only open for tours arranged beforehand by phone. Contact details can be found on the museum's website. You might also try contacting Patriarchy Dom Tours, an English-speaking tour service in Moscow that, as of May, 2008, arranges public tours about once a month. Prices currently range between about 600 and 2000 rubles, with student discounts for standard tours occupying the low end of the spectrum. Warning: the walk 65 meters into the earth can be disconcerting and some parts of the tunnels are cramped and claustrophobic. Photography is permitted.
Directions: Click here for a Google Map. Exit metro Таганская (Taganskaya) from the ring line. Go behind the metro and take a right onto Редищевская улица (Redishevckaya). Walk north and take the next left onto 5-й Котельнический (5th Kotelnicheckii). Continue east for approximately 200 meters. On the left is a green metal door with a large red star which is the entrance into the bunker. The address is 5-th Kotelnichesky side-street, 11.