The Closing of Biker Season /
Закрытие байкерского сезона
ул. Дальзаводская
Cost: Free
Get married. Burn some rubber. Rock out. Or just plain look like someone not to mess with. All things to do and/or observe at the annual Close of Biker Season (Закрытие байкерского сезона) gathering in Vladivostok.This year's ceremony took place on the city's Tsarevich's Embankment (Набережная Царевича) below the Golden bridge (Золотой мост) on a clear Saturday morning. Despite the general association of bikers with nightlife, the morning's rays by no means hindered the various gang chapters and rogue riders from coming out in full regalia and impressive numbers by the morning's end. Further stereotypes were quashed as this was by all means a family event. Kids wandered from bike to bike emulating the necessary poses while older generations reconnected and reminisced about the events of the season passed while making plans for those still yet to come.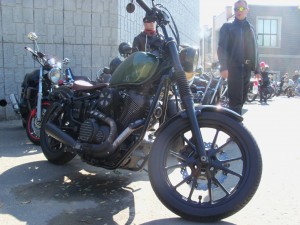 However, you may already be wondering, while this is all good and well of course, why is such an event even organized in the first place? Apart from a somewhat distinctly Russian tendency to find holidays and reasons to celebrate where others simply don't think to look, just take a short walk around the city and you will doubtlessly concur the necessity of marking the end of the optimum riding period. Vladivostok, while primarily tendentious of conjuring connotations of a seaside harbor town, is also home to some the hilliest cityscape I personally have yet encountered. So much so that such is often the case when squealing tires signify not some hotshot kid in a souped-up ride gunning for the attention of bystanders, but a middle-aged woman willing her old Volga (Волга) sedan up the city's sometimes near–vertical streets and byways. Thus, a season, with its accompanying end, for riding on two wheels is reasonable and even practical for the safety of the partakers of this already dangerous activity.
That being said, despite its underlying motivations, the event had far more of a festival atmosphere than that of a safety rally. While there may have been only one band performing that day, they covered a wide range of American/British as well as Russian rock, often with eerily exact replication. Even a pair of newlyweds arrived on a decorated bike still in full wedding attire to bid farewell to the 2014 riding season.
For me though, perhaps the most intriguing aspect of all the morning's fanfare was the richness of biker culture itself. More than just the general common ground present amongst motorcycle owners, riders and admirers, there existed any number of different tribes with their own unique symbol-encrusted attire that brought to mind a sort of conflation of grade-school clicks and prison gangs. However, if the character of the greater biking community was to be judged based on this day alone, impressions of general good will and a welcoming spirit of camaraderie were most prominently observable. Just don't tell that to the guy with the mohawk in the studded leather jacket!