Teremok House Café
4a Baikalskaya St (ул. 4а Байкальская)
9 a.m. to 8 p.m.
Entrees $3-$5
Teremok House Café is a small restaurant in downtown Irkutsk. It is located right next to the Shanghai City Mall building (Шанхай Сити Молл) and across from the central market (ц. рынок). It is very small and narrow but it is cozy. There is a mom and pop feel to it which is very welcoming. Because of the location it is a great place to eat after exploring the many shops stacked along the narrow streets. Its close proximity to the bus stop also makes it a great option for a quick bite if you aren't looking to walk a distance.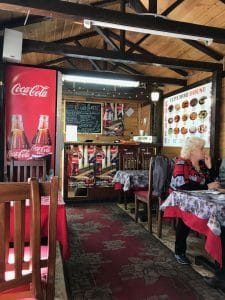 The décor is nothing to get excited about as it is mostly pictures of flowers and colorful tablecloths, but the food more than makes up for it. Be forewarned, it is a bit hidden! After passing the mall going towards Timiryazev street (ул. Тимирязева) it is to the left directly after the Shanghai Mall building. It should be right next to a meat store on a side road, but it is visible from the sidewalk. The pricing is more than fair and my entire meal was only about $2.50! If you spring for a side dish and a soda or coffee it only bumps the price up to about $3.50+. There was nothing on the menu that was over $7 and judging from my food and the people around me, the portions are quite hefty.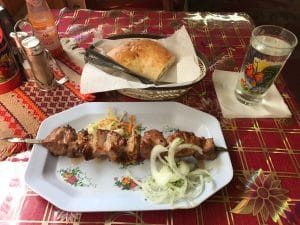 I got the pork shashlyk, a slice of hearty bread, and a lime mineral water. I was pleasantly surprised by the flavor! I am a fan of bold flavors and Russia is definitely not known for their flavorful cuisine. The pork was cooked perfectly and had a rich smoky flavor with a bit of a kick. The bread was hot and fresh and reminded me of sourdough rather than the usual hard bread I eat at my host household. Beside the pork was a small cabbage and onion mixture that complemented the food but didn't overpower it. There are lots of places to get shashlik in this area but  none seemed as friendly or had a quiet place to sit in all the hustle and bustle.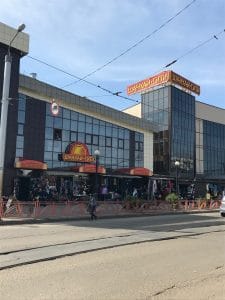 Side Note: If you are like me and have a very limited vocabulary, do not worry, the menu has pictures and the waitress was very patient as I stumbled through my order! I'd recommend this for any hungry student on a budget!