4th of July Cold War Fest
Taganskaya Bunker, American Breakfast, and Politics Seminar
SRAS Event held summer, 2016

As part of my Russian as a Second Language program at Moscow State University, I attended a special SRAS cultural activity to mark the celebration of July 4th as well as learn about Russian politics, from the Cold War era to today.
We began the day with a meal at Starlite Diner, a chain of restaurants in Moscow that go for a classic American diner feel, and accomplish it pretty well. Old school rock and roll over the speakers, a huge breakfast complete with bacon, eggs over easy, and pancakes, and the 1950s-era posters advertising American products make you feel like you've traveled back in time, and to an extent, back home. The food was as good a breakfast as I had in Moscow, though maybe that had something to do with how much I missed home.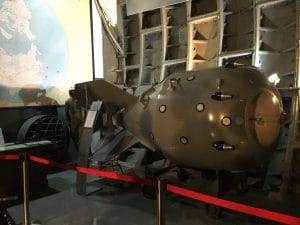 Accompanying the food was an informative presentation on modern Russian politics by Josh Wilson. He covered all the necessary points one needs to become well acquainted with the country's political landscape, and went even further in predicting how that landscape may look in a few years. We discussed political parties, prominent political and social figures, Russian voter expectations of their government, and the way that the Russian system works in general. Though a bit long (that is a lot of information), the presentation was interesting for anyone with a desire to learn more about Russian politics.
After some food and learning, we took a short metro ride for a really immersive experience of Cold War history. Located in Moscow are a few underground bunkers, built during the early years of the Cold War and meant to protect against nuclear strikes and be fairly self-sufficient following one. We visited one such bunker, which now houses a museum on Cold War history: bunker 42.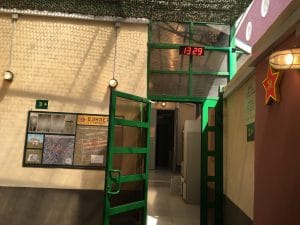 Located 213 feet underground, deeper than some tracks and stations of Moscow's already notoriously deep subway system, we were lead by an eccentric tour guide provided by the museum down 17 flights of stairs. These same flights we would have to use to make the journey back out of the bunker after the tour. (There is an elevator available, but is small and slow and generally discouraged by bunker staff who seem to regard the stairs as an important part of the tour.) Inside, we viewed a short film on the nuclear arms race, then were shown what an actual communications room inside of a bunker would look like. This bunker in particular was used as an air force command center; no nukes could actually be launched from within the structure as it was never actually finished before the Cold War ended and the project abandoned, but the novelty of the place was amazing nonetheless.
Overall, the day's events were a fun and alternative way of celebrating an American holiday, with an American breakfast in Moscow, learning about the shared history between Russia and our country and all the things that could have gone wrong during the long stalemate that was the Cold War.