Nil Cafe
Address: Corner of Shopukova and Zhibekzholu (Behind the Bishkek Circus)
Dancing Hours: 10:30pm-5:00am
Cover Charge: Sunday-Thursdays: Free, Friday-Saturday: 100 som
This past weekend, I went to one of my favorite weekend haunts, a Tajik-owned place called Nil Café. It was dance time. I needed to forget about my busy academic schedule, my impending plans, and my bad Russian grammar. Nil was the perfect place to do this because it's cheap, it has a consistently great music selection, there is hookah, and it's got a relaxing and nonjudgmental vibe. Boom.
The best part of Nil, which is Arabic for "The Nile River," is that it is not a club, but a café where you can dance. It's like Rick's Café from Casablanca, where there are tables surrounding a main central dancing area — only the theme is the Egyptian pyramids, instead of Morocco, and there is a DJ player, instead of Sam the piano player. I much prefer this type of setup because it usually means you don't have to take yourself too seriously (there is no pressure to have the right look, the right moves, the right attitude), and you don't feel like you have to dance, dance, dance all night long because there is nothing else to do. Nil has that just-right combination of being able to converse with friends, dance, and even watch live performances of belly dancers and lezginka dancers (lezginka is a Caucasian dance). Come on a Saturday night when Nil is at its busiest, and you can participate in lighthearted games like a women's scavenger hunt (men, hold on to your clothing items!).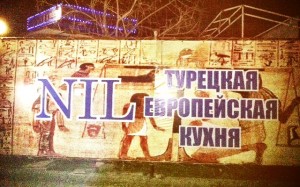 At Nil, expect music from the old Silk Road, or "belly dancing music." When my friends and I went last Friday, I heard the DJ play Tajik, Persian, Afghan, Uzbek, Russian, Uighur, Turkmen, Hindi, Azerbaijani, Dungan, Turkish, Caucasian, and Pakistani music. There were also a few American songs, but only because the DJ had learned there were Americans in the house (woo!) and did it in our honor. Americans, in fact, are not a regular presence at Nil (and for shame).
As for style of dance, expect to see some of the most graceful and elegant dancers on that dance floor, from both the women and men. It's all in the hands. As I sat entranced by the women who seemed to float across the dance floor and the men who swayed with the most masculine huzzah, my Afghan friend, who noticed my admiring gaze, explained, "Just think of it as swimming on land." And I did. People flick those wrists and whirl and twirl those hands through the air in fluid, circling motions as if to stop would be to drown.
It's also incredibly sensual, in a Bollywood film kind of way. For instance, one of my favorite dances is one that's done between a boy and girl, where they circle each other, without touching each other, and "check each other out," while the girl delicately waves her hands around the boy, as he eagerly "pursues" her with his quick-footed movements and eager eyes. Now, how can you resist watching this playful and alluring drama unfold on the dance floor? Judging by the crowd that almost always forms around this mating ritual, many of whom clap their hands in support of this fierce expression of flirtation and competition, not a lot of people can resist.
Neither should you. So get your shimmy on at Nil and (literally) wave those problems away! Don't be intimidated if you think you can't dance. Nil is welcoming and friendly. Some of the best parts of the evening will be when you're pulled into a dance ring, linked with strangers by your pinkies, stepping right and left in some complicated rhythmic footwork, while cheering some happy solo act in the middle. Will you feel clumsy not knowing the steps? Probably. But at the same time, how many times will you be able to be intimately connected with complete strangers in a warm and safe environment? I tell you, not so often at a more formal club, where intimacy is limited to between two people.
So, dear readers, go for a swim at Nil, and let the energizing rhythms and beautiful melodies of the old Silk Road wash over you. In one evening, you may just forget about all your worries.