Furusato Japanese Dining Kitchen
Address: Bokunbaev St (btwn Logvinenko & Razzakov)
Hours: Weekdays 11:30am-10pm, Saturday 5pm-10pm, Sunday Closed
If there's one thing most in Bishkek can agree on, it's that restaurant service here sucks. There is no sense of urgency, no sense of accommodation, no desire to please, definitely no smiles, and an overall attitude of Maya xata s kraiu (literally, "My hut is on the edge," but figuratively, "Not my problem, dude.") What will "service" get you here? A sleepy, bored devushka or molodoi chelovek (literally, "young girl" and "young man," but also the standard terms for "waitress" and "waiter") at the entrance; one menu when you really need three; 20 minutes to get your beer refilled; bad live music; being charged for bad live music; being charged for items you didn't order; the list goes on.
At first, I wrote off this unfortunate aspect of Bishkek with an attitude of "Nu, ladno, that's Bishkek for you!" But a new restaurant just moved into town. And it has decided that Bishkek can do better. This restaurant, dear readers, is called Furusato (which means "hometown" in Japanese) and it just opened its doors in June 2013. After dining there several times, I am convinced that restaurant hospitality can work in Bishkek. For the first time in a long time, I was reminded that dining out can be a sweet experience.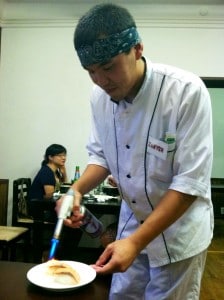 Everything about Furusato screams sincerity, thoughtfulness, and quality, from the architecture's elegant architecture (there is a peaceful stone garden in the front) to a wait staff that almost accosts you with cries of "Irashyaimase!" ("Welcome!" in Japanese) when you first enter. The first time I walked in, I actually looked behind me when I heard the ringing welcoming cries. Are they talking to me?! The restaurant seems to operate on the motto, Anything for You. When I once asked if I could have the Thursday lunch special (mackerel simmered in miso sauce) instead of the Friday lunch special (ramen soup), the devushka said, "surely." When my vegetarian dining companion asked if the chef could prepare one dish sans meat, the devushka said, "no problem." When one of my other friends wanted more wasabi, the waiters promptly came back with an extra plate of wasabi, and didn't charge him for it. When I wanted a glass of ice, the devushka came back with two, just in case my dining companion wanted one, too. If that doesn't sound impressive, the wait staff smiles. In a city where smiles are not normal'no in the public arena (smiles are usually reserved for people you know, not for strangers, and definitely not for business transactions), a sincere, free, and happy smile is a beautiful thing, like a rainbow, or a four-leaf clover, or a shiny quarter on the street. Furusato hands them out in spades.
Furusato is the brainchild of a Tokyo-native businessman and chef who has lived, worked, and cooked Japanese cuisine in the former Soviet Union, most recently in the Caucasus, for the past 15 years. He is a friendly man, with a shaved head and a warm smile, and you will see him dart in and out of the kitchen to the main dining room to mingle with his dining guests. While he was cooking, I asked his head waitress why he chose to move to Kyrgyzstan. She said it was because of the strong and friendly relationship between the two countries. She said Kyrgyzstan was one of the first countries to come to Japan's aid during the 2011 tsunami, with water supplies. Later, I found out Kyrgyzstan President Atambayev's first official foreign visit of 2013 was to Japan. Azernews called this visit symbolic of a "new page in the relations of Kyrgyzstan and Japan," which will build on their already strong relations in energy, transport, communication, agriculture, processing, industry, training of specialists, and tourism. I say, if Furusato is a byproduct of warmer Kyrgyz-Japanese relations, that's foreign policy at its finest.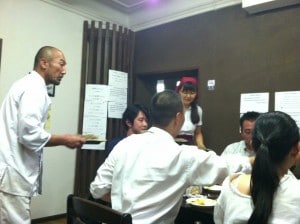 Furusato is not only a place of smiles, but of tradition. This makes the restaurant a fun cultural experience for those who have never been to Japan but like to imagine what it must be like. The wait staff serves everything to you with two hands, and then bows after every exchange. The head chef personally greets every table, and then converses in either Japanese, Russian, and sometimes in broken English, depending on the clientele. On the walls are colorful traditional Japanese paintings. There is even a flat-screen TV in the main room, which plays Japanese music videos, anime, and other TV shows — which, surprisingly, does not distract from the otherwise elegant décor. What makes Furusato the most "traditional" is the sound of the Japanese language bouncing off the walls in loud, excited, animated fervor. One Thursday evening, my friends and I were the only non-Japanese diners on the main floor. As we watched this ethnic diaspora of Bishkek come together in this small space, bowing and laughing and giggling and talking excitedly with the head chef, we all thought — and one of us said aloud — "Now, this is a part of Bishkek I have never seen." And then we talked with each other about Japan, and who's been there, and to what city. In this way, the head chef has already succeeded in this restaurant endeavor — he has inspired, through food, our imaginations.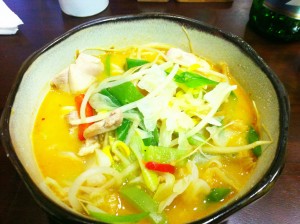 Furusato has a wonderful extensive and fresh menu, with daily specials, such as last Thursday's Duck Stew in a Pot, with soba (buckwheat) or udon (chewy wheat) noodles, or rice (500 som). So far my favorite dishes have been the spicy miso, ramen, and corn soup (300 som), smoked salmon sushi (160 som), which they will dramatically caramelize in front of you with a fire torch, and the ginger-fried pork with rice (380 som). Furusato's current specialties of the house include pork cutlets, chicken teriyaki, cabbage omelets, and ramen. It is telling that when I dined with 12 other people one evening, every one of us raved about our orders. It is also telling that the vegetarians in the group were particularly pleased with Furusato's fresh, creative vegetarian options. My friend inhaled his fresh tofu and soybean dishes as if lapping from a well in the middle of the Kara-Kum Desert. From what I understand, being a vegetarian in meat-based Kyrgyzstan is not easy — and not only gastronomically, but culturally. (You need thick skin here to be able to explain to Kyrgyz mothers why you won't eat most of their national food.)
As if the food wasn't good enough, that same Thursday evening the chef sent out complimentary "tasting" plates to the dining floor. First it was a sushi plate. Then a pasta salad. A fruit bowl. A pot of black tea! Again, little things, and maybe part of the restaurant's efforts to woo Bishkek during its initial honeymoon period, but these little delights are what turned the evening from "dinner out" to "dining out." Furthermore, the meal wasn't expensive. Most people in our large group paid about $10 for their meal, and everyone agreed it was a steal. Again, Furusato has shown Bishkek what can be possible here: Delicious food and exceptional service at reasonable prices.
For tour groups and faculty-led travel, I highly recommend Furusato, but after making reservations. Only about 30-35 people can fit in the main dining room, and during dinner hours it can get busy fast. But if you can snag a table ahead of time, it is well worth it.