Suliko Restaurant /
Ресторан "Сулико"
Казанская 6
Daily 10:00-24:00
Meals from 500 rubles
Sulikospb.ru
If there's one non-Russian national cuisine that you should sample while in Russia, it is Georgian. Even Pushkin, who claimed that "каждое грузинское блюдо – это поэма" ("every Georgian dish is a poem"), would agree. And once you've tried it, good luck wanting to eat anything else ever again. The vivid and unexpected (to the American palate) combinations of flavors and textures are highly addictive.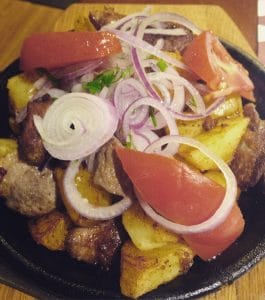 Сулико, whose Kazanskaya St. location is a five-minute walk from the UNECON campus, is a great place to start your exploration. Here, you'll find well-executed staples like хачапури (khachapuri, a buttery, baked bread-and-cheese concoction) and хинкали (khinkali, enormous dumplings with meat, 350 rubles for five pieces) alongside a wide variety of hot and cold starters, main dishes, and desserts. The interior is cozy and clean, and the service is friendly and patient. Also, even if your Russian isn't great, don't fret: the menu is in both English and Russian and includes pictures of each dish.
I tried two types of хачапури. The хачапури "Аджарский" (Adjarian khachapuri, 360 rubles) is a substantial, boat-shaped bread with a slightly crispy outside, tangy cheese in the middle, and a raw egg and melted butter on top. To eat it correctly, use a fork to mix the butter and egg and spread the mixture over the top. Then take hunks of хачапури from the periphery and dip them into the egg-butter mixture, gradually working your way toward the center. If you forget how to eat it, don't worry: there are cute cartoon instructions on the placemats.
The хачапури "по-царски" (Tsar's khachapuri, 550 rubles) is an enormous disc with cheese inside and additional сулугуни (sulguni, a brined cheese with a pleasantly sour flavor) on top. (There's no raw egg on this one.) In some ways it resembles a pizza, but a 2009 survey showed that 89% of Georgians prefer хачапури to pizza. I think I'm with them: the "по-царски" is moister and more succulent than any pizza, probably due to the higher moisture content of the cheese and the generous use of butter.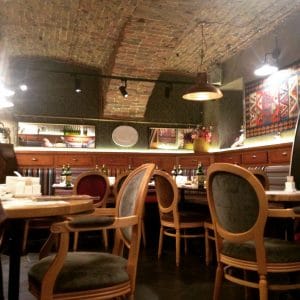 For starters, we chose all vegetable dishes. The капуста (pickled red cabbage, 150 rubles) is a refreshing counterpoint to the buttery хачапури. An absolute must-try is the фасоль стручковая с орехами (sliced beans with nuts, 250 rubles) or the испанах (spinach with walnuts, 270 rubles). The two cold dishes are very similar, since both involve green vegetables mixed with spices and walnuts, formed into patties, and topped with pomegranate seeds, but the green beans have a more solid texture. Both are delicious and very mildly spicy. The чашушули с грыбами (chashushuli with mushrooms, 310 rubles) is a hot, rich, and flavorful stew. This particular version of чашушули is unique in that it is vegetarian; they also offer a more classic чашушули that comes with ample portions of beef. There are several other vegetable starters that could be combined to make a tapas-like vegetarian meal.
As a main dish, try the обжакури (obzhakuri, 390 rubles), which is a sizzling platter of flavorful pork, savory potatoes, and vegetables topped with fresh onions, tomatoes, and dill. The potatoes are perfectly coated in spices, and the fresh onions add just the right bite to this rather rich dish. The first time I had it, the meat was lean and perfectly tender. The second time, it had a bit of gristle but was still extremely tasty.
There are a wide variety of alcoholic and non-alcoholic drinks on offer. Of special interest are the house Georgian wines (110-120 rubles), which come in both semi-sweet and dry varieties, and the house-made lemonades, especially the тархун, which is named for the fresh tarragon that is its feature ingredient. There's a refreshing, light Georgian beer, Натахтари, available for a modest 120 rubles. I also noticed a tea with thyme on the menu that sounded like a good accompaniment for rich хачапури. There's also a wider variety of Georgian- and European-style desserts (250-270 rubles), including пахлава (baklava), медовик (honey cake), and various other cakes.
You could easily order a хачапури or 5 pieces of хинкали and a beverage for a simple 500 rubles meal. If you decide to go all out and try several things, a filling dinner for two including one wine or beer each runs about 1360-2000 rubles before tip. Сулико is perfect for big, late-night dinners that feel more special than the average but still won't break the bank. It's even suitable for bigger groups, though you should definitely make a reservation if there are more than 3-4 people in your party – in fact, even if you only need a table for two, it's worth calling ahead if you plan to come during peak hours, especially on the weekend.