We asked some SRAS graduates to share their open and honest evaluations of their experiences on SRAS Study Abroad in Kyiv. SRAS actively seeks out feedback from students on all programs so that we can continually improve our offerings.
Samantha Dunlap (Fall, 2019)
The first step to studying abroad is choosing where to study abroad. It's not a simple decision! I struggled a lot in this aspect, but landed on Kyiv because it seemed like a unique place, and I thought I could really improve my Russian language. It didn't hurt that Kyiv is pretty cheap compared to many other Russian speaking areas! The cost of living in St. Petersberg and Moscow was considerably higher and they'd be too touristy, I thought. More tourists means more English, and I wanted to be forced to speak Russian. This is an important thing to consider— how much of the language are planning on trying to learn? Kyiv is not set up as well for English-speaking tourists than for Russian- and Ukrainian-speaking locals.
Once abroad, I struggled to utilize this gift of forced language use at first. Culture shock is only amplified when you can hardly understand or communicate. I felt extremely isolated for the first few weeks — by something of a strange occurrence, I was the only girl and the youngest student at NovaMova by over 8 years. Until I forced myself out of my comfort zone, I was seriously struggling. However, this was absolutely the most important thing for me on this exchange— I grew much more comfortable with myself. By the end of the program, I had no trouble being by myself or exploring on my own. Of course, my Russian was also much improved by this point, which didn't hurt. The thing I'd recommend to everyone considering studying abroad is to lose your ego, and prepare to be embarrassed constantly. It sounds worse than it is, I promise! You will say the wrong thing, do the wrong thing, and prove yourself to be a foreigner over and over again. I know I looked as out of place as I felt. I think that being from the United States, it isn't unusual to see a wide variety of ethnicities and cultures. It's easy to forget that the rest of the world isn't always like that. Nevertheless, the Ukrianian people were always extremely kind and welcoming – especially when they learned that I was interested in their culture. Be open to learning and don't judge.
The structured cultural education that the school gave me was far less than I was expecting. There were a few opportunities for cooking classes, and some pottery that I really enjoyed, as well as a few tours of the city that were very interesting. However, I figured almost everything else out on my own. While I definitely wished for an easier start than I had, I do think that learning my way around was a good exercise in self-sufficiency. My host family answered any questions I had, and the staff at my host school at NovaMova set up any tours I was interested in going on outside of those offered by the school. I'd just remind students thinking of going here that you have to be the kind of person willing to do things for yourself— I saw a few students participate in nothing outside of the school, and they didn't have nearly as good a time as I did.
Overall, the school didn't meet my expectations, and I'm happy about that. I kind of expected everything to be curated for me. Instead, I befriended some of the tutors at the school and learned about culture through them, and in my peer coaching sessions. This gave me what I think was a more accurate understanding and respect for Ukrainian life, and not through a curated museum tour. The classes themselves improved my Russian leaps and bounds, and the peer coaching was one of the most beneficial things I've ever experienced in a language class. Rarely do you get a chance to practice conversational speech in a classroom. But practicing in peer tutoring forces you to think on your toes, and make do with what you know, rather than looking up new words or google translating what you need.
My conversational Russian improving as much as it did was a nice surprise that will be beneficial in my future work in the art history field. Being able to comfortably converse about art, music and anything else in another language opens up job opportunities. I'll admit that I dream of living in Kyiv once I get the chance! I think I left my heart there, and I'm excited to go get it back.
Compare Kyiv and St. Petersburg Programs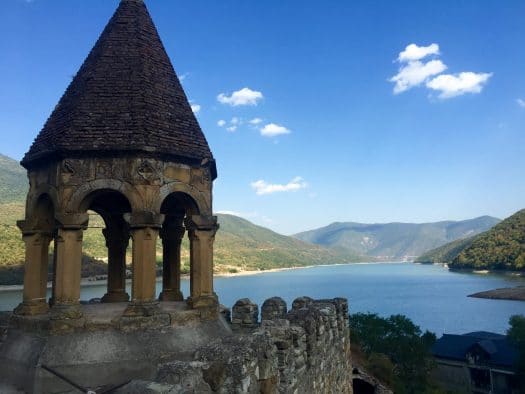 "Travel is the most intense mode of learning"- Kevin Kelly, executive editor of Wired magazine   Eight months ago, my year of studying abroad began. I arrived in Tbilisi, Georgia as part of the Policy and Conflict in the Post-Soviet Space (PCON) program. Over the course of the following fall semester, I travelled all across […]