We asked some SRAS graduates to share their open and honest evaluations of their experiences on SRAS Study Abroad in Irkutsk. SRAS actively seeks out feedback from students on all programs so that we can continually improve our offerings.
Alaina DeLeo (Fall, 2017 and Spring, 2018)

My first semester in Irkutsk, I did the Russian and the Environment program, which is Russian language classes paired with environmental studies. I arrived in Irkutsk the very end of August and began classes at the start of September.
My Russian classes were 3 hours per day starting at 8:30 or 10:10 depending on the day. While this is much more intense than what I am used to, it is pretty easy to get used to as there is a 10 minute break in between the first and second half of class. It is important to really let the teacher know if there is something that you are not understanding or things are too easy for you.
On Tuesdays and Thursdays I had my environmental studies class. As someone with absolutely no background knowledge of Russian environment and very little environmental studies in general, I found this class perfect for me. The teacher was able to answer all of my questions and the work load was pretty standard. This class also was tied to the SRAS cultural program which helped with overall understanding.
Lastly, I also had individual language lessons a few hours a week, which was very helpful. This is a small bonus one gets in Irkutsk that isn't part of most programs in most SRAS locations. One major thing to remember, if you do not like your individual teacher or feel it is not helping, let SRAS or your university coordinator know. The first semester I had a nice teacher but I didn't feel like I was learning much and we didn't really click. I waited until second semester to change and I got a new teacher who was phenomenal and taught me so much. I wish I had requested the transfer earlier.
For my second semester, I did the Russian as a Second Language program which is the same as above but without the environmental class. My second semester abroad really was a huge step up for me. My Russian improved a lot over the first semester but it was second semester that I saw a drastic change. I was moved into a much higher class, I knew my way around the city and campus, and I could talk to the faculty to get what I wanted. There were several competitions and activities for Russian speaking that I was involved in and my team won first place in a city wide competition for speaking. I cannot stress enough how important it is to speak up. Once I got comfortable I made progress not just in Russian, but also culturally.
Overall, I enrolled in this program for my sophomore year of college hoping for better Russian skills and this program more than delivered. I am very independent and I don't like being constantly stuck on tours and sticking inside of the "American bubble," so Irkutsk was without a doubt the best decision I ever made, and I would not hesitate to recommend this program to anyone wanting to study Russian.
Cultural Program and SRAS Support
I chose SRAS because after studying in Moldova on a different program and from advice from past students I knew that visas, enrollment, and getting to where I need to be would be stressful and difficult. I wanted to be very independent but I thought it was important to have an organization that could help if I needed it, especially considering my low Russian level at the start of the program. One thing that stood out to me is the prompt replies. From the moment I began considering SRAS to today, I have always received advice and a reply within 1-3 days on my questions. While I did have some issues throughout the semester, there was nothing unresolvable.
I originally planned on going to Kyiv for the second semester but decided to spend the full year in Irkutsk. SRAS was very flexible with me and helped me with my decisions and at the last minute helped my stay in Irkutsk and move me from my host family to the dorms.
The cultural program is a major benefit of studying with SRAS; you'll get to go, for free, to many of the major attractions of Irkutsk without having to budget extra money or work out the logistics yourself. The biggest highlight for me was the spring semester trip to Olkhon Island. We stayed here for 3 days and 2 nights. We got to see stunning nature, walk on Lake Baikal ice, and go to a banya. One thing I loved about the culture program was again, the flexibility. I was able to give a lot of input and do things I really wanted to do. This is another reason I was very satisfied with SRAS.
Charles Braver Grant
I had a Challenge Grant for the full academic year. I was able to improve my writing skills while writing for the Students Abroad website and GeohistoryToday. I am so happy I did this and it taught me so much. Not only just in writing but it encouraged me to really explore and get an in depth perspective into Russia that I otherwise may not have gotten. 
Advice
The main thing I would tell anyone studying in Irkutsk is to remain flexible. There will inevitably be many frustrating days and moments that just have to be brushed off. The bureaucratic nightmare that is the immigration office and most government offices will get irritating, but just remember that it is nothing personal and everyone has to deal with this. Another piece of advice for anyone living in the dorms is to befriend the guards. They can make your life good or bad, so always say hello and be polite no matter how angering they may be.
Another thing to remember is that it is okay to get frustrated and irritated, just remember that anything can be solved by getting active, talking to an SRAS representative, or asking someone to help. Russia is definitely a rough country at times but as time goes on you will understand it more and be able to navigate your way around.
Living Abroad
Living abroad is the best thing I have ever done. Were there hard times? Yes. Were there times I just wanted to go home? Also yes. However, I would not change my decision for the world and I have learned so much. I was lucky in the fact that I look Russian enough to blend in if I don't talk much which has given me a unique experience. It has given me the opportunity to practice my direction giving skills for all the babushki! I lived with both a host family and independently in the dorms which were both different but wonderful experiences.
By the end of the year I am now able to navigate Irkutsk, know exactly who to talk to about what, and I know the best places to grab a bite and relax. I have learned so much culturally and have loved learning and embracing the Russian way of life. Siberia is VERY different from Moscow and St. Petersburg and gives you an opportunity to see a very different way of life. The everyday exchanges with locals and the people I've met have changed me as a person and have taught me so much not only about Russian, but about myself.
No matter who you are, Irkutsk is a place that will teach you, test you, and change your life forever.
Compare Bishkek and Irkutsk: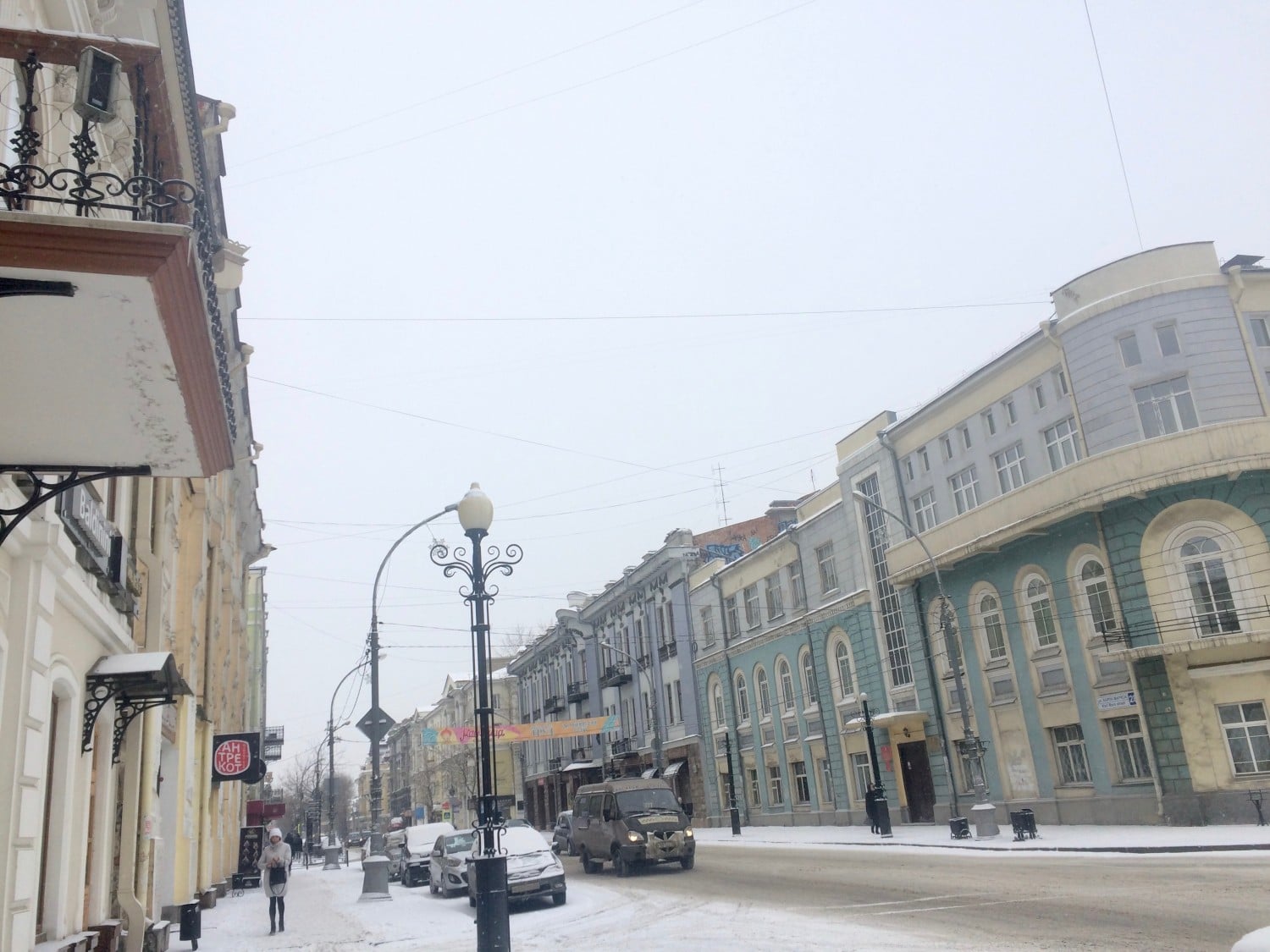 Julie studied abroad in Bishkek and Irkutsk, learning Russian as a Second Language with SRAS's Home and Abroad Scholarship program, with the goal of someday having some sort of Russia/Eurasia-related career. Below is her review of her programs abroad and experience as a Home and Abroad Scholar. Academic Program in Bishkek and Irkutsk Bishkek First, the basics. […]