Stolovaya No. 1 Kopeika/ Cтоловая No. 1 Kопейка
ул. Итальянская, 17
Open 24 hours
Meals from 100 rubles+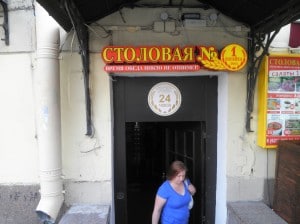 Since arriving in St. Petersburg, my fellow classmates and I have seen signs reading "stolovaya" (the Russian word for "dining room") scattered throughout the city. Therefore, when my friends Ryan, Elizabeth, and I decided to dine out one day, we chose to explore the nearest one, a nice little establishment called Stolovaya No.1 Kopeika. (the kopek is the lowest denomination of Russian currency, therefore this name indicates the affordability of the establishment.
As you enter this stolovaya, you see a dimly lit hall laid out as a cafeteria/ buffet. The food line offers a wide assortment of choices, labeled in both Russian and English. The array includes soups, vegetable salads, sweet and savory rolls, grain and vegetable side dishes, meat cutlets, cakes, and beverages. Once you reach the end of the line, you pay the cashier, and then enter a wider dining area for sit-down eating. The dining room has a homey, kitschy, and nostalgic atmosphere, displayed by the retro wallpaper, bright and spacious layout, and its nice yet unpretentious tables, chairs, and lanterns. Some of the "stranger" details that we noticed during our visit included a big screen TV showing TOM AND JERRY cartoons (a lot of Russian establishments provide cartoons or playrooms to make themselves more family friendly), Soviet propaganda posters hanging on the walls, and a background soundtrack that included a slow, jazzy interpretation of Gloria Gaynor's classic "I Will Survive."  All of these details worked together to make us marvel at the novelty of stolovaya dining while simultaneously making us feel "right at home" in Russia.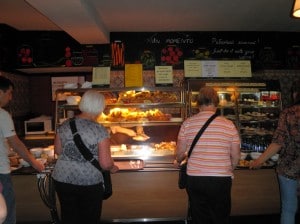 When it came time to order, I was a bit intimidated, as I had to make my decisions quickly as to not hold up the line. I decided to take a hard boiled egg (10 rubles), "Vitamin Salad," a mixture of pickled carrots, onions, and, some type of pickled bean sprouts and/or bean sprouts (16 rubles), a generous scoop of grechka (17 rubles), and a Pepsi-Cola (60 rubles). The meal was a tad simple, yet filling, tasty, nutritionally balanced, and, inexpensive- my total bill came out to only 103 rubles!
In conclusion, I left Stolovaya No. 1 Kopeika with a feeling of great satisfaction. I recommend visiting it for a variety of reasons.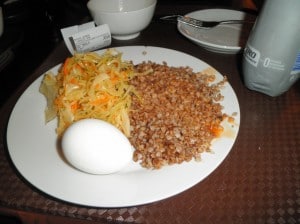 First, while the cafeteria line can be a bit awkward and intimidating, experiencing that type of dining offers an interesting contrast to what's typical in the United States. The interior is visually intriguing, and while the cashiers can be a bit brusque and slow moving, the overall service is relatively hospitable.  However, the definite highlight is the quantity and quality of the food received for such a low price. Stolovaya No. 1 Kopeika does an excellent job of combining the dining out experience with the simple variety and cost-effectiveness of home cooking, making for an unforgettable dining experience.
For groups and faculty-led tours, Stolovaya No. 1 Kopeika would be a good choice to visit. While the cafeteria line is a bit fast-paced for very methodical, organized ordering, the restaurant as a whole provides a wide array of foods for a variety of taste preferences, is very reasonably priced, and is spacious enough to seat a large amount of people.