Stolle / Штолле
11 Nevsky Prospekt (Metro Admiralteyskaya)
Open daily 9:00 a.m. – 9:00 p.m.
www.stolle.ru
Meals from 160 rubles
There is no shortage of places to find pierogi in St. Petersburg. Pierogi and piroshki can be found in grocery stores, at food trucks, being sold by babushkas near the metro station, and at bakeries. What you'll usually get is a little pie wrapped up in a plastic bag, ready to be eaten anywhere and on the go. Going for 30 rubles, on average, these simple, handheld bites make for a cheap and quick snack. But what about pierogi that's a little more upscale? What if you want to sit down at a table with your pierogi while grabbing a cup of coffee with a friend? Then you may want to try out the designer pierogi being served up by popular local chain, Stolle.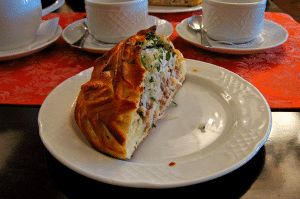 The pies at Stolle are the focal point of the restaurant, literally and figuratively. Walking in, the first thing you see are heaping helpings of all kinds of pies, sweet and savory, under the glass countertop. Usually, two or three girls will be behind the countertop, waiting to slice into any pie a customer requests.  Flavors sometimes depend on the day and location, but reliable flavors are usually beef, cabbage and cheese, salmon, cherry, and cranberry. If you're lucky, you may visit on a day when you'll find rabbit and mushroom, herring, and green onion for the savory flavors, and apricot, lemon, tvorog, and cowberry for the sweet. The fruit flavors are seasonal, and the tvorog goes pretty fast, as it is one of the most popular.
Pies can be sliced into three sizes, or you can buy a whole pie. Prices vary by the type of pie, of course, but on average, a small slice will run about 160 rubles, a medium will be 230, and a large will be 310. A whole pie (1 kilogram) will run about 560 rubles. Also available – though only at the Nevsky location – are bite-sized pies for about 50-70 rubles. Typical flavors are beef, egg and rice, cabbage, lingonberry, tvorog, and "pig in a blanket," made with hot dogs.
The pies – particularly the fruit pies – are really delicious. The fruit filling is always the perfect mix of sweet and tart, and the crust is thick and hearty. These are one kind of pierogi you don't want to be eating out of a plastic bag – they get messy fast, even on a plate when eaten with a fork and a knife! The meat pies, on the other hand, are not bad, but are certainly not up to par with the fruit pies. One thing to know before ordering a meat pie is that it will be served at room temperature, as none of the pies are kept heated while under the glass countertop. They go so fast that one doesn't really need to worry about spoilage, but you may be a bit disappointed to cut into your rabbit pie and find that it's not warm. You might also find that the meat fillings are a bit under seasoned, and seem to be lacking a kick.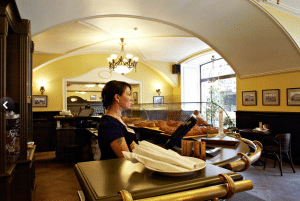 The restaurant also has salads and pasta dishes. A Greek salad will run about 330 rubles and will come with a pretty decent serving size. A bowl of Penne Parmesan will run about 370. As for drinks, there's also a coffee bar where 90 rubles will get you a piping hot coffee with frothed milk, made right in front of you at the espresso machine.
Stolle has several locations throughout St. Petersburg, and can be found in most metropolitan areas in Russia. It's equally popular with locals and tourists – especially the later, who may be drawn to the ability to simply point at what they want under the glass countertop, and for the fact that usually at least one person behind the counter is able to speak English. You may order your pierogi in Russian, but don't be surprised if your accent or a stumble gets the conversation switched to English by your cashier.
For groups and faculty-led tours, Stolle isn't a bad place to check out. There are usually plenty of places to sit, including larger tables for groups, and the variety of flavors will suit different appetites. For a full list of all Stolle locations in St. Petersburg, click here.