Statoil Presentation at the Nevsky Palace Hotel /
Statoil презентация в Невскoм Палас Отеле
Nevsky Prospekt, 57/ Невский проспект, 57
The official company webite: www.statoil.com
The School of Russian and Asian Studies (SRAS) not only stresses the importance that familiarity with Russia can have in a future career, but also emphasizes the sheer diversity of career paths available to those with such knowledge. One such opportunity came from SPIBA (St. Petersburg International Business Association), which invited us students to attend a presentation on Statoil, a major oil/fuel company that conducts business in Russia, Scandinavia, and Eastern Europe.
We congregated at the ritzy Nevsky Palace Hotel, gathering in a conference room with impeccably-coiffed Russian businesspeople. After dining on a complementary meal of coffee and croissants, a la Breakfast at Tiffany's, we turned our attention to the main presenter Sandis Steins, the Latvian managing director of Statoil.
Steins began the presentation (which was conducted entirely in English) by providing a brief history of Statoil. The company was founded in Norway in 1972, and since then has expanded its direct business ventures to Denmark, Sweden, Estonia, Latvia, Lithuania, Poland, and Russia. Statoil is also involved in smaller-scale oil partnerships around the world, including the USA, Canada, the UAE, China, and Vietnam. Statoil has 2,300 stations, 1,8500 employees, and serves 1 million customers throughout the eight countries that comprise its core European market.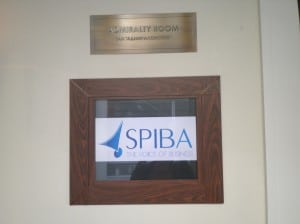 As for Russia specifically, the first Statoil station opened in 1993 in Murmansk, and sales of lubricants commenced in the late 1990s. The company opened up its first station in Pskov in 2008, and a year later it came to St. Petersburg; today there are 33 stations in Russia. When one attendee inquired about further business expansion in Russia, Steins took a quality vs. quantity approach, stating that smooth operations in the current stations took precedent over spreading as many stations as possible all over Russia.
Sandi cited engagement/cooperation, quality customer service, employee morale, on-the-job safety, product quality, and efficient operations as some of Statoil's core values. He then detailed that while these policies remain universal in all of Statoil's bases of operation, the company must learn to overcome the unique conditions and challenges it faces in each individual country. In the case of Russia, Statoil has worked to alter Soviet holdovers of power hierarchies, bureaucracy, brusque customer service, and low levels of efficiency. He claimed that such adjustments are leading to increased speed, efficiency, employee self-sufficiency, and more positive customer-employee interaction. He claimed that many Russian clients are responding well to these changes, and in turn the company is experiencing positive outcomes in Russia due to such policies.
I was thankful for this wonderful insight into the realm of business in Russia, especially the gas industry. I feel much more informed about the fundamentals of international business operations, and I also have a broader spectrum of how knowledge of Russian can benefit my future, be it in the field of business or in another area.