Students in St. Petersburg report spending about $80-110 a week average over the course of their stay. This covers groceries, city transport, an occasional meal out, school supplies, modest weekend entertainment, and other general living expenses. Note that this guide assumes 65 rubles = 1 US dollar. Prices current as of May, 2019.
In This Guide
1. Getting Started
Packing beforehand: Bring a water bottle with a filter (don't drink the tap water in St. Petersburg straight!) and any prescription medication you are taking in amounts to last your time abroad. Read our packing guide for more information on preparing for your trip.
Card Fees. Call your banks and credit cards! Let them know the dates you'll be abroad, otherwise, they tend to shut them off when they appear abroad – assuming they've been stolen. Note that most US banks will charge fees for every transaction you make abroad. $5 and/or 3% for every ATM withdrawal, for instance, is not uncommon. Make sure you understand these fees and factor them into your budget. See our Guide to Managing Cash Abroad for more information.
After You Arrive: There are usually a few initial, one-time expenses for students getting started. All of these can be bought nearby UNECON (St. Petersburg State University of Economics) at Perekrestok, a local grocery store with a small section for these types of goods, or at Auchan, a local Walmart-type store a bit farther away. A few common costs include:
Electric kettle: $10 (for coffee/tea/instant noodles/oatmeal)
Pot/silverware/plate/cup: $10*
Water filter: $10-15 (or $2 for 5 liter bottles – Don't drink from the tap in St. Petersburg)*
Pens/erasers/school supplies: $10
Textbooks: Depends on whether you borrow from school library or buy books at Dom Knigi. Not more than $20
Mosquito Fumigator: $5 (if you want to have your window open, the mosquitos can be bothersome during the summer)
*Kitchens are already fairly well stocked with pots and pans from past students, but you are likely to still want your own cup and bowl, etc. Water filters are also commonly available, but many students like to keep their own in their rooms as well.
2. Incidentals & Other
Flexibility: You should always plan some flexibility into your budget. There will always be expenses that you didn't plan for – a new umbrella, a better coat, a short trip that a new friend invites you on that is too good to say no to, you get the point.
Hygiene: Shampoo, conditioner, deodorant, and toothpaste – in brands you are likely to recognize – run about $2 per package. Feminine hygiene products are around $4 per box.
Gyms:  Fit Fashion is about three minutes from campus and offers an all-inclusive, unlimited 3-month package for $250. Alex Fitness is a few bus stops away and offers the same for $125. Hard Fitness offers discounted student rates for a 3 month membership at a little under $100 or a 7 month membership at about $125.
Laundry: At UNECON, there is a washer and dryer on every floor of the foreign students' dorm. Students must purchase their own detergent and dryer sheets, but the machines are free to use. A medium bottle of detergent that will likely last your semester and a pack of dryer sheets will run you about $10 at Auchan. Note that dryers are not always available in every dorm section. Where they are not available, drying racks are provided.
3. Food and Shopping
Groceries: Most students shop at Perekrestok, a grocery store about a 5 minute walk from the dorms or Auchan, a discount superstore about a 10 minutes by taxi from the dorms. While dorm rooms lack refrigerators, each floor has two full-sized refrigerators in the communal kitchens. Some students cook almost every meal, while others only snack in the dorms. Making simple dishes is fairly comfortable in the dorms. Try frozen pelmeni for easy dinners – a $3-5 bag can be stretched into 3-4 meals. Average weekly grocery bill: ~$20 per week
University cafeteria: UNECON doesn't have a cafeteria, but is surrounded by many cheap options for eating out.
Eating out: Fast food, although not "healthy," is typically of a slightly higher quality in Russia than in the States due to strict laws on artificial ingredients and food handling. For fast food or street snacks, you might spend $2-$8. A mid-range sit-down restaurant will run you maybe $7-15. Most restaurants run a "business lunch" option that provides a full meal for around $4-6.
Average weekly total food spending: ~$40-$55 per week
4. Transport
Students at UNECON live on campus, just a minute walk from their classes. Thus, transport is not a daily need for most students.
Public transportation:  While UNECON is very centrally located, there is a lot to do in St. Petersburg, and it is not all in the center! St. Petersburg's system uses the unified Podorozhnik card. It works on the busses, trams, trollies, and the metro (subway). SRAS will help you get the card and show you how to use it. The card itself costs 60 rubles ($1), and each ride costs around 36 rubles ($0.60).
Taxis: Use the Yandex Taxi smartphone app. Like most similar apps, it uses a complex algorithm to calculate the cost of each ride when you order it (weekends are more expensive, for instance). Rides are generally affordable, especially when split between friends, generally just $2-10 to get across the city. Do not hail cabs from the street. The apps are much more secure. Connect your credit card to the account for maximum security (no bargaining or cash involved!).
Marshrutki: These are vans – usually white – that duplicate city bus routes. Most are private and do not accept the Podorozhnik card. You will need to state your destination when you step in, find out from the driver how much you owe, pay, and you will need to tell the driver to stop when you are near your destination. Most routes cost 45-60 rubles.
Average weekly transport spending: ~$3-$12 per week
5. Communications
See our Packing List for more information about bringing electronics abroad.
Mobile service and data: SRAS will supply you with a simple mobile phone while abroad. Students who use only these phones to call and text report spending around $1.50 – 4.50 per month. Students with unlocked smartphones can get local SIMs for data. For about $10 per month, you can get the ability to call and text, limitless social media and messaging on the most common apps, and 20Gb of data to use on anything else (see: Megafon). Text messages are each just is 1.5 cents. Less expensive and larger plans are available. Getting a data plan is recommended, as it will allow you to use online maps and taxi service apps. Cell service in Russia is pay-as-you-go and requires no long-term contract. Students can also look into international plans before they depart the US through T-Mobile and Verizon that can be handy if you plan to talk a lot to folks back home while abroad. Activate these before coming abroad.
High-speed Internet: Private high-speed wireless internet is available in the UNECON dorms for free. Ethernet connections are also available in every room. Service is generally reliable. Other buildings on campus also have WiFi.
Internet cafes / City Hotspots / Free WiFi: Internet cafes cost around $1.5-3/hour but are quite rare in St. Petersburg. Many of them are now gamer clubs or copy centers with computers for rent. See CafeMax for a centrally located and affordable option. Free WiFi is available in restaurants, cafes and city-provided hotspots (like much of the university and public transportation systems). You'll need a Russian mobile number, however, to register on the free networks.
Average total MONTHLY spending for communication: $3-$15
6. Free Time, Other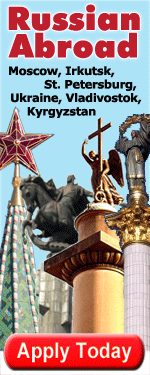 Entertainment and incidentals are the most variable expenses you'll face.
Performances: A ticket to a movie will run about $4-8. Rock concerts can run from $10-250. Theater tickets can run about $3-200. Check out Kassir, Afisha, or Parter to find events!
Random: Most museums will cost between free-500 rubles with student discounts, but check for free days on their sites – many will have at least one day per month with no admission (but limited attendance). Bars in the center will charge around 150-350 rubles per beer, and maybe 200-500 rubles for a cocktail. Winter-time ice skating will start around 700 rubles for skates and ice time at most of the touristy areas. Sporting events will range from 50 – 8500 rubles. Run a search on this site for anything you might be interested in – nearly all entries come with budgets and logistics.
Other Shopping: Information coming.

Souvenirs: The best deals can be found at Udelnaya or Intelligent Flea Market. If you go outside of St. Petersburg to a smaller town, you'll likely find higher quality and lower prices, so plan to keep an eye out then. The souvenir stalls lining Canal Griboyedeva up to the Church of the Savior on Spilled Blood are generally more expensive. Matryoshkas there of decent quality can be found for $11-$20, refrigerator magnets for $2-$5, and keychains for $3.
Travel: If you are going to blow some money in your budget – SRAS recommends you do it on travel. See more of the country and wider region and meet more of the people while you have the chance to do it quite inexpensively. Look at SRAS's extensive travel site for info about in (and out) of country destinations. Cities closer to St. Petersburg can typically be flown to for less than $125 round trip (check Skyscanner), and 500 rubles per night in a hostel is a good rule of thumb while using Booking.com or HostelWorld. The train system in Russia is extensive and affordable, but Americans and Europeans often have trouble using their bank cards online. Use Tutu.ru if the RZhD website won't accept your card. A day trip on a bus or elektrichka with a packed lunch to a nearby city to visit museums or stroll through parks or villages can cost as little as $15-50. Taking a short weekend trip to a location requiring a regular rail tickets, air tickets, and/or hotel or hostel can run as little as $200-400.
Let SRAS know EVERY TIME YOU LEAVE ST. PETERSBURG! This is for safety, but also because there may be registration or visa issues involved in your trip that we may need to advise you on.