What's it really like to live in St. Petersburg for a semester? Staying long-term in a city is much different from just vacationing there. You'll need to navigate more of the practical, everyday services of the city and budget to include more miscillanious and long-term expenses. Thus, this guide covers everything from haircuts to pharmacies and from gyms to computer repair. Its advice comes from SRAS staff on the ground in Moscow as well as graduates of SRAS Programs in St. Petersburg.
A Practical Introduction to St. Petersburg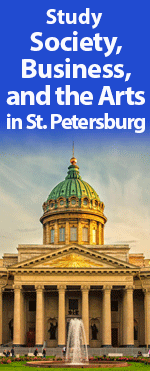 St. Petersburg takes great pride in its cultural heritage. Beautiful buildings and landmarks surround gorgeously restored gardens. The streets are filled with cutting-edge fashion, music, and copious museums dedicated to the artists, authors, history, and cultural elements that make the city so unique.
For students interested in museum studies, cultural diplomacy, or Russian studies, St. Petersburg is an excellent destination.
St. Petersburg is a historic port city built on a former swamp. It's still surrounded by swamp and, of course, filled with its famous canals and rivers. For this reason, mosquito repellent is highly recommended, particularly in the summer. Students should also not drink the tap water – but rather bring or buy water filters.
St. Petersburg is also a northern city. In winter, days become almost non-existent and in summer, days almost never end. Winters can be mild or bring a severe, damp cold. Come prepared. Exercise and vitamins can fight off seasonal blues and colds, which can be common in a humid and densely populated city. In summer, a sleeping mask and an umbrella are helpful.
St. Petersburg's long cultural history has created a city filled with treasures waiting to be found and cherished by anyone who loves literature, art, and culture.
Budgeting Basics for St. Petersburg

Students in St. Petersburg report spending about $80-110 a week average over the course of their stay. This covers groceries, city transport, an occasional meal out, school supplies, modest weekend entertainment, and other general living expenses. Note that this guide assumes 73 rubles = 1 US dollar. Prices current as of July, 2020.
Packing beforehand: Bring appropriate clothing and any electronics you need. Most of these things will be as expensive or even more expensive in Moscow. Also bring any prescription medication you are taking in amounts to last your time abroad – medication is cheaper in Russia, but not all brands and medicines are available. Check our packing guide for more information on these issues and many more to prepare for your trip.
Card Fees. Call your banks and credit cards! Let them know the dates you'll be abroad, otherwise, they tend to shut them off when they appear abroad – assuming they've been stolen. Note that most US banks will charge fees for every transaction you make abroad. $5 and/or 3% for every ATM withdrawal, for instance, is not uncommon. Make sure you understand these fees and factor them into your budget.
Flexibility: You should always plan some flexibility into your budget. Shortly after arrival to St. Petersburg, many students make small purchases for things like an electric kettle, pens and paper, a mosquito fumigator, and/or a water filter. These are small purchases but can add up in the beginning. Keep in mind that the average per week that we list above typically holds true for students making these purchases. There will always be expenses that you didn't plan for – a new umbrella, a better coat, a short trip that a new friend invites you on that is too good to say no to, you get the point.
Food and Shopping in St. Petersburg

Average weekly total food spending: ~$40-$55 per week
Groceries: Most students shop at Perekrestok, a grocery store about a 5 minute walk from the dorms or Auchan, a discount superstore about a 10 minutes by taxi from the dorms. While dorm rooms lack refrigerators, each floor has two full-sized refrigerators in the communal kitchens. Some students cook almost every meal, while others only snack in the dorms. Making simple dishes is fairly comfortable in the dorms. Try frozen pelmeni for easy dinners – a $3-5 bag can be stretched into 3-4 meals. Average weekly grocery bill: ~$20 per week
University cafeteria: UNECON doesn't have a cafeteria, but is surrounded by many cheap options for eating out.
Eating out: Fast food, although not "healthy," is typically of a slightly higher quality in Russia than in the States due to strict laws on artificial ingredients and food handling. For fast food or street snacks, you might spend $2-$8. A mid-range sit-down restaurant will run you maybe $7-15. Most restaurants run a "business lunch" option that provides a full meal for around $4-6.
Student Reviews of Eating Out in St. Petersburg
Local:
Other:
On Groceries and Shopping in St. Petersburg

Transport in St. Petersburg

Average weekly transport spending: ~$3-$12 per week
Students at UNECON live on campus, just a minute walk from their classes. Thus, transport is not a daily need for most students.
Maps: To navigate the city, Yandex Maps, Yandex Metro, and 2GIS are available in app stores and favored by locals. Maps.me is another good offline option.
Public transportation:  While UNECON is very centrally located, there is a lot to do in St. Petersburg, and it is not all in the center! St. Petersburg's system uses the unified Podorozhnik card. It works on the busses, trams, trollies, and the metro (subway). SRAS will help you get the card and show you how to use it. The card itself costs 60 rubles ($1), and each ride costs around 36 rubles ($0.60).
Taxis: Use the Yandex Taxi smartphone app. Like most similar apps, it uses a complex algorithm to calculate the cost of each ride when you order it (weekends are more expensive, for instance). Rides are generally affordable, especially when split between friends, generally just $2-10 to get across the city. Do not hail cabs from the street. The apps are much more secure. Connect your credit card via Apple Pay or Google Pay to the account for maximum security (no bargaining or cash involved!).
Marshrutki: These are vans – usually white – that duplicate city bus routes. Most are private and do not accept the Podorozhnik card. You will need to state your destination when you step in, find out from the driver how much you owe, pay, and you will need to tell the driver to stop when you are near your destination. Most routes cost 45-60 rubles.
Communications in St. Petersburg

Average total weekly spending for communication: $1-$4
See our Packing List for more information about bringing electronics abroad.
Mobile service and data: SRAS will supply you with a simple mobile phone while abroad. Students who use only these phones to call and text report spending around $1.50 – 4.50 per month. Students with unlocked smartphones can get local SIMs for data. For about $10 per month, you can get the ability to call and text, limitless social media and messaging on the most common apps, and 20Gb of data to use on anything else (see: Megafon). Text messages are each just is 1.5 cents. Less expensive and larger plans are available. Getting a data plan is recommended, as it will allow you to use online maps and taxi service apps. Cell service in Russia is pay-as-you-go and requires no long-term contract. Students can also look into international plans before they depart the US through T-Mobile and Verizon that can be handy if you plan to talk a lot to folks back home while abroad. Activate these before coming abroad.
High-speed Internet: Private high-speed wireless internet is available in the UNECON dorms for free. Ethernet connections are also available in every room. Service is generally reliable. Other buildings on campus also have WiFi.
Internet cafes / City Hotspots / Free WiFi: Internet cafes cost around $1.5-3/hour but are quite rare in St. Petersburg. Many of them are now gamer clubs or copy centers with computers for rent. See CafeMax for a centrally located and affordable option. Free WiFi is available in restaurants, cafes and city-provided hotspots (like much of the university and public transportation systems). You'll need a Russian mobile number, however, to register on the free networks. There are also a number of "Internet Clubs" in St. Pete. They are geared for gamers looking for head-to-head match-ups, but also offer Internet service.
Computer Repair: If you have an Apple product that needs repairing go to B2X. The company is certified by Apple to repair their products. If you have a PC product that needs to be repaired you can try a number of available options.
Laundry and Cleaning
Average spending on laundry and cleaning: $~1-3 per week
Laundry and cleaning are often overlooked expense categories. Actual expenses can vary widely based on how you decide to handle them.
At UNECON, there is a washer and dryer on every floor of the foreign students' dorm. Students must purchase their own detergent and dryer sheets, but the machines are free to use. A medium bottle of detergent that will likely last your semester and a pack of dryer sheets will run you about $10 at Auchan. Note that dryers are not always available in every dorm section. Where they are not available, drying racks are provided.
For those that prefer using a service, Prachka.com is a chain of self-service laundromats with several locations across the city. Stirka 40 Garusov is an interesting self-service coin-op that doubles as a café and performance space.
For dry cleaning, Garant and Rodnik have a few locations.
Health and Medicine in St. Petersburg

Budgets for health and medicine can vary based on student lifestyle and needs. Any SRAS concerned about this category is encouraged to discuss it with their SRAS representative.
Water/Water filters: Don't drink the tap water in St. Petersburg. Bottled water is cheap and everywhere and water filters are widely available in larger supermarkets appliance stores.
Sports: Fit Fashion is about three minutes from campus and offers an all-inclusive, unlimited 3-month package for $250. Alex Fitness is a few bus stops away and offers the same for $125. For just about all your other options for ice skating, pools, gyms, etc. check out KartaSporta.ru.
The Central Park of Rest and Culture (цпко) has everything from a rope park to "rollerdome" for people who enjoy rollerblading. In the summer you can rent out boats to take on the river and rollerblades. In the summer you can rent winter sports equipment like toboggans and skates. There are plenty of opportunities to participate in different sports in St Petersburg, there are lots of yoga and dance studios, gyms with martial arts, and places to rent cross country skis. In the winter there are numerous places where you can go, rent skates, and skate. One option in the winter is New Holland Island and in the summer, every Friday a group leaves from Palace Square to a skating rink for a midnight skate. Program staff in St. Petersburg will also provide SRAS students with a master list of places to go to pursue the sports you enjoy.
Medical Services: If at all possible, call your insurance before seeing a doctor. Often, there are certain doctors they want you to see. General care is available in English at American Medical Center and EuroMed. Quality dentistry can be done at Dental Palace.
Eyeglasses and Contacts: If you know your eye glasses prescription you can purchase contacts in a vending machine in the Perekrestok on Dumskaya. This website is a good resource for finding an optometrist and shops that sell both glasses and contacts in St Petersburg.
Personal Grooming and Hygiene
Bathing: During the summer, all Russian cities turn off the hot water (communally provided) for "pipe maintenance." It can be off for a couple weeks, meaning that showering can be difficult, if not painfully cold. For a great site that lists prices, locations, and services, see Hots.ru. Note that all Russian banyas are cheaper if you go as a group. Depending on the banya you go to, groups of 6-10 are usually best. Call ahead to verify prices and details.
Haircuts: Hair Fcker is a very popular hair salon for Russians and expats alike. The salon always has an English speaking receptionist and at least one English speaking hair stylist that is available to foreigners. If you walk along Sadovaya you can also find cheaper alternatives but employees will likely not speak English. Here is a map of the hair salons in the area. The options are numerous. Want some language help? Check out this haircut vocabulary lesson!
Hygiene: Shampoo, conditioner, deodorant, and toothpaste – in brands you are likely to recognize – run about $2 per package. Feminine hygiene products are around $4 per box.
Culture and Entertainment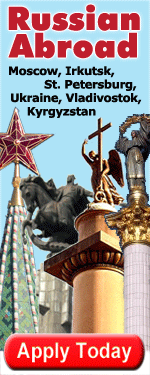 Entertainment and incidentals are the most variable expenses you'll face.
Museums: St. Petersburg abounds in museums on nearly any subject that might interest you. Most museums will cost between 0 and 500 rubles with student discounts, and all state museums and galleries are free on the third Sunday of every month.
Performances: A ticket to a movie will run about $5-12. Rock concerts can run from $8-infinity. Theater tickets can run about $3-200. Check out Kassir, Afisha, or Parter to find events!
Nightlife: Bars in the center will charge around 200-400 rubles per beer, and maybe 300-600 rubles for a cocktail. Many of the trendy clubs will charge a cover – often 500-1500 rubles.
Charitable Giving and Volunteering

Volunteering: Some SRAS students have, in their freetime, volunteered with church groups and charities on the ground in jSt. Petersburg. You can find a list of charities and NGOs on this site here.
Charitable Giving: There is a Salvation Army located on Liteiny street that accepts donations of clothes for adults and children, as well as household items (kitchenware, furniture, lights, fans, etc.), and books that you may have accumulated during your time in St Petersburg. We encourage you to donate whatever you cannot bring home after your program that can be used by a family in need.
Recycling: Check out Recycle Map, a project of GreenPeace Russia, to find a convenient recycling point. Past students have gotten together to compile recycling and take to a pick up point together, describing the process as one that introduced them to helpful locals who talked them through how to sort the materials. (Pro tip: seperate the bottle caps and various types of plastic before you head over!).
Travel from St. Petersburg

If you are going to blow some money in your budget – SRAS recommends you do it on travel. See more of the country and wider region and meet more of the people while you have the chance to do it quite inexpensively.
Cities closer to St. Petersburg can typically be flown to for less than $125 round trip (check Skyscanner), and 500 rubles per night in a hostel is a good rule of thumb while using Booking.com or HostelWorld. The train system in Russia is extensive and affordable, but Americans and Europeans often have trouble using their bank cards online. Use Tutu.ru if the RZhD website won't accept your card.
A day trip on a bus or elektrichka with a packed lunch to a nearby city to visit museums or stroll through parks or villages can cost as little as $15-50. Taking a short weekend trip to a location requiring a regular rail tickets, air tickets, and/or hotel or hostel can run as little as $200-400.
Let SRAS know EVERY TIME YOU LEAVE ST. PETERSBURG! This is for safety, but also because there may be registration or visa issues involved in your trip that we may need to advise you on.
Find Out More About…

Guides to Other Cities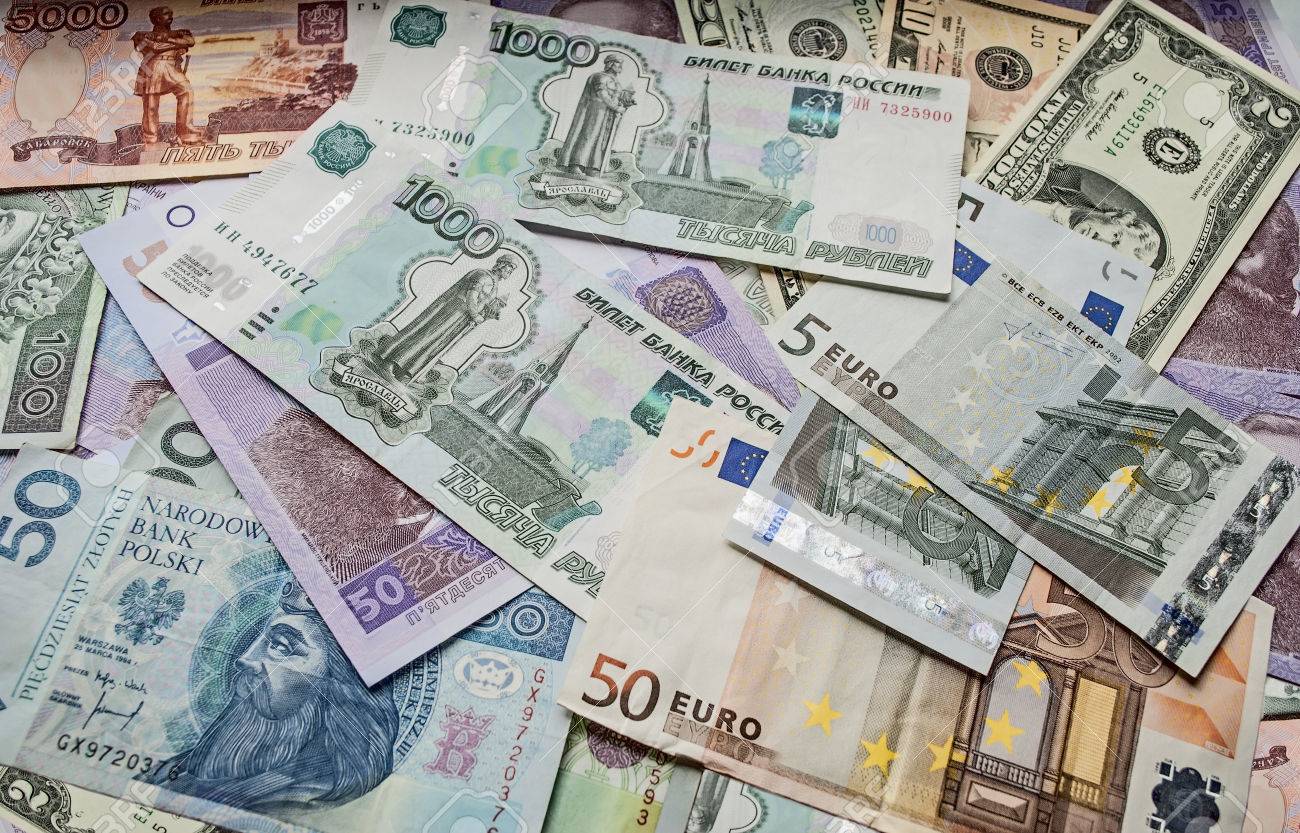 Eurasia today is quite affordable. Students are often surprised how far their dollars will go even in major cities like Warsaw – and very surprised at how far they go in places like Bishkek. However, students can also be surprised at how easy it is to run into troubles – like blocked bank cards or […]