In my opinion, one of the best things about Kyiv is the abundance of grade-A restaurants and pubs that are scattered across the city. Kyiv is home to a wide-range of restaurants, and regardless of what type of cuisine you're craving, you can always find a place to enjoy a tasty meal. Of course, some restaurants/pubs offer more than just delicious food, and bring a new element to their customers' dining experience. The Spotykach restaurant in the center of Kyiv is the perfect example of such a restaurant.
Firstly, the name "Spotykach," or "Спотыкач," comes from the Russian word "спотыкаться," which means to stumble. "Spotykach" refers to a person who, after one too many drinks, is stumbling around drunkenly. When Spotykach first opened many years ago, the restaurant possessed a Soviet-themed atmosphere that drew in locals, tourists, and even prominent politicians and diplomats. The restaurant embraced a lively drinking culture, which led to its mass popularity.
Following the 2014 Euromaidan Revolution and the boosted Ukrainian patriotism locally, Spotykach decided to abandon their Soviet-inspired theme and make way for a more pro-Ukrainian vibe. After replacing all portraits of former Soviet leaders with paintings of Ukrainian pioneers, artists, and writers, Spotykach added national flags, music, and authentic Ukrainian delicacies. Spotykach is sharing the Ukrainian love with all of their guests.
As for the menu, the restaurant isn't just known for its traditional Ukrainian dishes, but also for the exceedingly creative way the dishes are served. A group of friends and I decided to try several items on the menu, and each dish proved to be far better than our expectations. As for appetizers, we ordered Ukrainian-themed vareniki, sushi rolls made from holubtsi and beef stroganoff, and a borscht popsicle. And, yes, they were all absolutely delicious!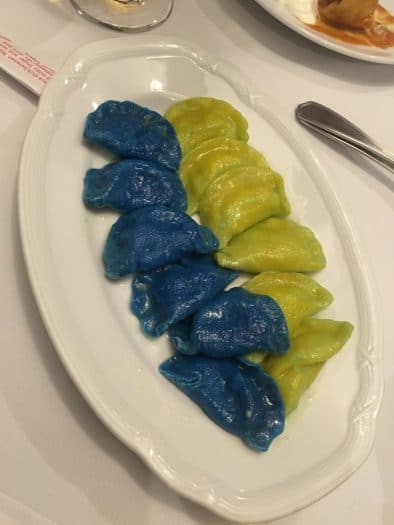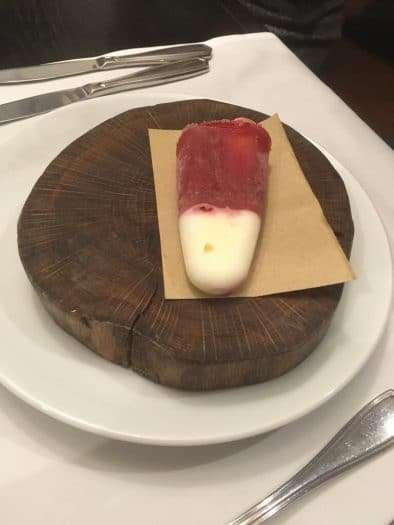 For our main courses, we decided to try the famous Chicken Kiev, "Ukrainian" Fish and Chips (although there wasn't necessarily anything truly Ukrainian about it), and the smoked trout. It's safe to say that we were not disappointed!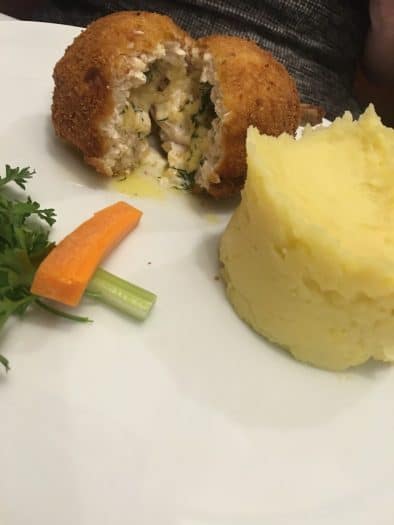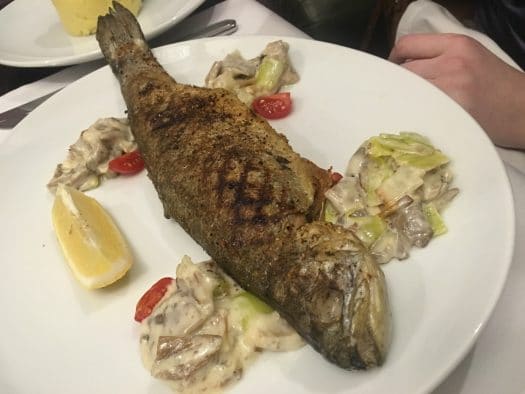 Spotykach may have shed their original Soviet style, but they certainly didn't lose their appreciation for alcohol. When guests first arrive, they are greeted by a cheerful attendant who offers them a complementary shot of vodka. This is followed by a hefty mixed-drink menu once the guests are seated. After guests have finished their meals, they can expect to receive another dose of complementary liquor, but this time in the form of a dessert shot! My group and I had the pleasure of being served small glasses of lemon sherbet with strawberry liqueur.
Overall, my experience at Spotykach was definitely one for the books! I was beyond intrigued by the creative dishes I was served, and the atmosphere made for a great dining experience. Although the prices were slightly higher than some other restaurants in Kyiv, the food and the superb table service (which is slightly difficult to find in Kyiv) was absolutely worth it! Out of all the restaurants in Kyiv, Spotykach has my highest recommendation!
Spotykach Restaurant in Kyiv
Ukrainian Cuisine With A Twist
Cost: 125-550 UAH (~$4.50-$20)
Hours of Operation: 11am-Midnight