Спортивная // Sportivnaya Market
ул. Спортивная // Sportivnaya Street
9:00am-6:00pm (Depends on season)
Negotiable and Cheap Prices for Everything
I had the opportunity to check out the massive Sportivnaya Market with fellow Russian-American student Michael "Stanislav" Wright. We had originally gone earlier in the semester, but unfortunately we found out that it was closed for Chinese New Year. A very important note if you are studying in Vladivostok during the spring is to remember that during Chinese New Year all and any Chinese-related business, including those that dominate Sportivnaya, will be closed.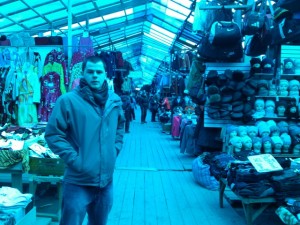 The Sportivnaya market is massive. It's also rather far from VSUES. You'll have to take the #38 bus to the Center bus stop, then catch the #90 bus or the #54 bus to Sportivnaya. Depending on what route you take, it can be 30 minutes-1 hour. I'm sure the dynamics of the market have changed since the 2012 APEC Summit built the Zolotoi Rog Bridge that cut travel time in half. Observing the proximal distance to train stations, bus stations, and the tram, I would postulate that Sportivnaya was strategically located in the old transportation center of the city. You would have to pass Sportivnaya in order to get to one side of the Zolotoi Rog Bay to the other. While many Russians say that the Zolotoi Rog Bridge is a blessing and helped progress the city forward, I wonder what businesses suffered because business ventures moved closer to the center of Vladivostok. There is no need to go around the bay when you can go straight over it. This could be a curious study for future and interested students.
Russian VSUES students call it the "Chinese Market," as there are a large proportion of shops owned by Chinese entrepreneurs. However, saying this, there was a curious trend of who was selling what. It was not all Chinese; rather, a plethora of nationalities were represented, particularly from Central Asia, though North Korea and Southeastern Asia were also in attendance.  With acute observation (and shown in the panorama courtesy of Michael below), the market is a reuse of an anarchic stadium. All the stores in each section sell, more or less, the same things with the occasional difference in price. If you really want to work on your Russian bartering skills, this is the place to do it. Stanislav is a master barter and got all my prices lowered by a couple hundred rubles with his help.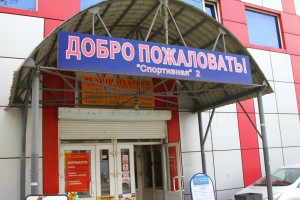 Orienting yourself in Sportivnaya depends on your entrance. As stated earlier, I entered from Entrance 1 (the main entrance), which leads directly to the clothing section. Entrance 2, on the opposite side of the market, is the meat and fish section. If you take Entrance 1, after the large clothing section you can either continue straight and right in the food-dominated area or turn left and go to utensils and gadgets. If you need anything, I'm sure this market has it. I went because I needed pots and pans for cooking as well as the necessary kitchen utensils and was able to get all I desired for less than 1000 rubles. Small pots were around 200-300 rubles and frying pans were 500 rubles. Of course, these prices are negotiable if you are able to speak Russian well enough. I also bought a can opener and a spatula.
But I need to reiterate that they do have everything there. Need a police-grade flashlight? They got it. Want DVDs in Russian? Check. Milk, cheese, eggs, basketballs, shoes, sweatshirts, brooms, pocket knives, they have it all. They also have the best prices for food, since, in many cases, you are buying directly from the farmer. After a semester here, I recommend future students plan out their menu ahead of time and take a trip to fulfill their weekly needs; it is much more cost efficient than shopping at the Пять Плюс (Five Plus) the closest grocery store to VSUES.