SPB / СПВ
42 Seventh Line (Metro Vasileostrovskaya)
Sun. – Thurs. 12 p.m. – 2 a.m.
Fri. and Sat. 12 p.m. – 5 a.m.
Meals from 109 rubles
If you're with a group of people who can't decide on a place to eat, SPB may be a pretty viable option. This is for two reasons. One, this bar-restaurant is everywhere. For every monument in town to a beloved author or national hero, there's probably an SPB. Second, the menu is all over the place. Western style appetizers, like wings, cheese fries, and mozzarella sticks? Check. Russian bar snacks like smoked string cheese and fried bread? Yep. What about a bagel and a latte, a cheeseburger, short ribs, or a margherita pizza? Waffle fries, shawarma, boiled shrimp? SPB can serve you all of these things, though hopefully not together.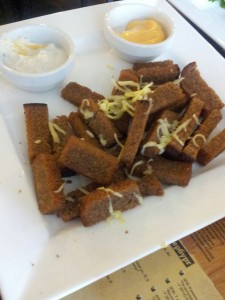 Our tour guide described SPB to our group as "the place young people go to in St. Petersburg." This seems to be mostly true. The place is always full of college kids, young professionals putting their feet up, trendy types, and burgeoning beer snobs. (The only thing rivaling SPB's extensive food menu is its drink menu, complete with histories and detailed descriptions of each brew.) The atmosphere reflects this. Seats are sleek-looking black leather couches and arm chairs, bartenders and waitresses usually sport some trendy haircut or body modification, club music pumps through the sound system, and flat screen TVs on every wall show loops of music videos. (Here it should be noted that European music videos can be much more raunchy and possibly even uncensored compared to those of the Western variety. You may expect your first few minutes at SPB to be spent gawking at the TV screen, mouth agape, looking upon the flashing images with wonder, awe, and maybe a bit of shock. The locals, however, are usually pretty indifferent to them.)
As mentioned before, SPB's menu is like a Russian novel of menus. With so many options, however, you can't expect everything will be top-notch. In addition, portion sizes here – and in many other restaurants around the city – are much smaller than most Westerners may be accustomed to. When ordering an appetizer of French fries, one may expect a basket stuffed to the top, but will actually receive a small plate with a smattering so small you can count the number of fries on the plate by just catching a glimpse of it in your peripheral vision. While your meal won't be served with handfuls of fries, the ones you'll get are still pretty tasty. Here, 99 rubles will get you a plate of fries with your choice of dipping sauce (tomato, mustard, cheese, horseradish, mayonnaise). Potato wedges called "Idaho potatoes" are also on the menu, and are 139 rubles. They're a bit more hearty and numerous than their French counterparts, and come sprinkled with garlic and basil. Idaho potatoes can be served a la carte or as part of a meal, say, with pork and bacon shish kabob for 199 rubles.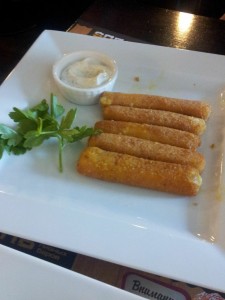 Fried food dominates the appetizers section of the menu, and can be ordered separately or as part of a platter. 389 rubles will get you a platter of snacks to share with friends that includes waffle fries, calamari rings, fried bread and cheese, and three dipping sauces of your choice.
There's also an extensive pizza menu. You can go standard and get pepperoni, or be a bit more adventurous with the salmon, anchovies, and mushroom. "The Mexican" comes with ground beef, green peppers, cheddar cheese and red onions, and the "Marinara" comes with shrimp, octopus, and mussels. Pizzas can range from 109 rubles to over 500, depending on the size.
And to drink? Pretty much anything you can think of is on the menu. Kvass, Lipton teas, juices, Pepsi products, mineral water, and coffee are all available, as are an assortment of light and dark beers, stouts, wines, and various hard liquors. Half a liter of the house lager is an agreeable 79 rubles. Desserts are, of course, also offered, though are limited to cheesecake, apple strudel, and ice cream, ranging from 100 to 180 rubles.
For groups and faculty-led tours, it's probably also not the ideal place, given the loud overhead music. However, for a catch-up with friends over a beer and a salty snack, SPB is an easy-to-find spot with a lot of options to please a variety of appetites. And, as you can gather, save for a few Russian beer snacks, SPB is not the place to head to for national fare.
For a list of addresses for all 17 locations of SPB across St. Petersburg, click here.