Soviet Cafeteria/Советская Столовая
ул. Чуй (рядом с Цум)
Full Meal from $3
The Soviet-style cafeteria next to Tsum in Bishkek has large banner on it's side that advertises it as tasty, fast, and cheap. That sounded ideal, so today when I needed to grab lunch quickly, I figured I give it a shot.
I walked in and grabbed a tray, sliding quickly through the one, short buffet station. I picked шашлык (shishkebab meat), some carrot salad, plov (Central Asian rice dish, yum), and a small cup of компот (a clear, Eastern European fruit juice). My total bill came out to 160 som (about 3USD) and I was satisfied with the fullness of my tray. This whole interaction took fewer than five minutes. Fast and cheap – check.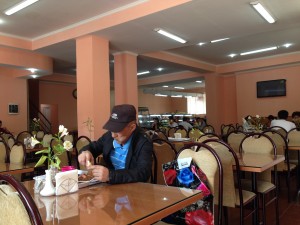 The fairly large dining room offers seats by the window, and because it was a nice day, I waited a minute or two for a window-table to become available. The cafeteria is located on a small square that has some park benches, ice cream vendors, and soon-to-be-refilled (I hope) fountains – which makes the window seats in the Soviet Cafeteria ideal for people watching. Although other seats in the dining room are missing out on the pleasant natural lighting, the room is generally comfortable and each table has a couple of vases of flowers (deemed real, upon further inspection). If you're in Bishkek and wondering what a run-of-the-mill Russian cafeteria looks like, it's almost identical to what you'll find here although the flowers, if present at all, will likely be fake.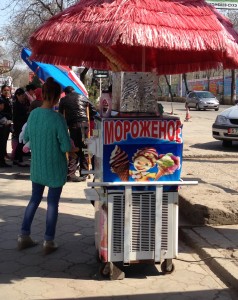 At my lovely window seat, digging into my food, I was a little disappointed. Tasty – no check. The plov wasn't bad, but it was a little on the greasy side and didn't have much meat. The shishkebab wasn't what expected at all – normally Russian-style (or Soviet style… I guess?) shishkebabs are some of my favorite things to eat. Grilled meat, what's not to like? Unfortunately, The Soviet Cafeteria's were over-salted and smelled strongly of hotdogs, which was just confusing. The compote was regular old compote, and for that I was thankful. The carrot salad was just carrot salad, though kind of lemon-y sour, which was actually a nice surprise.
Overall, the experience was just so-so, with speed, price, and portion sizes balancing out culinary mediocrity. If you've visited a Soviet-style cafeteria before, you can pass on this one and head straight for the ice cream sold at stands right outside.
For group and faculty led tours, this is an ideal place to have lunch. It's quick, has tons of space, and has options for everyone in a big party.