Our last program excursion took us back to VDNKh park, where we had enjoyed the Russia Day festivities a month before. The Museum of Soviet Arcade Machine is a small, out-of-the-way nook located on the first floor of one of the park's several famous pavilions. Museum attendance was sparse that day, meaning the exhibit was a beacon of color and sound in an otherwise silent and dreary space.
We were handed out tickets, along with a small match box filled with small 15-kopek coins, before our guide took us through the three rooms of machines, pointing out the most notable of their collection. She made sure to note that, while we were allowed to keep the match boxes as a souvenir, all coins had to remain within the exhibit. They are no longer in mint and therefore in limited supply. However, she mentioned that the coins are found all over the world, meaning many guests obviously do not listen. While amusing for us, the museum takes a much dimmer view, as they have to buy them back.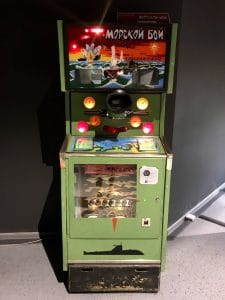 The first machine spotlighted on our tour was a pinball machine called "Спорт" (Sport). Although the game is one of the most popular arcade games worldwide, the machine was unfortunately out of commission, having broken the previous day. The exhibit included two machines of the most famous Soviet arcade game – Морской бой, or Sea Battle. This game and others used mirrors to provide the illusion that the user is, for example, shooting ships on the horizon of a vast sea. In reality, the waves ran down the middle of the machine while a mirror reflected the image horizontally so the ships appeared to sail on the sea.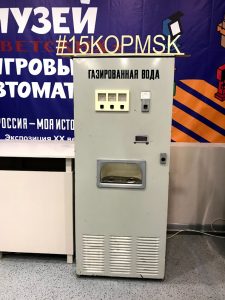 Before we were released to try the games out for ourselves, our guide brought us to a group of machines lining the wall across from the exhibit. While not games, these machines still provide insight into Soviet life in the 1950s and 60s. For example, one machine similar to a phone booth provided information about transportation, including timetables for various metro lines. Next to it was a large block of metal that resembled a cross between a refrigerator and a school locker provided sparkling water for a small price. When the machine was in use, a single cup would be placed under the dispenser. Users would pay, drink out of the cup, and then place it upside down to be washed for the next person to use. Hygiene aside, I found myself wondering how often the cups were stolen by pranking teenagers.
I then broke off from my small group to try out Морской бой (Sea Battle). It took me longer than I'm willing to admit to actually figure out how the game functioned, but after a trial run, I managed to shoot down a small number of enemy ships. I stuck to similar shooting games for the rest of our time there with mixed success. Part of my problem was that I failed to take the time to really figure out how the game worked before I began – there were too many options, sounds, and lights for me to really stop and figure out what I was supposed to be doing. I realized too late that there were detailed instructions above each game in both English and Russian explaining the game's history and how to play. Overall, I consider the Soviet arcade museum to be the perfect activity for one or two people on a rainy day.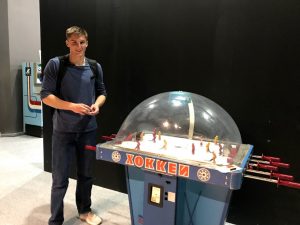 Although I wouldn't consider the exhibit large, I still found the number of machines overwhelming, partly because I was with a group. It felt odd to be doing something so individual while out with all of my friends. Many of our group felt the same, as we trended towards the two player games or otherwise traveled in small groups, taking turns figuring out the various games. I started out playing a hockey-themed version of foosball with my classmate Mitch, who beat me soundly. He gave me a lot of credit for his win, however, as I scored most of his goals for him. We then traveled over to watch Paul repeatedly beat Mason at basketball before I gave it a try. While Paul still won, I managed to block all but two of his shots. I unfortunately proved to be no good at actually scoring.