Coffee and cats – what could be better?
One thing that many students studying abroad have in common is the yearning to see their beloved pets again. Not all students are ready to return home, but many of them simply miss their pets and are in dire need of some animal cuddling. Luckily for my fellow classmates and me in St. Petersburg, there's an easy fix to this problem, and it's only a 7-minute walk from campus!
Soulmate, a local cat cafe, is a hot spot for coffee, cookies, and kitten cuddling. With over fifteen cats roaming around the small café, there's more than enough love to go around. Guests of all ages come and go throughout the day, some for long periods of time and some for just a quick coffee break.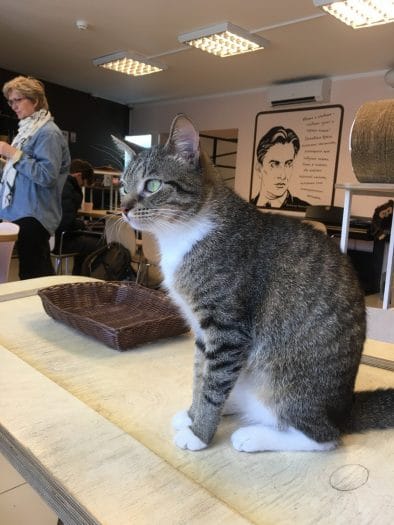 The cost of a visit to the café is based solely on the amount of time spent there. You'll be given an activated card upon arrival that tracks your time, then you pay your total tab when you're ready to leave. On weekdays from 11am to 6pm, it only costs 3 RUB per minute, and then 5 RUB per minute for the rest of the week. The best part: coffee, assorted tea, and cookies are free of charge! If you wish to treat yourself to a nice latte or cappuccino, you can place your order and pay separately at the main desk.
When you first arrive, you'll be asked to either cover your shoes with plastic sleeves, or remove your shoes and wear provided slippers. The hostess will immediately spray disinfectant on your hands, then hand you your activated time card. From then, you're free to gather some refreshments, pick a seat, and enjoy your time with the cuddly cats. When you're ready to leave, they also provide lint rollers to remove any cat hair that might have gotten on your clothing. However, don't make the same mistake I did by wearing all black; it won't end well.
The café is full of different contraptions and posts for the cats to play on. There's just about everything you could imagine for the cats' entertainment, such as climbing structures, window seats, tubes, scratching posts, and not to mention about fifty cat toys scattered around. When they're not strutting about, the kitties have countless places to take a snooze, whether it be on the sofa, cushioned window sills, or the pillowed book shelves.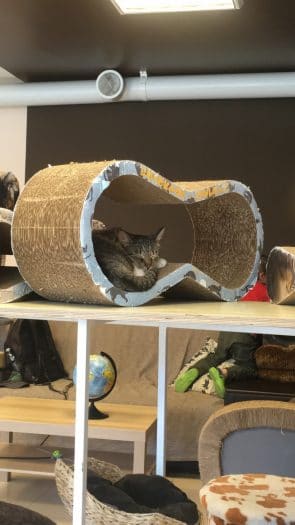 Personally, I've never been a huge cat person, but I can honestly say that I love visiting Soulmate. It's a relaxing place to complete schoolwork, especially since I can have a sweet kitten sitting in my lap while I read for class. Some of my fellow classmates even go there just to lounge with the cats and take a minute to breathe after a long day. Regardless if you need a good study spot or simply a good ol' cat hug, Soulmate is definitely worth exploring!
Soulmate Cat Cafe in St. Petersburg
Cost: 50-500 RUB (~$0.80-$8.00)
Location: Fontanka River Embankment, 51-53
Hours of Operation: 11 am-11 pm