Кафеинниа <<Шоко Мокко>> / Shokko Mokko Café
Open 24 hours, daily
6 Ploshad Tryda and citywide
Internet and coffee – even during study abroad, many students find themselves in a constant search for this all-important pair. Luckily, for Petersburg students, 24-hour coffee shops dot the city and are never too far away. Nearest the international student dorm Dom Benua in Petersburg's Ploshad Tryda area is Shoko Mokko, a 24-hour coffee shop that is as hip as it is convenient.
Walking in the doors, the first thing that hits is that Shoko Mokko is a swank place. The floor space is pretty vast for a coffee shop, and the café is divided into smoking and non-smoking areas. Flat screen TVs hang on the wall, usually showcasing music videos or soccer matches. Each table is accompanied by either soft leather couches or plush leather seats that make late night caffeine-fueled study sessions surprisingly comfortable.
Once you find a seat, a waitress will bring over a giant leather-bound menu, impressively embossed with the Shoko Mokko logo on the front. They don't skimp on style at this place. The menu has the usual café fair – espresso concoctions, hot chocolate, macchiatos, and a good-sized tea selection. I recommend the delicious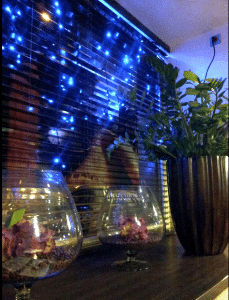 lavender tea – a pot runs about 170 rubles and is perfect to share with a study companion or two. Shoko Mokko also offers juices, глинтвейн (a delicious, warm, spiced mulled wine), a wine and spirits selection, and a few brands of mineral water. A small smattering of salads are offered – from fruit medleys to veggie bowls. Running at around 190 to the mid 200s, though, in terms of rubles for a modest bowl, you might find you're better served by the inexpensive Teremok kiosk right in front of the café.
The café also has desserts. I paid a visit the other day in order to use the fast Internet, but didn't want coffee, so I decided to order a sweet treat for the first time. The dessert menu is probably the most expansive section, even larger than the coffee selection. Tiramisu, espresso-flavored mousses, apple pie, triple chocolate cakes, ice cream – it was a dizzying array of options. My waitress came by three times to ask if I was ready to order, after I had to ask for more time in order to come to a decision.
However, maybe cutting down on the number of choices may help improve on the quality of the items. My tiramisu (110 rubles) left a lot to be desired. The ladyfingers were stale, and the bulk of the entire dessert was a lackluster whipped topping that tasted like whatever the Russian version of Cool-Whip might be. The layers of tiramisu were sliver thin except for generous piles of this mystery whip. As the dessert menu is quite extensive, perhaps patrons will find a better example of the café's offerings if they choose another one of the dozen or so dessert items. (To Shoko Mokko's credit, though, perhaps at 11 in the evening it's a bit of a stretch for any café to offer fresh desserts!)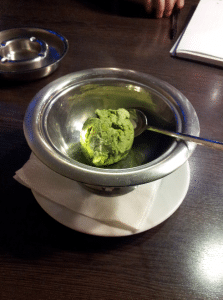 Besides the disappointing tiramisu, the café does have a lot of good qualities. The espresso drinks are tasty (110-200s range in rubles), as is the hot chocolate (90 rubles). It definitely isn't the cheapest joint, though. One can only imagine they've got to pay for all those flat screen TVs somehow. However, as mentioned earlier, sharing a pot of tea with a friend or two is a great way to stretch a dollar. Given the café's ultra-convenient location to the international student dorm, you're bound to find a classmate or a familiar face studying late into the night. I've ran into fellow students nearly each time I've visited the place, and solo study sessions have in many cases sprung into group study sessions this way.
For groups and faculty-led tours, Shoko Mokko is an okay place for a pit stop for coffee, especially if, say, on a break from a city tour. It's not the best, however, considering they don't serve coffee to go and it can be a bit pricey. There are group seating areas available, however. You may, though, have to contend with the smell of smoke wafting from the smoking section and 90s American pop songs that you hoped to never hear again playing overhead on loop.