Шоколадница Кофейня // Shokoladnitsa Cafe
ул. Светланская 13 // 13 Svetlanskaya Street
9:00am-12:00am
Tasty, chocolatey treats
Shoko.ru/Vladivostok
Shokoladnitsa Cafe (or just simply Shoko) is a chain of cafes around Russia that are known to serve a variety of sweets and desserts. This is the Vladivostok review.
There are two locations of Shoko (as it is known here locally) in Vladivostok and they are two blocks from each other. One on Svetlanskaya street, the other at a slightly larger location at 1a Admirala Fokina street (right next to the Dynamo Stadium). If one location is full, they will simply send you to the other.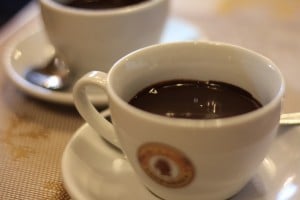 Shoko, for those who do not know, is a swanky Russian equivalent of Starbucks. A sit down place, the interior is filled with blown up pictures of old Europe mounted with a variety of gold and brown frames. They specialize in chocolatey drinks, including cups of hot, pure chocolate goodness. And it is sweet. They have a variety of coffees, (lattes, cappuccinos, americanos, espressos), teas, smoothies, cold chocolate drinks (they taste like melted double dark chocolate ice cream), juices, alcoholic cocktails, alcohols, and lemonades. Price ranges from 190 rubles to 310 rubles with the mode being 240 rubles (does not include prices for alcoholic drinks).
The style of food they serve ranges from Russian to French and Italian. You have options of salads, sandwiches, wraps, blini, pasta, and soups. Prices for food range are in the mid to high 200 ruble range. I had the Ролл «Мексиканский» (Mexican roll, 240 rubles) and «Витаминный заряд» смусси (vitamin charge smoothie, 290 rubles). They were quite tasty, but not very filling. So, I ordered a Блинчики «Малиновые» (raspberry blini, 240 rubles) for dessert which was mind blowing good. I recommend you get that and their hot chocolate specialty drink and pour the drink over the blini. That is what heaven tastes like. Still wasn't full, but definitely satisfied after that sweet concoction.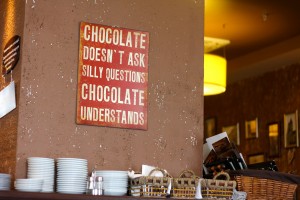 The service and waiters are attentive, though occasionally service can be a bit slow. Expect to stay awhile as that is the atmosphere of the place; relaxed, dim light, and a constant stream of music you would think could have been the soundtrack for the film Garden State (If this is your first time encountering Garden State, check it out and thank me later). I went with fellow Americans Michael and Kylea, as well as German exchange student Judith. We ordered a variety of items, which you'll get to see below.
Takeaway – Shoko is a safe cafe to meet Russian friends and enjoy conversation.
(+) – good music, calm atmosphere, tasty treats, free wifi
(-) – very Western, slow service, kinda pricy, not very filling
⅘ – The place to go if you have a sweet tooth, but not to get full.