Shedite Khanza
Partizanskaya 32
10–24 every day
Entrees around $5
Looking for a good lunch on an empty afternoon, I found Shedite Khanza (Шэдитэ Ханза; Partizanskaya 32, entrance on Gornaya) during a long, fruitless walk halfway across Irkutsk (or so it felt, in subzero temperatures). It's mostly a Buryat café—or "ethnic," as it calls itself. The name is the Buryat for "magic box" (волшебный сундучок).
The menu is mostly Buryat food, and all the classics are represented there—various soups, meat dishes, pozy. But there's also a good selection of so-called "European" food—mostly Russian, with some American-ish dishes thrown in for good measure. There's no English on the menu, but there are pictures of all the dishes. There's also a very long drinks menu, including a very wide variety of tea.
At around 2 on a weekday afternoon, it was nearly empty, so it was a great place to sit alone for a while and read—it was very quiet and the staff was more than happy to let me be. Service was weirdly slow at first—I didn't get a menu for a while, and wasn't sure if I was supposed to order at the counter, but it evened out after that. My waitress was super friendly and smiley, though she spoke so quickly I could only catch a fraction of the words.
I ordered tsuivan (цуйван), a noodle dish that reminded me a little of the Central Asian lagman. It had vegetables and beef, and some amazing spice that I don't think I've ever tasted before. It was great—unusual, extremely filling, and just generally tasty and oily and satisfying. (My highest praise is that I'm usually one of those people who has to eat at least every three hours, but this kept me full for the entire afternoon, which is honestly almost unheard-of for me.) I also got the traditional Buryat tea (ногоон сай) to go with it: it's apparently green tea brewed in milk. It came in a teapot and was perfect after the Siberian cold. I'm not usually a big tea person, but I liked this, probably more than your standard green tea.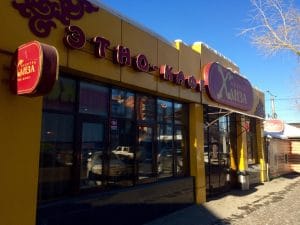 Overall, I'd definitely recommend Shedite Khanza, and will go back if I can handle the walk—it's probably about twenty or twenty-five minutes from Kirov Square by foot. But the combination of good food and a new cultural experience in a calm, comfortable setting was well worth it for me. It felt pretty upscale, especially as cafés in Russia go, though with nice décor that I assume evokes or is meant to evoke Buryat culture. There's a wide variety of food, so most people can probably find something (although it's pretty meat-heavy). It's not good for big groups, as all the tables are small booths, but it would be comfortable for a small gathering. And it felt pretty off the beaten path—it's outside the main city center on a somewhat desolate street, though it's near the Central Park, if you're heading that way.
There's no business lunch that I could see, but prices are pretty reasonable: I paid 270 roubles for my main course, 180 for the giant pot of tea, and 3 for a totally unnecessary piece of bread that I would skip if I were you. (I only ordered it because I thought it might be Buryat bread, but it was just regular Russian brown bread.) Overall, that's not too much more than many business lunches, and this one was much more filling.