Spread throughout the city of Moscow are seven imposing buildings, called variously "The Seven Sisters" or "Stalin's Skyscrapers." While visiting Moscow as part of my study abroad experience to St. Petersburg, I wound up setting off on an unexpected mission to see them all that also helped show me much more of this fascinating and historic city than I might have seen otherwise.
While I was aware that such a thing as "Stalinist" architecture existed and while I knew about the unique appearance of the main building of Moscow State University, I had no idea that this matching set of buildings existed. I found that out shortly after arriving to Moscow.
After our train got in, we transferred to our hostel, grabbed a quick lunch and set out for SRAS' "Walking Seminar: The Origins of Modern Russia." Our guide, SRAS Assistant Director Josh Wilson, told us about the Ministry of Foreign Affairs Building, visible from a distance from a bridge we crossed as part of that tour. He described it as an imposing, almost scary building that rather embodies how Russia structures its foreign policy: to command respect or, if not respect, then at least awe and a fear of retribution. He recommended seeing the building as an option for spending our free time. This description piqued my interest. I am quite interested in international relations and foreign policy and seeing the building where Soviet and Russian foreign ministers from Vyacheslav Molotov to Sergey Lavrov have worked understandably appealed to me.
On Friday morning we continued exploring Moscow with a tour that included the historic Novodevichy Cemetery followed by a ride in newly-built cable cars up to Sparrow Hills. At this point I saw one of the Seven Sisters up close for the first time: the main building of Moscow State University, located at Sparrow Hills. It seemed quite impressive to me, and from the view from the hills, we could also see more of the sisters on the horizon. I remember thinking vaguely that it could be cool to see all of them, although time could be a factor.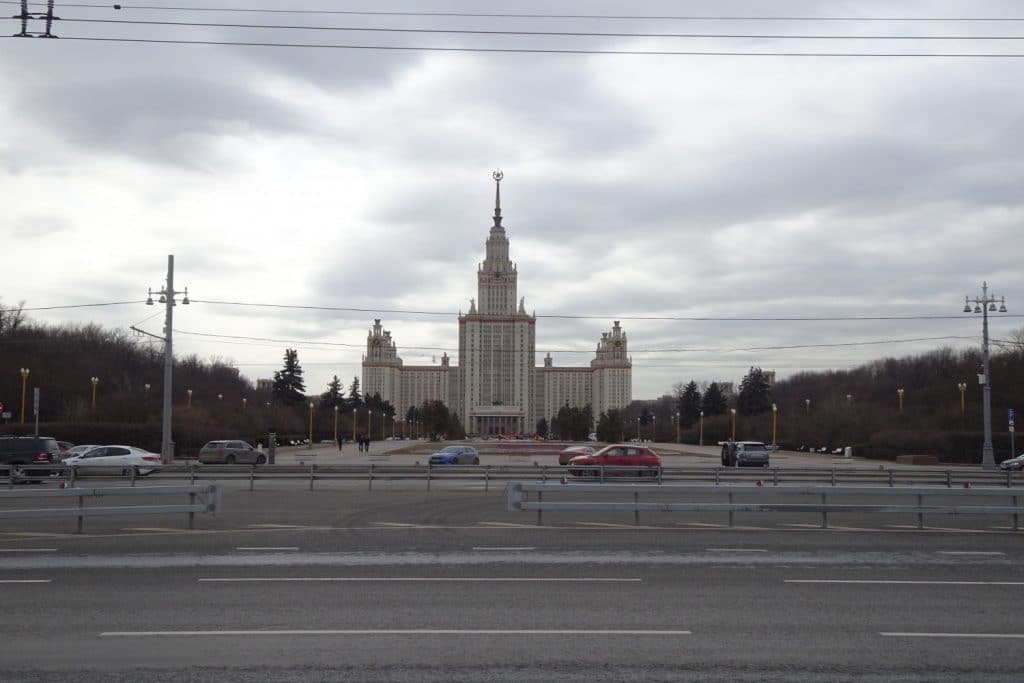 We finished up our tour around 15:30 but I wanted to keep exploring the city (it is not everyday that one is in Moscow, after all). I decided to go ahead and take the metro to the Ministry of Foreign Affairs. Upon exiting the metro, I turned a corner and was confronted with an absolute monolith of a building. This was the approximate moment when I realized just how impressive these structures are. It is not that easy to take my breath away, but this did it. I stared up at the top floors and the hammer-and-sickle near the top, probably violating my own personal rule to blend in as much as possible and not look too much like a tourist. I could not help myself. I imagined generations of Soviet foreign policy leaders working within those walls on the international crises that I have read so often about in American textbooks.
I decided then that I would see all seven of the sisters. There was really no deep or inspirational motive to this. I just knew they were there, that they were impressive to see, and that I wanted to see them.
As it happened, I moved on toward my goal later that very night. I, along with my friends Morgan and Natasha, decided to go on walk to see Red Square at night. Incidentally, this is quite the experience in and of itself. After walking through the square, we decided to check out Zaradye Park. While there, seeing another of the Seven Sisters, the Kotelnicheskaya Embankment Building again, I explained my "quest" to the others, and they agreed to walk the over to the bridge to see it up close. I was later informed that this could actually have been seen earlier on Thursday, but clearly I had missed it then!
I actually saw this particular skyscraper again, the next morning, during out group tour of the park and the floating bridge over the Moscow River that can be found there. I got some nicer pictures at this point, since I am not very good at getting good photographs at night.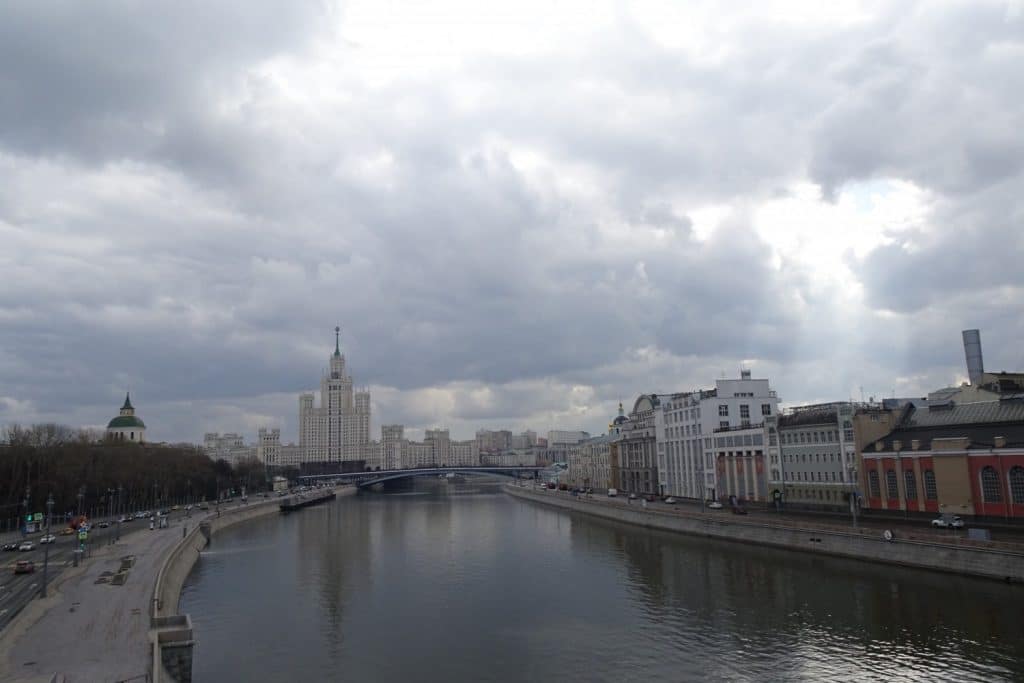 I went into Sunday—the last day of the trip—having only made it to three out of seven. Therefore, I rose early at the hostel despite having been out late exploring the city the night before and found myself at the Red Gates Administrative Building by 07:30. It might have just been the time of day, but the area seemed really quiet and calm. Other buildings are built up quite close, so it also is a little less detached and "aloof." I snapped some photographs and poked around the area before quickly moving onto the Leningradskaya Hotel, a short walk away. I realized once there that these two are actually right by the Leningradsky Train Station, and I could have seen them on the way back to St. Petersburg (our train arrived there and would depart from there), but no matter. Leningradskaya Hotel was actually probably my least favorite of the seven. It just didn't look as impressive to me, and it was also hard to see head-on because of the placement of a bridge and some power lines.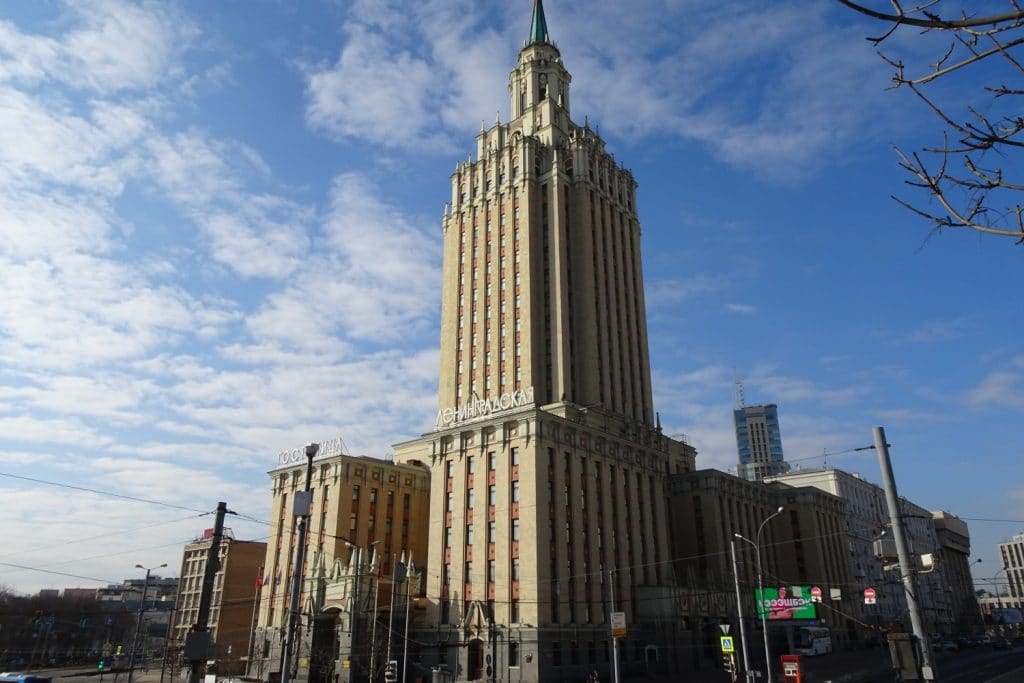 I had some other things to accomplish on Sunday, namely a seminar on Russian politics and seeing some museums that I had also planned to take in during my free time. I visited the State Central Museum of Contemporary Political History, a great overview of Russian history from around 1860 to 1991. I also saw the War of 1812 Museum near Red Square, which was also interesting. I particularly found it intriguing how many uniforms and objects from the French Army they had. After leaving, I resumed my mission for the weekend.
Around 14:30 I reached another of the sisters, the Kudrinskaya Square Building. Due to location and appearance, this was probably the second-least impressive of the set from my point of view. I moved past it pretty quickly. On my way away from this one, however, I went past the famous White House, which was far more interesting to see. It is hard to imagine the turmoil of the 1990s, when that building was shelled during a conflict between it and the Yeltsin administration. Today, the grounds are beautifully landscaped and one is looking out at the calm, beautiful Moscow River.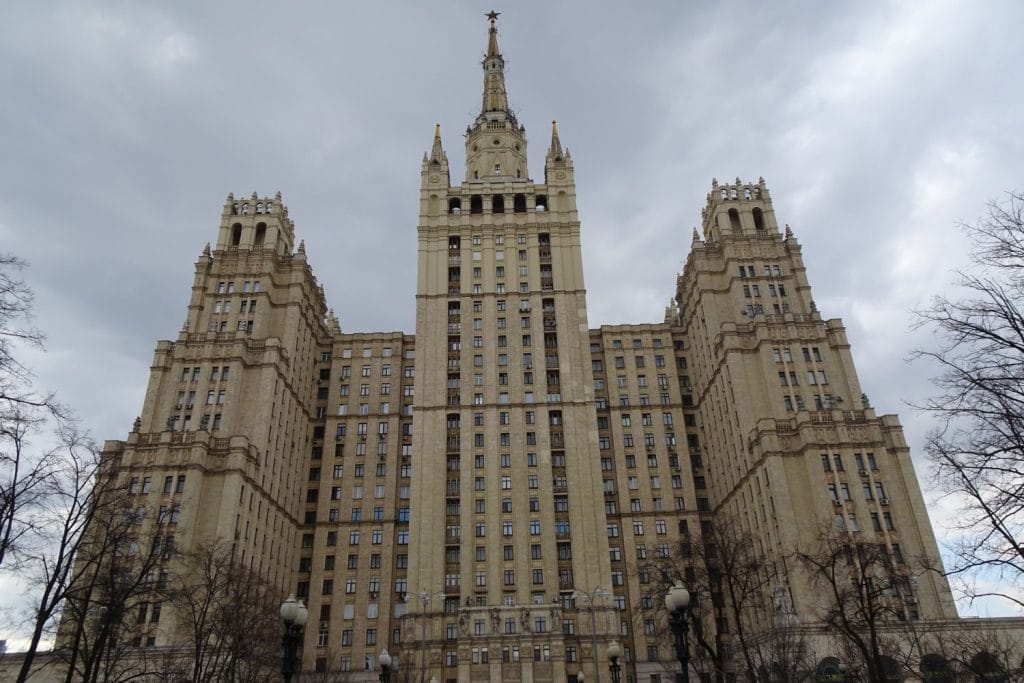 I polished off number seven on the list with seven hours to spare for my time in Moscow. The Hotel Ukraina is located on a gorgeous stretch of the Moscow River. The river location made it probably my joint-third favorite, along with the Kotelnicheskaya Embankment Building. I had some trouble getting to it, as I got a little lost in the pedestrian area of the bridge I needed to take to get there. Unfortunately, the front can only really be seen from the river, but I walked around the base and even noticed a children's playground. After this visit, I walked along the Moscow River to a more modern set of skyscrapers, the noted Moscow City development. While these are also quite impressive and beautiful, there is still something about the Stalin-era Seven Sisters that feels like it has a bit more character, if that is the correct word for it, than a mass of glass and steel twisting into the sky.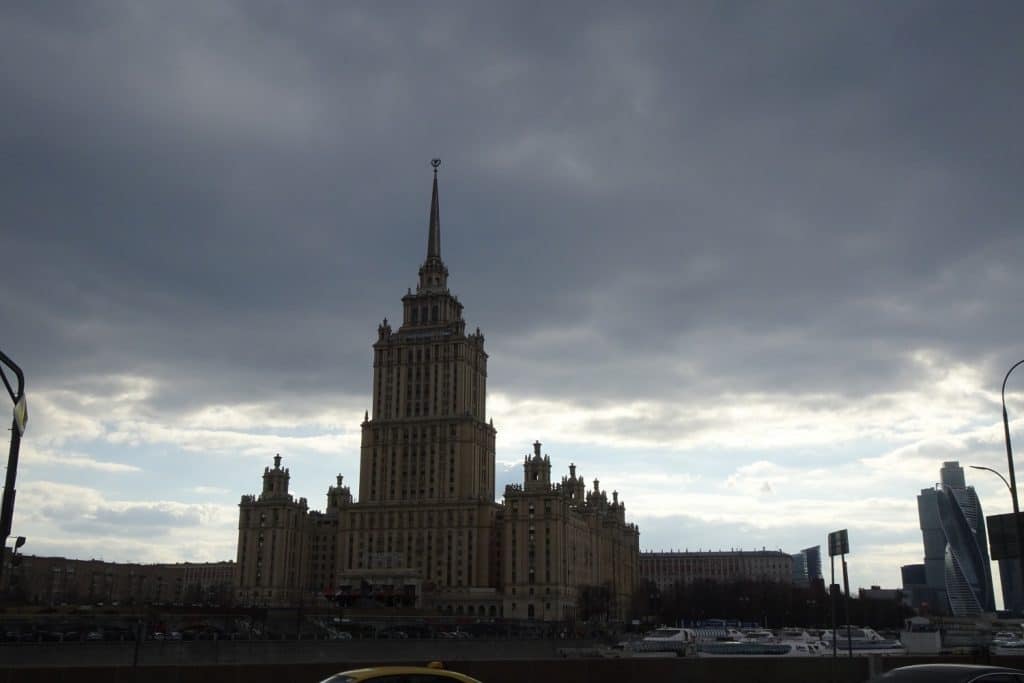 When I went to Moscow, I did not even really know the Seven Sisters existed. But I was, for some reason, inspired to see them all before I left. I still managed to see everything else I wanted, and the experience allowed me to see a lot of more of Moscow then I probably otherwise would have. Plus, I learned a lot about Moscow's architectural composition in the process. I would definitely recommended taking the adventure to seek them all out. Or, if one does not have the time or inclination to see all of them, I would definitely recommend at least Moscow State University's Main Building  and the Ministry of Foreign Affairs as must-sees.
You can find much more information about the size, purposes, and histories of the Seven Sisters on MuseumStudiesAbroad.org, part of the SRAS Family of Sites.