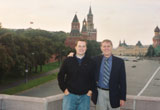 Seth Bridge is a pre-law student interested in working in the field of US national security. He attended MGIMO to get a better understanding of Russia: it's foreign policy, people, and mindset.
SRAS: Tell us a bit about yourself, what you study and what first got you interested in Russia.
Seth: I'm a 5th year senior at Kansas State University. Although I have always been interested in Russian history and politics, I never really thought about Russia in employment terms until after some Russian history and language classes. The culture, politics, and history simply fascinated me so I decided to study in Russia. After I graduate from K-State I will be attending law school (not sure where yet, still waiting to hear back from some schools). So the obvious question is, how am I going to work this interest in Russia into my legal education? I am currently planning on focusing my studies toward national security law (which would include studying how national security policymaking organizations relate with the executive, legislative, and judicial branches within the confines of the constitution as well as relevant aspects of international law) and conducting research on the rule of law in Russia or some aspect of legal systems in the former Soviet Union. Following law school, I plan on working for the government in an area vital to US national security. I may seek employment with the State or Defense Departments.
SRAS: Why did you chose to study at MGIMO?
Seth: I first heard about MGIMO from Renee Stillings, the director of SRAS. She mentioned several MGIMO characteristics that appealed to me. 1. MGIMO is one of the most prestigious universities in Russia, with a rich history of excellence and training some of the best students in Russia. 2. Many of the professors are the top Russian experts in their field. 3. MGIMO attracts the best students that Russia has to offer. All of these factors along with a curriculum that would meet my needs led me to choose MGIMO.
SRAS: So what was the program there like? Did you enjoy it?
Seth: I really enjoyed the program I took. The classes for foreigners are given in what are called blocks. The basic structure allows you to attend regular Russian classes with Russian students. And then you attend a small class with just you and the professor or a few other foreign students and the professor gives a similar lecture but in more simple Russian. During the smaller class you can ask questions and if you don't understand a concept the professor can explain it in English. So you are being challenged to understand a normal Russian lecture but have the ability to slow things down or get better explanations in English. I ended up taking 3 blocks: Russian Domestic Policy, Russian Foreign Policy, and Russian Relations with the CIS. I also took Russian language classes several days a week.
SRAS: And how were the professors you worked with?
Seth: I really enjoyed my professors; they were highly qualified and very easy to talk to. My politics classes were taught by Yuri Dubinin, a former Soviet diplomat who had been extensively involved in politics but who was know more of an academic. He was able to relate amazing stories and was always willing to give his personal take on the issues of the day. My economics professor was equally as interesting but for different reasons. She was of course highly qualified but was a younger woman who staunchly held the "party line" for the Putin administration. She firmly believed in centralized economic control and was convinced that democracy and a free wielding market economy would only hurt Russia. At first her beliefs stunned me but they were predicated on formulated arguments supported by evidence. It was an incredible learning experience.
SRAS: But was so incredible about it? What did you get at MGIMO that you couldn't have gotten by staying home and taking courses in America?
Seth: MGIMO offered a true glimpse into the minds of the men and women who will be shaping Russia's future. Earlier I indicated that I would like to work in one of the national security policymaking apparatuses, but how can I hope to do this if I don't understand how Russian leaders view their own country, the US, and the world. Whether this sounds politically correct or not, I am convinced that the Russian students that attend MGIMO will make up a new ruling class in Russia. MGIMO and the people that study there are the movers and shakers of Russia. If you hope to try and understand Russia you must try to understand these people.
SRAS: Tell us more about the students that you met there.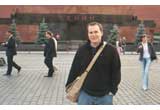 Seth: I met a lot of Russian students at MGIMO. Many of them hoped to work for the government or go into business some day. Almost all were driven, intelligent people. One student was the Belarusian Foreign Minister's son. We had great conversations about the future of Belarus and what was really needed in this country. Another great friend was a Ukrainian student. We talked a lot about the Orange Revolution and what the future held for Ukraine. You are able to meet a lot of very interesting people. I definitely plan on staying in touch with them.
I additionally got the chance to give a guest lecture about American politics in a Russian class. It really wasn't a lecture but more of a discussion with the students in the class. We talked a lot about the election and the War on Terror and what that means for America and the rest of the world. The end of the lecture focused on the future of democracy in Russia, which was really encouraging. Although many people aren't excited about democracy many of the students in the class were committed to fostering democratic ideals in Russia (these kids couldn't have been more than 20, but were already focused on how to transform Russia into a transparent federal democracy).
SRAS: What would you say to a student contemplating studies at MGIMO?
Seth: There are many conferences and activities that you can participate in while attending MGIMO. But you have to actively seek these opportunities out. Also, don't be afraid to meet new Russian friends. Like so many things in life, your study abroad experience is what you make of it. Be aware of what you are doing and don't be afraid to experience new things. And of course try to minimize your time around westerners (I wish I had minimized mine)!