Since earning an MA from EUSP, Sandra Evans has worked on and for various academic projects.
SRAS: You completed the IMARS Masters program at EUSP. When did you first become interested in Russian studies?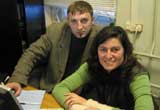 Sandra: My interest in the 'other' has always been strong and as a child that was exposed to he Cold War confrontation with the former Soviet Union, I naturally gravitated toward that part of the world. Back in the good 'ole bipolar days the enemy people were the evil soviets, who suppressed their citizens in a totalitarian state structure – the direct rival to the democratic system. Things were much easier and straightforward then, or so it seems now. In order to better understand the enemy and their system, I wanted to learn more about the people, their language and their history and therefore completed my BA in International Studies with a focus on Central and Eastern Europe. My first exposure to the peoples of the former Soviet Union was in Minsk, Belarus in 1992 at an AIESEC conference that amongst other issues dealt with the newly attained independence of Belarus in 1991. After an extremely intense experience there (partially caused by a major food shortage in the country at that time), I remember getting on the train a changed person. Since then, my academic and intermediate professional life have been in and about Central and Eastern Europe and/or the CIS. During a long-term internship in Budapest I vividly remember a realization I had as I was walking along the Danube looking at the majestic Hungarian parliament: I suddenly realized that this totalitarian thing could happen anywhere, consume us and quickly turn to normalcy and the everyday. This thought made a great impact on me. I am currently writing my dissertation on a topic of the everyday that I discovered while completing my MA at EUSP, which I'll expand on in a moment. More than likely I will continue to work in and with this part of the world since it continues to fascinate and intrigue me.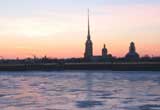 SRAS: Yes, we've found that "know thy enemy" spurred a lot of interest in college students during the 70s, 80s and 90s. How did you find out about IMARS and, most importantly, how did you fund it?
Sandra: After my internship in Budapest I spent several years working with Russia and the CIS in the Community Connections/Business for Russia program at the World Affairs Council in Oregon, a program conducted under the auspices of the US State Department. Feeling the need not only to get back into the big world, but also to gain more in-depth knowledge of Russia and the Soviet Union, I moved to Berlin, Germany – the gate to the East – in order to continue university education at the graduate level at Free University. Here is where I found out about the International Master's of Russian Studies (IMARS). The exchange program and scholarship offered by the East Europe Institute at Free University in collaboration with the German Academic Exchange Service (DAAD) only provided funding for one semester, however, and did not support attaining an MA. Yet, after attending seminars offered by EUSP, I immediately knew that I wanted to complete the IMARS program not only because I could learn so much more by being there, studying with Russians with access to resources in Russia, but also because the program offered a sophisticated and ambitious curriculum. I am still very grateful to Mike Williams and the Rotary Club who made this possible by financing the second semester.
SRAS: So what did you like so much about EUSP and IMARS, what sets them apart from other programs in Russia?
Sandra: EUSP is a small, private university which attracts top
students from Russia, who have received a special scholarship to attend EUSP due to their exceptional academic achievements. This all adds up to an intense personal experience and dynamic academic atmosphere. Compared to many Russian universities, which have their own system, the IMARS program is conducted in the English language and is based on the structure of an Anglo-Saxon academic system. At EUSP, Russian students study in departments for art history, economics, ethnology, gender studies, history and political and social science. IMARS is a multidisciplinary graduate program, offering courses in history, cultural studies as well as political and social sciences but is essentially affiliated with the political and social sciences department. As part of the program and in addition to the regular courses offered, students are required to attend Russian language courses in accordance with their level of skill. IMARS students also have the option to attend courses in the other departments (in Russian) if their language skills allow them to participate at an adequate level.
SRAS: What kind of course and program structure did you experience with the standard IMARS courses?
Sandra: The structure of the courses is such that students receive a lecture on a specific topic as well as reading assignments for the next meeting, which will then begin with an interactive seminar on that particular topic. A student will generally introduce the seminar with a brief summary of the reading assignments and lead into a discussion. This discussion will then be followed by a lecture on the next topic after a short break. Each session lasts three hours and due to its structure allows an in-depth look at each aspect. The remainder of the requirements for attaining an IMARS are standard, i.e. one has to successfully complete set number of seminars and write an MA thesis.
SRAS: And what about the professors and teachers there?
Sandra: They are young, very accessible and always willing to provide assistance. One of the unique aspects of the type of professors that teach in the IMARS program is that they tend to be Russians who have studied abroad, combining in their instruction and in their research not only their cross cultural academic but also personal experience: they effectively serve as a conduit between the cultures. Most are also very engaged in the English-speaking scientific community, where one has to make sure that the professor(s), whose seminar(s) one is intending to attend is actually teaching at EUSP that semester and not somewhere abroad. There also tends to be one visiting professor from another university, adding to the diversity of viewpoints offered. Of the courses I attended and my topical fields of interest, I can recommend courses offered by Profs. Alexander Etkind, Oleg Kharkhordin and Vadim Volkov, yet all the courses offered in the program are academically demanding and instructive.
SRAS: We heard that you had an interesting living arrangement while in St. Petersburg. What was that like?
Sandra: The living conditions in general depend on where you end up of course. EUSP offers some help in finding accommodation, but in general you are on your own to make arrangements before arrival and register yourself with the local authorities upon arrival.
SRAS: By the way, if one arranges to study at EUSP through SRAS, this is one of the many concerns we take care of for you.
Sandra: Ok. There is also the option of sharing a flat with other students, but it seems more rewarding and enriching of an experience to live amongst the 'people.' Meanwhile, there is a respectable selection of rooms that can be rented mainly from khoziakas (hosts, which tend to be female), which have all the necessary amenities and conveniences. And don't worry, the hosts don't expect you to be home for dinner or entertain in your free time. In this way one has at least some contact with the local population outside of the university community. During my studies I lived in a communal apartment, a living arrangement that is essentially a remnant of the Stalin era. Not aware of its specific nature beforehand, I ended up with a great number of political and socio-cultural revelations while living there, which amongst other things inspired my MA thesis and my current doctoral research. For those who are interested, here is a link to one of my essays (soon to be featrued in Vestnik) that deals with aspects of Soviet communal apartments in comparison with current western communal living arrangements.
SRAS: Wow, it sounds like you met some fascinating people while there, do you keep in contact with any of them?
Sandra: The relationships one has with other people while abroad in another culture tend to be more intense and connect people at a different, more familiar level. I still have many great and lasting friendships here in St. Petersburg (I am actually in St. Petersburg again at the moment). While it is easier to remain amongst your "own" (which in this case tend to be fellow IMARS compatriots or other internationals you might meet while out and about) it is definitely worth the effort to mix with the Russian students at EUSP and the general Russian population. (There is nothing better than arriving at a provincial Russian home early in the morning after a long and grueling train ride and be greeted with a pirog (Russian pie) filled with whole fish and onions and washing it down with several shots of vodka before the clock signals noon.) While it might initially seem difficult to break the ice, once you make the step you'll suddenly find yourself greeting almost everybody at the university and not only at the university; Even though St. Petersburg has an approx. population of 5.5 million inhabitants, I continually meet people I know in the streets and establishments of the city.
At right, I am pictured with a good friend of mine, Semen, who works at Nochlezhka (Night Shelter), an organization that does great and much needed work with the homeless in St. Petersburg. For more info see homeless.ru.
SRAS: And what have been you up to since graduating?
Sandra: Since I've graduated from IMARS at EUSP I have returned to Germany and have accepted a position in a research project called "Intimate Texts. Intimate Spaces: The Construction of Intimacy in Russian Culture." I am also writing my doctoral thesis on the intimate living experience I had in a communal apartment in the center of St. Petersburg. I have also taken on the task of organizing an EUSP alumni network of former students and look forward to getting to know some of you in the future.
SRAS: I'm sure you will, and it certainly sounds like you have your hands full now with all the knowledge you gained in Russia. What advice would you give to a student thinking of attending the IMARS program?
Sandra: One of the great benefits of studying in Russia is that
you are located within the object of study, not outside of it. Sometimes it feels like you are the eye of a tornado (remember, it's the safest place to be), but at least you can see things from a different perspective. Just yesterday I had a conversation with one of the Russian scholars who completed her dissertation at EUSP and now is working with the Center for Independent Social Research. She commented on how many people are not willing to conduct the necessary field research in order to be able to speak on a topic authoritatively. I could not agree more. It seems as though it would be imperative and invaluable to spend a considerable amount of time in the country, region or space one is studying. In my instance for example, I lived in a kommunalka and thus have a completely different understanding of what it means to intimately live in a communal arrangement with a great variety of strangers, sharing a kitchen, bath and toilet. I never could have gained this experience by merely reading books. Other benefits include the access to libraries and archives or other valuable resources and organizations, a serious and dynamic academic environment, professors that have studied and taught internationally and of course bliny (pancakes), something you'll discover once you get to Russia. If you are serious about getting expert knowledge on Russia in the political, social and cultural sciences, I can highly recommend this graduate program. There seems to be no better academic institution which offers such a high level of education and immediate access to valuable resources all in one place. If you have any questions feel free to contact me at sandra.01@gmail.com. Udachi!