Salkhino Restaurant /
Салхино Ресторан
Кронверкский Проспект 25
Daily 11:00-23:00
Meals from 400 Rubles
Restoclub.ru
St. Petersburg offers a large variety of ethnic cuisine outside of "Russian" food. Each republic of the former Soviet Union has a unique palate that is generally quite difficult to come by in the United States. A favorite among locals and visitors alike is Georgian food. Think of Georgian as the Mexican food of Russia- a bit to the south, spicier, richer flavors, and a cultural atmosphere marked by fun and relaxation. Georgian food has some staples that everyone knows- khachapuri (cheesy bread), kinkali (dumplings), kharcho (spicy soup), adjika (spicy sauce), tkemali (plum/pickle sauce), and others that are quite popular in Russia. Salkhino offers all the classic favorites along with some interesting new items.
The menu is extensive, with most items printed but a few specials written by hand. English menus are available upon request. The owner of the restaurant is prolific-with her picture both on the menu and hanging on the wall. She owns another Georgian restaurant on Vasilievsky Island called Ketino with a more high-end environment and prices to match. Salkhino, on the other hand, strikes a balance between casual and elegant. Two friends and I went to celebrate the end of summer with a dinner that felt a little classier than the local stolovaya without breaking the bank. The small main dining area is warm and inviting, with 7 or 8 tables covered in white and mauve table cloths. The staff, while not Georgian, was cheerful and knew the menu well enough to help us decipher some of the less usual dishes.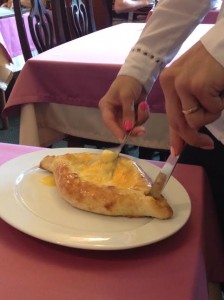 To start, we ordered the "spinach with nuts" (pkhali). My mouth waters just remembering it- the cold vegetable mix formed into a patty is rich yet refreshing, topped with juicy onions and pomegranate seeds. For 330 rubles, I highly recommend it. Our main courses came quickly and were steaming hot. I ordered Adjarian khachapuri- a shallow "boat" of bread filled with melted cheese, a pad of butter, and a raw egg cracked over the top (which then mostly cooks in the hot cheese – for 350 rubles. When the waitress brought it out to me, she did the appropriate preparations herself at the table, mixing the contents of the bread boat together to cook the egg and pressing the points of the fork into the sides so that the hot mixture runs into the bread like irrigation channels. The khachapuri was excellent and so filling I could hardly finish it. My friends ordered a 230 ruble bowl of kharcho and a bowl of mushroom chicken soup for 290 rubles- both delicious. We toasted with small glasses of a strong and tangy semisweet Georgian red wine.
Our total bill came to 800 rubles per person for a great night with top notch food and wine. I would recommend Salkhino for a dinner that's a bit higher quality than typical student fare that leaves you feeling satisfied and happy!
For groups and faculty led tours, call ahead for a reservation.