We asked some SRAS graduates to share their open and honest evaluations of their experiences on SRAS Study Abroad in St. Petersburg. SRAS actively seeks out feedback from students on all programs so that we can continually improve our offerings.
Joe Ernst (Summer, 2019)
Although there were several programs offering summer programs in Russia to choose from, I had from the beginning decided to choose SRAS. At least two professors and several of my colleagues recommended SRAS to me. The reasoning? Well I think my favorite piece of advice, and one that I have come to agree with, was that SRAS does a great job of walking the line between hand holding and giving individual freedom. As a rather independent person, the style of SRAS fit well with my personality, as there was structure and plenty of organized excursions, but the tools and encouragement were available to explore the city and its offerings outside of the program.
Choosing between Saint Petersburg and Moscow was not easy, but I think I always knew that I would choose Saint Petersburg. I just needed to see where Raskolnikov was running around and to see where Lenin initiated the revolution. The city was just too full of art and history for me to say no!
It would be hard to measure the amount of history and stories I learned while on the tours of the museums, or of the ancient churches in Novgorod, or even while visiting Saint Petersburg's great monuments on my own. History aside, I think I was most impressed with the great strides I made in my understanding of the Russian language. Living abroad, especially when studying the language of that country, is the single best way to learn a language. For seemingly countless hours I sat in different parks and pubs and chatted away with the locals, applying the skills that I learned in class. The team of professors employed by SRAS are firstly passionate, but also personable. Feeling comfortable in the classroom really let me focus on learning the language rather than just trying to meet an arbitrary standard, and it was one of the best classroom experiences I have ever had.
Not only do I cherish and already miss my time in the classroom in Saint Petersburg, but I deeply miss the city and my experience there. I could not have imagined a better city or a better program to experience it with. Before arriving, I was unsure of what to expect, but I will in the future be an ambassador to all my friends who may want to study abroad, recommending that they go with SRAS. Developing my language skills and making friendships are timeless, but I really think that this program enabled personal growth within me. Stepping out of my comfort zone was encouraged, and to do that in a foreign country takes (or creates) strength. Today I feel like I can approach challenges head on, with the confidence of knowing that I am able to break down social barriers and sidestep personal inhibitions that may otherwise limit my potential. I hope to continue mastering Russian, using the skills learned in the classroom, but also remembering all the scolding my Russian friends gave me about my mistakes! I hope to attain work in the future that allows me to use the language, but more importantly interact with a people that I have come to love.
Natasha Harwood (Spring, 2019)
My decision to study abroad with SRAS began spring 2018 when I was looking at the credits I still needed for graduation with my Russian advisor. I only needed to take 6 credits of Russian language the following spring in order to complete my Russian degree. After seeing this I looked at my advisor and asked, "would it be possible to complete these credits abroad?" We then started laying out a plan for my spring 2019 semester abroad, and my advisor recommended that I look into programs with SRAS.
I chose to apply for the Russian as a Second Language program in St. Petersburg for two main reasons. First, this semester abroad is my first experience being in a foreign culture for more than a month at a time, and I wanted ease myself into Russian culture. I had heard that St. Petersburg is like "Russia for beginners," and I felt like a more western city would be a good introduction. I hoped that this would limit the effects of culture shock.
The second reason that I chose RSL in St. Petersburg is that RSL seemed like the better option for me of SRAS's two programs in St. Petersburg. The other program is Society, Business, and the Arts, and the main differences between RSL and SBA are that RSL students have more hours of individual Russian lessons, and SBA students take more electives. Now, for my degree I had to focus more on Russian language, so RSL is the better option, but for students studying business and economics the SBA program would be a better fit.
One of the benefits of studying abroad with SRAS is that they organized several excursions and activities for the students. These included museum trips, tickets to a ballet, a trip to Moscow, and social events with local students. A lot of the museums are places that I would have visited on my own anyway, but SRAS provides excellent local guides. All of these excursions help integrate students into the local culture and are a good opportunity to experience the city.
Throughout the semester the only issue that I had with SRAS was regarding communication. Specifically, some of the program information provided on the website was slightly misleading, and on multiple occasions I received different information from my SRAS coordinator and the university representative regarding the same question. For example, the program end date listed on the website seems arbitrary, it does not align with the end of the university semester, or even with the end of our Russian group classes. Furthermore, the university did not explain to our Russian instructors why all the American students were leaving a week before their class ended, and us students were left to awkwardly explain the situation to our professors.
Despite some frustrations with the university, studying abroad in St. Petersburg was a wonderful experience. This semester gave me the opportunity to learn more about Russia and Russian culture as well as the opportunity to learn more about my own culture and myself. I might be too type-A to live here permanently, but I look forward to the chance to come back and explore more of this fascinating country.
Ultimately I hope to pursue a career as a teacher of foreign languages, and I am sure that my experience in St. Petersburg will help me later in my career. Even if I don't teach Russian, knowledge of multiple languages is beneficial in language instruction overall.
James Taylor (Summer, 2018)
When I took off from Chicago at 6pm one evening at the beginning of summer, I was not entirely sure what I was in for. Flying across the globe on my own? I had never even left the country! While I wasn't sure at that moment what my summer would entail, looking back, I can let you in on a little secret… my study abroad in St. Petersburg, Russia was quite an adventure.
Logistics
Logistics may not be the most exciting part of study abroad, but they certainly are important. I first started thinking about studying abroad my freshman year at Iowa State University. At this point, it was just an idea. At the beginning of my sophomore year I started taking steps toward making it a reality. I talked with my Russian professors, both of whom had lived in St. Petersburg before coming to the States. They told me how beautiful and culturally rich a city it is, and both said that if I chose to study abroad in Russia, I should choose St. Petersburg.
Over the next few months, I talked to my study abroad advisor, who gave me information on the steps I needed to take from a university standpoint, and what I could expect on my study abroad. I also spoke to students who had studied abroad with SRAS in the past and listened to their stories and tips. At this point, I was convinced — I was going to St. Petersburg. I got in contact with SRAS about my interest and started the application process. I applied for SRAS, university, and national scholarships to help fund my trip. I also had to get a passport, since I had never left the country before and did not have one.
Even though I had dedicated quite a bit of time to applications, scholarships, packing, and preparing, Wednesday, May 23 (when I was on a plane from Chicago to Helsinki, Finland for the first leg of my trip) seemed to arrive suddenly. Fortunately, I was well prepared; in the weeks before the trip I had read plenty of information provided by SRAS, such as the program orientation guide, student experiences and reviews, and explanations on the SRAS site about what to pack, which documents to bring, what to expect on arrival, and more. This information was very (very) helpful.
Before, during, and after the trip, SRAS staff were very quick to answer any questions I had about any part of the program. The support in St. Petersburg started the moment I arrived, when a volunteer student (Dasha) was at the airport to pick me up from the airport and show me around the dorm; later, a staff member called me to make sure I had settled in. The support continued throughout my program, up to the end with my 2am taxi ride to the airport (which SRAS and the university scheduled for me) on the last day.
Daily Life
From rooftop restaurants and flea markets to museums and amusement parks, I found myself doing it all in St. Petersburg. While figuring out what to do and where to go seemed overwhelming at first, in a few weeks I found myself accustomed to a schedule chock full of activities. Cooking lessons, sporting events, nights out, and naval parades are just a few of the things I recall as fond memories. Some of these were planned by SRAS, while my fellow students and I planned others ourselves.
With classes, homework, and the great excursions, it can be easy to forget to eat, work out, clean, and just relax at times. Luckily, the campus location makes it easy to take care of basic necessities. The foreign student dormitory at UNECON is located on the campus, and the campus is very centrally located in St. Petersburg. This made things like going to buy groceries or other home items, going to the gym, or grabbing a quick bite to eat very easy despite my full schedule.
Classes
With all the planned (and spontaneous) excursions, I found myself out and about in a different place every day. While something new or unexpected was bound to happen each day, it was nice to have a constant. For me, that constant was my Russian language class with my new friends and our dear professor Sasha.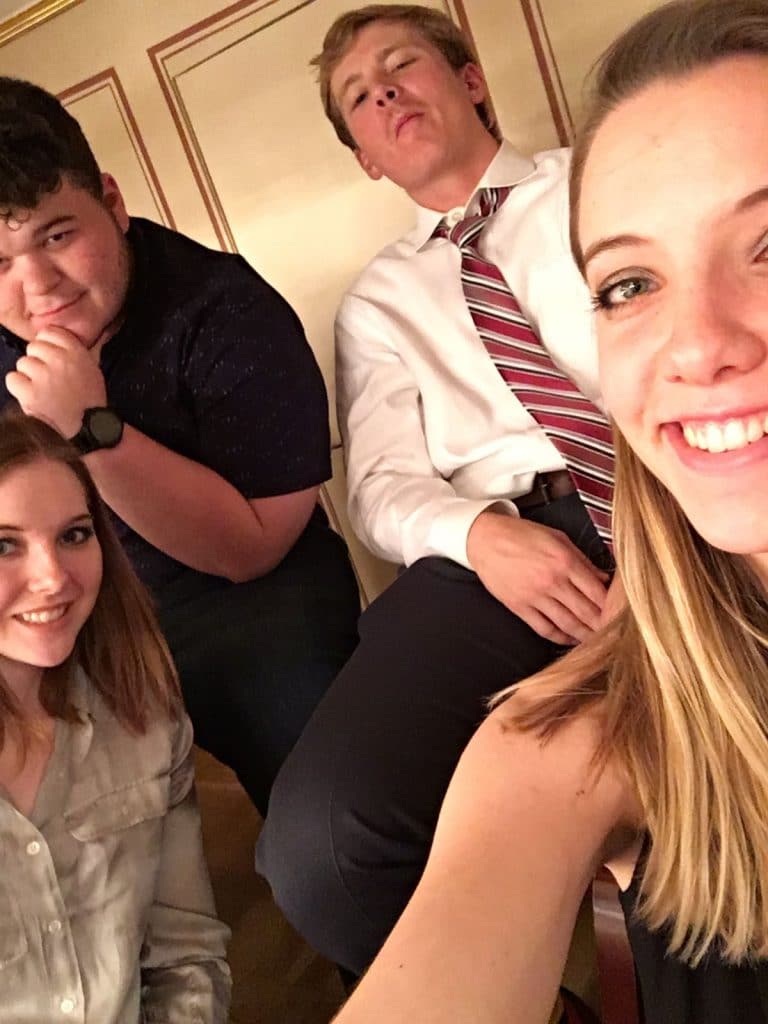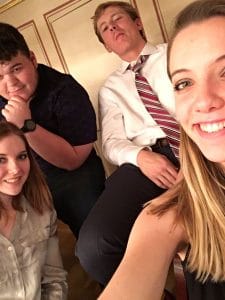 The first week of classes was devoted to the "Survival Russian" program. This was a fun class where we role played scenarios (talking to the dorm guard, ordering at a restaurant) that we would use often. I found this week to be extremely useful for getting back into the swing of speaking Russian, and for learning some very important words and phrases I did not know.
After this week, we were placed into classes that were tailored to our skill level. Every class had different schedules; ours happened to meet at 9am Monday – Thursday. Of course we learned plenty of grammar and vocabulary. But, using our past and newly acquired skills, we also had some good discussions about history, politics, and modern-day Russia.
Wrapping Up
My study abroad in St. Petersburg was an adventure. It was an adventure of having fun with my new friends, Russian and American alike, on late night adventures and early morning road trips. It was an adventure of learning — learning Russian, learning about Russia, and learning about myself. It was an adventure I will never forget.
More St. Petersburg Programs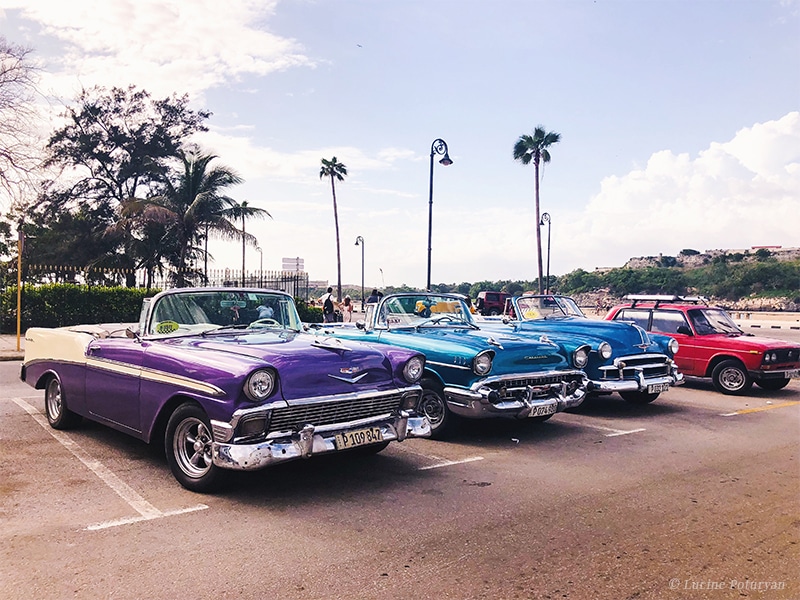 We asked some SRAS graduates to share their open and honest evaluations of their experiences on Cuba-Russia Connection. SRAS actively seeks out feedback from students on all programs so that we can continually improve our offerings. Lucine Poturyan (Summer, 2018) I embarked on the Cuba-Russia Connection program offered by SRAS in May of 2018. However, […]