Рюмочная/ Ryumochnaya
Б. Никитская, д. 22/2, метро Арбатская
Meals from 250 roubles
This little place on Bolshaya Nikitskaya is not quite a cafe, not quite a cafeteria. You order at the counter, where all of the food options are sitting out on plates in front of you. (This sort of set-up would never fly in the United States. It does not seem to be the most sanitary to let meat sit uncovered on plates all day, where anyone could sneeze on it). What you see in front of you is what they have. The woman working there was helpful and answered our questions as to what was in particular foods. She scoops out some food for you onto a plate and microwaves it. It's not the classiest place in the world.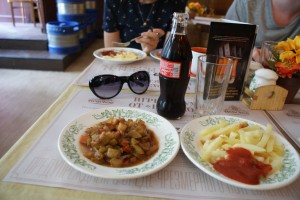 The only vegetarian options available were some mixed, cooked vegetables, French fries, and a few salads. I ordered the vegetable mix, fries, ketchup, and a small glass bottle of Coke. My meal cost 240 roubles. The vegetable mix was decent, having flavor, a variety of vegetables (including eggplant), and a copious amount of oil. However, the French fries were not really fries at all. Lacking any sense of crispiness, they were just cooked potatoes shaped like fries.
Two of my friends ordered the плов (pilaf) and a cutlet, which they both agreed was "pretty good." A meal of плов, a cutlet, and compote cost my friend 325 roubles.
I don't think I would go back to this place or recommend it to anyone, at least not for food. I thought that the food was not much better than what can be found in the MGU cafeteria, but it was three times the price.  However, it had a nice, old-fashioned atmosphere, and it might be a good place to enjoy some alcoholic beverages. In fact, my Lonely Planet guidebook lists this as a place to drink, rather than a place to eat. After all, that's what ryumochnaya's were for back in Soviet times. Even the name ryumochnaya, a generic name for a particular type of establishment in the USSR, is derived from the word рюмок (ryumok), a type of glass used for alcoholic beverages.
For groups and faculty-led tours, Рюмочная would not be a good choice. The service-style would easily be overwhelmed by a large group of people.