During our last week in Moscow, two of my friends and I decided to check out Russia's State Library. Located just a few blocks from Red Square, Библиотека имени Ленина (The Lenin Library) is the world's second largest library and houses over forty-six million items. We were interested in the library not only as a place to study but to obtain library cards, as many of our friends had already procured theirs, and they seemed a perfect souvenir.
We entered via a side door near the main entrance, which brought us to a small chamber where a waiting area faced a grouping of shockingly modern electronic doors. We were instructed to fill out the provided information cards and take a number. When that number appeared over one of the doors, we were to go inside to have our cards made. Inside each kiosk was a library worker ready to review our information cards and snap a photo before printing our cards.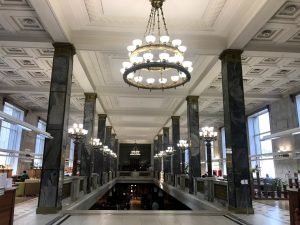 Once the three of us had our cards, we walked a short distance around the building to the main entrance, where we scanned our cards twice and received a small slip of paper that we would return upon exiting the library. We wandered up the grand staircase that constituted the main atrium, appreciating the gorgeous Soviet architecture. From there, we entered a set of double doors to a stairwell and walked up a flight of stairs to one of the library's many reading rooms.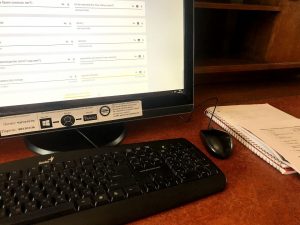 The room was split in two, one half with computers and the other without. Our trio padded across the thin carpet to the side without computers and found seats in the row closest to the doors, soon joining the quiet shuffle of people hard at work. As my group had a test the following day in one of our classes, I soon moved over to the other side of the room to make vocabulary flashcards. In switching back and forth between the English and Russian keyboards, I was amazed at the number of keyboards representing various languages – six or seven at the very least.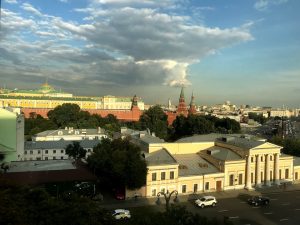 Before we left, I traveled up a floor to find the bathroom, becoming hopelessly lost along the way (an open door had concealed the women's restroom on my way in, causing me to go through that door to discover a whole different section of the building). The windows I passed revealed gorgeous views of the city from above, causing my already lengthy trip to become at least twice as long as I admired the scenes.
The library closed at 8:00pm, so we couldn't stay for very long. All three of us agreed, however, that we wished we had discovered it earlier. The atmosphere was incredibly conducive to working, without many of the distractions present in the dorms. I highly recommend the Russian State Library to anyone visiting Moscow, as it is both a beautiful spot for tourists and a great place to study for students.