One of the most relaxing ways to spend time with friends and rid yourself of some stress is visiting a Russian banya. Not only is this beneficial to one's health, but it is also a great way to experience one of Russia's fun traditions.
A banya traditionally consists of three rooms: the pre-bath room, the steam room, and the wash room. The pre-bath room is where people hang their clothes as wells as drink tea, eat, and relax when they need a break from the heat. The steam room is where the heat is. A stove (usually wood, but sometimes now gas fired or even electric) heats rocks to extreme temperatures and the steam is created by ladling water on the top. Often times there are essential oils and herbs that can be added to the water and just a few drops make a big difference.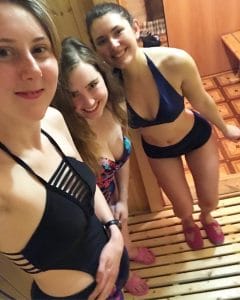 The last room is the wash room. In some banyas, this will be a shower or even just a faucet and a bucket to pour cold water over yourself, rinse off, and bring your temperature down after the heat of the banya. Higher end banyas may actually have a small pool to use for this. Rural banyas are sometimes built next to ponds or rivers or streams and use this instead. In the winter, one jumps in the snow to have the same effect.
There are also two kinds of banyas, black and white. The difference between the two is how the smoke escapes. In a black banya the smoke leaves through the ceiling which makes the wood dark, whereas a white banya is vented through pipes. Although one can find a black banya, white banyas are more commonly found in the city and black banyas are found in more rural areas.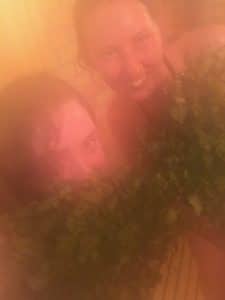 Once in the banya there are a few important steps. Usually people enter the steam room before the water is put on the rocks so the steam will not escape and one is already slightly adjusted to the heat. According to several Russians I asked, who passionately explained in depth on my train ride home to Irkutskfrom Novosibirsk, there is a specific pattern one should follow. First, one sits in the heat for as long as possible and then immediately rinses using one of the options mentioned above. Then, return to the heat after resting – but try to stay longer. The second round is also when venniki (веники) are used. Venniki are birch tree branches that have been dried and then soaked in warm water. These are used to firmly hit the skin – it improves circulation, provides an aromatic effect, and is also very fun. After this, one should repeatedly go back and forth between the heat and the cold to get the strongest contrast possible.
Of course, there are safety issues to keep in mind when using a banya. First, DRINK WATER. This is very important and can be dangerous if not followed. The heat in Russian banyas is put at a much higher temperature than that of a sauna, and therefore it is vital that one replenishes the water one loses when sweating. I usually bring 1-2 liters of water just in case. Banya hats are also highly recommended – the hair is a better conductor than skin and if you remain in the banya for long enough – it can burn the scalp. Banya hats are made of felt and worn to protect the head from the heat.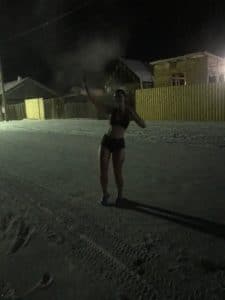 In Irkutsk, an average banya will cost between 15 and 25 dollars per 1-2 hours. While this might seem pricy, if you bring 4-6 friends the cost can be less than 5 dollars each. Just remember to call a day or two ahead, and a week ahead if it is a holiday. There are many places in Irkutsk, but the best ones can be found by Lake Baikal (which can serve as the wash room!).       There are a lot of activities to do in Irkutsk, but this fun and relaxing tradition is something every Russian learner should experience!
Russian Banya
Locations: Various (we used the banya at У Никиты)
Price: 15-25$ (may be split between friends)