"As long as a person is athletic and has a drive to improve himself, little to no experience is required to come practice with us. The team is close-knit, and everyone is willing to help out the new blood."
– Dirk Hryekewicz, an American SRAS Student playing rugby in Russia.
International sports are quickly making inroads into Russia as globalization continues to expand the public's access to unique traditions from around the world. One such sport is rugby (or регби as it's called in Russian). Rugby was born in 19th century England and is most well known in Commonwealth countries. In fact, out of 100 full and 18 associate members of the International Rugby Board, the US is the third largest member with 458,000 participants while Russia comes in at 19th with 22,000 players and over 300 clubs – just one spot shy of the Board's 18-member "high performance band." Interestingly, Georgia and Romania are included in the high performance band, showing that rugby is really making a name for itself in this part of the world. Russia has a professional domestic competition league,The Rugby Union of Russia, but it is not widely known amongst the general population.
Rugby was played sporadically in Tsarist Russia. A Scotsman working in Moscow arranged a match in the 1880s, whereas the first soccer match wasn't played until 1892. In 1886, however, the Russian police clamped down on rugby because they considered it the game too brutal and liable to incite riots. Over the next thirty years, there are few records of rugby, until 1923 when the first official match was played in Moscow. The first official rugby organization in Russia goes back to 1936, when one appeared in the USSR, and rugby has continually expanded since then.
Russia's notoriously extreme winters can cause problems with traditional rugby season. Sometimes the season is split to avoid the worst of the cold, or the rules can be adapted to play snow rugby! The dominant teams in Russia, unsurprisingly, come from the warm southern Krasnoyarsk region. In St. Petersburg there is a semi-professional team called Narva Zastava(named for Narva Gate – a city landmark). There is also an amateur team in St. Petersburg – Регби Клуб Университет (Rugby Club University) – on which one of our own SRAS students, Dirk Hryekewicz, plays!
The following is an interview about rugby in St. Petersburg and Dirk's experiences on the team.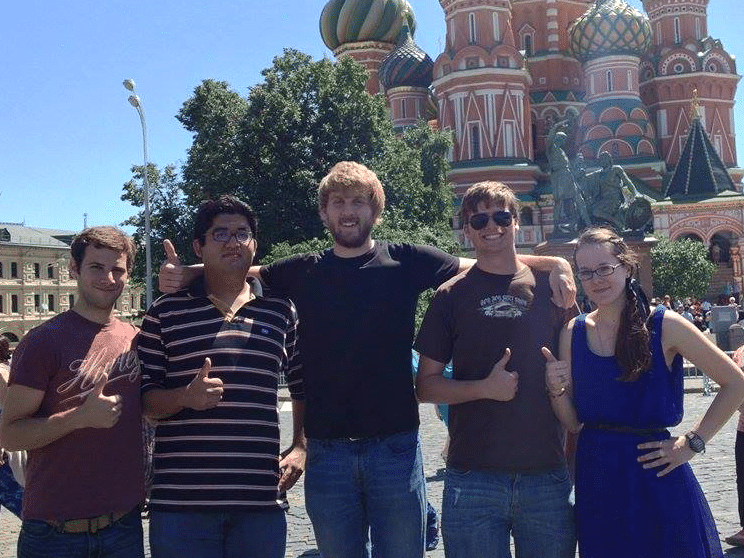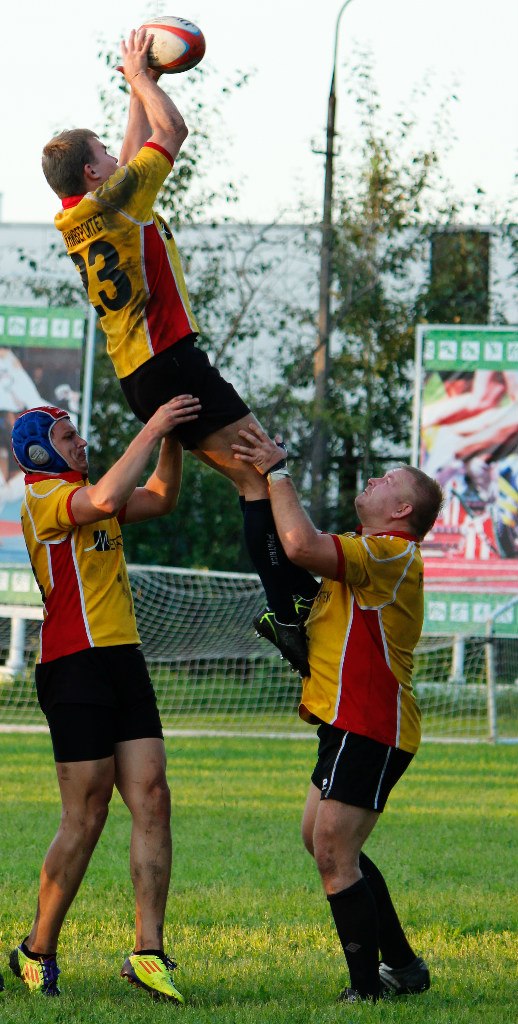 SRAS: Dirk Hryekewicz, welcome! So glad to have you with us today. Let's start off with a little introduction- what is rugby? Can you describe it for us?
DH: Rugby is an incredibly intense sport, focusing on strength, endurance, and skill. This game formed the foundation of American football, with the two main differences being that the ball cannot be thrown forward, and there are no stoppages of play/timeouts after every single play. This means that for eighty minutes (two forty minute halves and a five-ten minute timeout), the players are constantly moving and throwing themselves at the opposition.
SRAS: How official is the St. Petersburg rugby structure?
DH: I (and the Russians that I play with) do not seem to know what league we are in. We are just there to smash other people!
SRAS: How did you get involved with rugby?
DH: Back at Texas A&M, one of my friends told me about our university team, and within two weeks of talking with him, I was practicing with the official team, and within two weeks of that, I was part of the team and part of this fantastic brotherhood.
SRAS: How do most players in Russia get involved with rugby?
DH: Rugby isn't too common in Russia, so most of the players' parents or relatives were rugby players, and influenced their kin to start playing.
SRAS: Is it difficult to garner interest in the team?
DH: Surprisingly, it is quite difficult to entice new players to play. During my last game, there were some spectators in the stands, but it looked like they all personally knew players in the game, and they were not passerby's. There was no admittance fee to watch the game. Also, unlike teams in the US, there was no clear indication of sponsors or financial supporters. The team seems to be supported entirely by its players. This was evident at the stadium where we played our game, where the uprights [goal posts] were long PVC pipes rammed into the ground and supported by a soccer goal.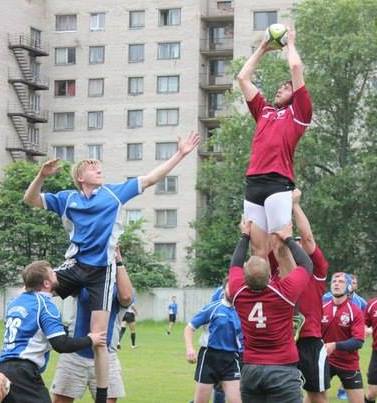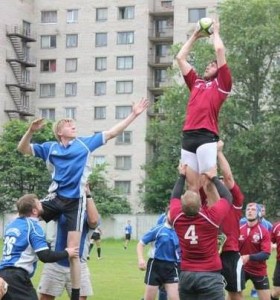 SRAS: What equipment do you need, and is it difficult to get in Russia?
DH: One of the beauties of rugby is the simplicity of the equipment. All you need to play is a ball and a relatively flat field with goal posts (or PVC pipe stuck in the ground). Some players wear mouth guards and scrum caps (padded headgear), but for the most part, mouth guards are all the protection players want. I do not know of any plans to improve where we practice. Currently, we practice on an overgrown field on СПГУ [St. Petersburg State University] campus, that looks like a stereotypical version of Chernobyl, without any field markings or uprights.
SRAS: How can people get involved?
DH: As long as a person is athletic and has a drive to improve himself, little to no experience is required to come practice with us. The team is close-knit, and everyone is willing to help out the new blood. Our VKontakte page is https://vk.com/rugbyclub.
SRAS: How is the season going so far? Dirk Hryekewicz
DH: Thus far, I have only played one game in Russia, though it was a great experience. We lost our game by two tries (touchdowns, for those who don't know about the scoring system), though it was a very close game that could have easily gone the other way. Our next game (and my last one before I leave Russia) will be on August 3rd.
SRAS: Tell us a story about rugby in St. Petersburg!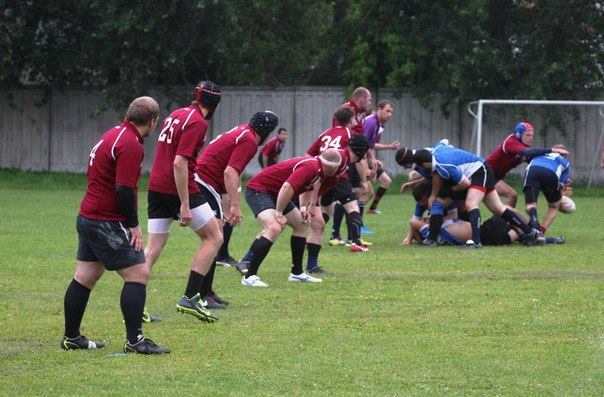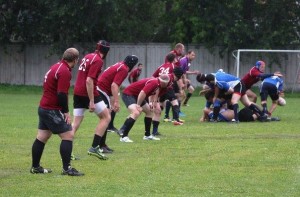 DH: There have been several "unique" experiences that I've witnessed while on the team, but one of the most memorable was during practice. There's this badass Russian girl (Aurika Stulgayte) who practices with all of the men, three times a week, for three hours at a time. For one of our drills during practice, we were doing a variation of Sharks and Minnows, where the "minnows" had to make it to the other side of the pitch without being tackled by the "sharks". On one of these runs, Rika was right behind me (I was unaware), so when I made a quick cut to the left, my elbow swung out and smashed into her nose, breaking it. I didn't actually know I broke it until I was at the other side, and I saw Rika, ever so calmly, walking to the sideline. She was holding her nose, and she was bleeding both on the inside and the outside. I can't believe how much of a trooper she is. She didn't cry, yell, or make a sound. I ran over to her to make sure she was okay. She ended up going to a doctor (I think), as her nose is straight again and has healed up. I guess this is a testament to the strength of Russian rugby players.
SRAS: Thanks so much for chatting with us, and good luck at your next game!
For more information, visit https://vk.com/rugbyclub, and to learn a little more about the sport, check out some video tutorials here!